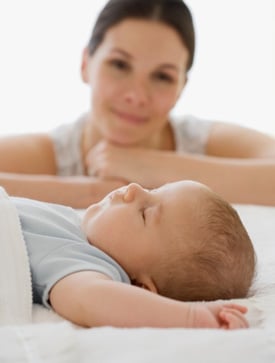 Back to sleep! The anti-SIDS slogan, which was introduced in 1994, is so ingrained in most moms that they don't give it a second thought when putting their wee ones down for some shut-eye. Though the campaign is credited with preventing 2,000 additional SIDS cases each year for the past 15 years, doctors have determined that one in 40 will develop a flat head.
According to The Journal of Craniofacial Surgery, flat head syndrome can lead to more ear infections, which, in turn, can result in language disorders and learning disabilities. The researchers have seen a 49 to 54 percent increase in these types of ear infections. If a baby appears to develop a flat head, special helmets can help reshape the skull. To see some of our tips for keeping your tot's head round, just click here.
Did your lil one develop a flat head due to sleeping on his back?