Flat Head Syndrome Helmets
Should Insurance Pay For Flat Head Helmets?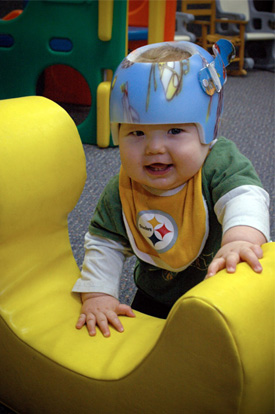 Are insurance companies using their noggins? The Back to Sleep campaign has succeeded in reducing the occurrence of SIDS by almost 50 percent, but doing so has led to an increase in the number of babies experiencing flat head syndrome. Some doctors estimate that one in 40 babies will be affected.
While some mamas look to reshape their lil one's heads for aesthetic reasons, there are medical reasons to do so too. Flat heads can lead to more ear infections, which, in turn, can result in language disorders and learning disabilities. Treatment for the syndrome usually resides in cranial molding helmets with hard outer shells and foam inner linings that discourage continued growth in the wrong direction. The helmets, which can cost up to $2,500 are normally covered by insurance, but military families – whose budgets are already stretched – are finding that their insurance won't foot the bill because it's not a proven cure.
Should insurance policies pay for such corrective devices?