Flower Girl and Ring Bearer Duties
What to Expect When Your Child Is in a Wedding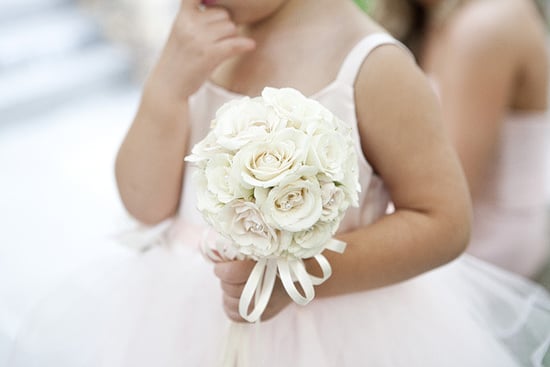 It's an honor for your child to be part of a loved one's wedding, but with that special position comes a bit of responsibility. With wedding season in full force, we're outlining some of the must-know duties for flower girls and ring bearers. Will your little one be walking down the aisle? Here are some tips and details to guide you through the experience:
Parties
Between engagement parties and bridal showers and bridal party luncheons, the number of prewedding events can be high. If your child is invited to one of the get-togethers, here are a couple tips to keep in mind:
Consider the party an opportunity for your little one to establish relationships with the rest of the bridal party. You may not be present for all the day-of festivities, so it's important that your child feels comfortable with the others.
Get to know the maid of honor or another person who's close to the bride so that you have another contact to reach when the bride is busy — both before and during the wedding day.
Attire
Whether your child is the flower girl or the ring bearer, the wedding attire is definitely something you should discuss early on. You want your little one's style to fit in with the rest of the bridal party, but it's just as important to find a comfortable option, too. Keep these specifics in mind:
The bride likely has a vision for the entire bridal party, so reach out ahead of time to see what she prefers. Plus, since it's probably a one-time wear, be open and honest about your budget from the get-go.
Depending on your child's age, you may want to wait until a month or so before the wedding to buy their outfit. Not only will you ensure a better fit, but you'll also have a chance to adjust the pieces as necessary.
Shoes should be purchased in advance so that your little one can break them in and be extra comfortable for the big day.
Read on for more bridal party expectations.
Duties
The tasks for ring bearers and flower girls can vary, so your best bet is to communicate early on about any expectations the bride may have. From props to ceremony responsibilities, here are some details you should ask about:
Will your child be holding a pillow, carrying a basket, tossing flowers? Ask about the particulars so you can buy or research ceremony props as needed.
Will your son or daughter be walking down the aisle? Pulled in a wagon? Alone or with another kid? These days, the options are endless. Find out exactly what your child will be doing so you can prepare and practice with them in advance.
Day-Of
The wedding weekend will probably be a blur, so it's best to know the plan as soon as possible. Before the craziness hits, reach out to the bride to see when and where your little one needs to be throughout the day.
The ceremony rehearsal — typically held the night before the wedding — is crucial. Show up early so your child has plenty of time to get familiar with the space.
Kids may be invited to a "getting ready" occasion with the rest of the bridal party. Depending on your child's age and attention span, it might be best to simply stop by for a bit or bring some quiet activities to keep him or her occupied.
A large part of the wedding day tends to be dedicated to pictures, so don't be surprised if you and your child are expected to show up several hours before the ceremony. If you're worried about the timing, ask the bride and groom if they can take all the pictures with your child at one time.
Try to guarantee that either you or another person close to your child is seated near the front row during the ceremony — someone they can walk toward or sit with after they've walked down the aisle.
The bottom line: Weddings usually involve a lot of people and a lot of specific details, so it's smart to get organized early. Not only does planning ahead make for a smoother, less hectic day, but it also means your little one is more likely to feel comfortable and have a good time.
Has your child ever been part of a wedding? Share your tips and comments below!
Photo by Melissa Schollaert Photography via Style Me Pretty