Flying With Kids
How I Survived a 6-Hour Flight Delay With 2 Kids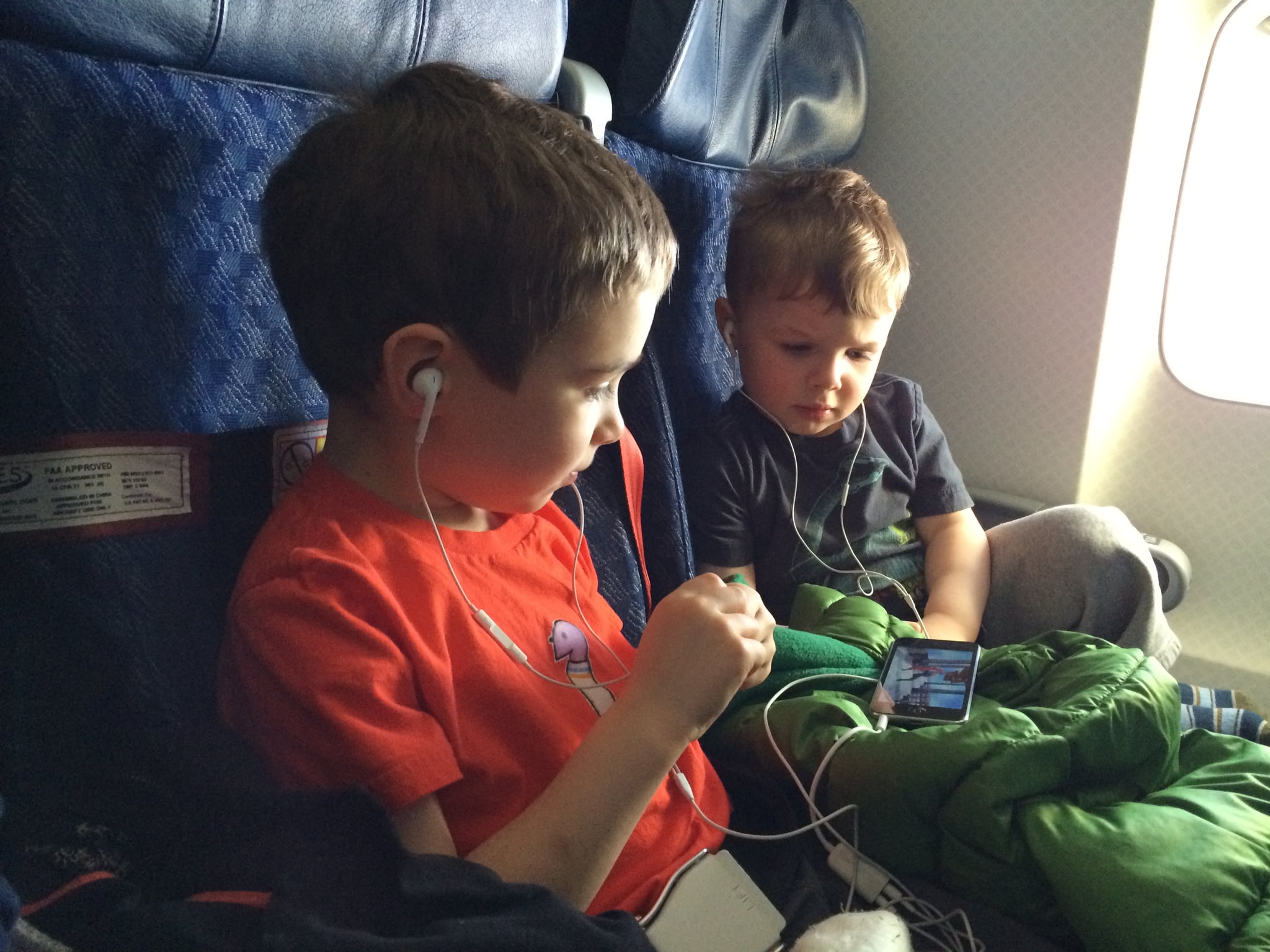 It is the nightmare of every parent traveling with children: your flight, already a multiple-hour hell-ride of anxiety, bribery, and despair goes truly south. I'm not talking like from-the-air-to-the-ground-in-a-fiery-crash south; more like one-more-minute-in-this-recycled-oxygen-filled-tin-can-and-I'm-going-to-scream south, but still, you get the picture.
It happened to me a couple of weeks ago when my husband and I decided to take our two children, ages 3 and 6, on a trip from our home in the Chicago area to New York, where my best friend, her husband, and their three children live. Despite being a fairly intelligent person who's survived some of the worst flights of my life with my kids (don't get me started on the time my husband agreed to switch seats with an elderly woman because she really preferred the aisle, leaving me to deal with an 18-month-old and a 4-year-old by myself), I wasn't really nervous about the flight.
Sure, my 3-year-old son is a ticking time bomb who thinks pooping his pants is almost as hilarious as attempting to cold-cock his parents in the face, and my 6-year-old daughter is about emotionally stable as our current president, but they both pretty much go into zombie mode the minute you say "unlimited iPad time," so I figured the two-hour flight was going to be pretty smooth. We boarded at the scheduled time, and in an unprecedented move, my husband volunteered to sit with both kids while I sat across the aisle. I think our American flight's free new movie releases and our son's excitement about finally getting to see Boss Baby (a name he has now rightfully adopted as his own moniker) had something to do with the offer. Regardless, things were looking good.
Then lightning struck . . . literally. The captain announced the ground crew would not be able to continue to load our bags because of the weather, and we were in a holding pattern (have two more passive-aggressive words ever been spoken?) until further notice. Two hours and all the candy in my bag later, we finally took off. I thought we had survived the worst.
However, apparently the stormed followed our plane because by the time we started our descent into Laguardia, the captain came back on to announce more lightning would delay our landing. Thirty minutes later, he had even worse news: we'd been rerouted to freaking Philadelphia, where we'd sit on the tarmac for more than three hours before being cleared to return to New York. We were supposed to land at three in the afternoon, arriving to my friend's beach house just in time for cocktail hour. Instead, we knocked on her door at almost one in the morning.
Yet, somehow during this godawful air-travel experience, my children totally held it together. In fact, my husband and I agreed that they actually made the day more enjoyable than if they hadn't been there. I'm not even being sarcastic. I've done a lot of thinking about how this possibly happened, and here's what I've come up with that might be helpful to other brave parents who decide to fly with children.
Pack your carry-on bag like you're going to Europe. Bring tons of snacks (nutrition be damned, but don't just pack candy), chargers (newer planes usually have outlets), activities that your kids don't tire of in three minutes, and even a change of clothes or pajamas in case your flight goes longer than you expect. Hungry, uncomfortable, non-plugged-in kids on a flight are not the kids you want to deal with.
Think about in-flight entertainment. The last few flights my husband and I have taken on American have come with the added bonus of dozens of newly released movies, available at each seat. I caught up on Oscar-nominated films I never had time to see while my son watched Boss Baby four-and-a-half-times in a row. We were both thrilled about it.
Lean on the flight crew. Our crew was awesome, raiding the first-class stash of warm nuts, cookies, and waters to pass out to us normal-fare paying folk, providing regular updates, and even negotiating with the Philadelphia ground crew to let us off the plane for 30 minutes to grab dinner and stretch our legs. Airlines haven't been getting the best reps as of late, but don't assume the worst of them.
Make it an adventure. You know what usually happens when my kids get on a flight? They take off, fly to our destination, then disembark the aircraft. So this up-down-and-all-around thing was kind of fun for them. My husband and I stayed as positive and upbeat about the situation as possible, we FaceTimed grandma and grandpa with news, and ate more biscotti ginger cookies than any four humans ever should. Were we all very ready to get the hell off that plane nine hours after we boarded? Um, yes, but somehow, the very long journey to our destination also became a family-bonding experience.