Flying Solo: Tips for Children Traveling Alone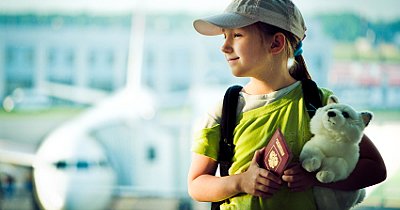 Is it crazy to let your child fly alone as an unaccompanied minor? Get tips from moms on how to decide when your child is ready. Plus, learn about the basics of solo travel for kids, including how to prepare them for it.
Is Solo Travel Right for Your Child?
There are many factors to consider when evaluating whether solo travel is appropriate for your child. For many moms, the most overwhelming reason not to permit solo travel is safety. Even with strict regulations in place (see below for a rundown), many moms are simply not comfortable allowing their children traveling among strangers.
Others worry that their child would be scared traveling alone. As Circle of Moms member Melissa O. shares: "Sometimes planes hit turbulence, and even though there's no immediate danger, it can be scary, especially to a child." You should also consider the length of the flight, and whether it is direct or connecting.
For other parents, the child's maturity and comfort are the basic considerations. Do they know how to act around strangers? Are they excited or nervous to fly alone? Mother of four Mary S. shares: "My two oldest (13 and 12) regularly fly [as] unaccompanied minors from our home in Ohio to their grandparents' in Florida and New York. They have been doing this for about 4 1/2 years and LOVE IT."
What Does Flying "Alone" Entail?
Although "unaccompanied minor" restrictions procedures can vary by air carrier, the Aviation Consumer Protection Division of the U.S. Department of Transportation sites the following the general rules and procedures for U.S. air carriers:
Age Restrictions: Children as young as 5 may fly unaccompanied on direct flights. Children 8-11 (or 14 in some cases) can fly unaccompanied on connecting flights. Children age 12-17 (or 15-17 for some airlines) are not required to fly with unaccompanied minor procedures on domestic flights, but airlines will apply them if requested. Some carriers will not permit an unaccompanied minor to book a flight with a connection to the last flight of the day. Standby travel is usually not permitted.
In the Airport and On the Plane: You and the person meeting your child at her destination may need to get a "gate pass" to escort your child past security into the terminal area. You'll need a government-issued photo ID. Even if it's not required, you can request one. The child may be given a badge to wear for the duration of the trip. Unacccompanied minors are escorted onto and off of the plane by a flight attendent. In flight, the flight attendants frequently check in with the child, but constant supervision (or entertainment) isn't provided. At the destination, the child will only be released to the person named on the unaccompanied minor form, so don't send Grandma if Dad was supposed to pick your child up! A photo ID, even for a parent, is required.
Fees: An unaccompanied minor ticket generally costs an additional $50-$100 each way.
Preparing for Solo Travel
Ready to take the plunge? Below are tips for preparing for the flight from moms whose children have flown as unaccompanied minors.

Discuss Stranger Safety: It's essential to discuss with your child the potential dangers of flying alone. As Alicia H. explains: "We were very clear about stranger dangers and what she should do to be safe...She knows that she doesn't go with any attendants anywhere either. I take her to her plane, her dad picks her up and no one else is allowed to take her anywhere else."
Practice Runs: The more you go over what the flight experience will be like, the more comfortable your child will be during the real event. As Circle of Moms member Elfrieda shares: "I'd make sure to do lots of pretend airplane trips where we acted out exactly what would happen, from snacks to seat trays to washrooms to flight attendants to the sign she'll have to wear." 
Pack Snacks, Money and Phone: Johanna K. shares excellent advice on essentials to send with your child on a solo flight: "When he was younger, his father always gave him snacks (comfort foods aside from what the airline gave you). He had $20 in his pocket, ALL phone numbers necessary, and a calling card that had a lot of prepaid minutes on it." Additionally, consider a change of clothes, entertainment, and any necessary medications.