Flying While Pregnant: Tips for a Safe and Comfortable Journey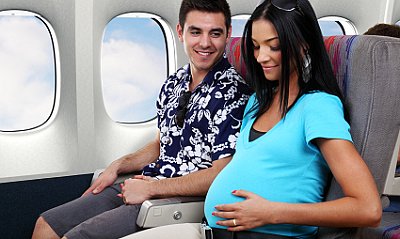 Considering air travel during your pregnancy? Chances are you have a lot of questions! From when to go and what records to bring to how to stay comfortable during the flight, here we share eight key tips for traveling by plane while pregnant.
1. Get Your Doctor's Clearance
First check with your doctor about whether it's safe for you to fly. As Aisha D. advises in the Pregnancy Questions/Advice community: "Ask him or her if you are in the high risk group. My doctor says no flying for me because I am high risk." In general, many moms recommend flying in the second trimester; by then morning sickness has often abated and the risk of miscarriage is lower, but tummies aren't as uncomfortably large as in the third trimester.
2. Research Airline Rules on Flying Pregnant
If you receive a go-ahead from your doctor, research the airline's pregnancy restrictions. Many airlines require a letter from your doctor signed within a certain period (often just a few days) of your departure date. Other airlines prohibit pregnancy travel beyond a certain point. As Jennifer R. relays: "Check the airline you are flying with....some say not later than 28 weeks...others say up to 36 weeks....the airline should have that info on their site."
3. Bring a Copy of Medical Records
Before embarking on air travel while pregnant, moms like Nicole R. wisely recommend obtaining a copy of your recent medical records: "When I flew, my doctor gave me a copy of all of my recent medical records concerning the pregnancy, just in case I were to go into labor unexpectedly while away on my trip, [and] that made me feel better.  You might consider asking for a copy of your records, that way if the unexpected happens you will be better prepared to get the best care possible."
4. Opt Out of Full-Body Scanners
While the Transportation Safety Administration (TSA) advises that full-body scanners don't pose significant risks to pregnant passengers, some doctors recommoned that pregnant women should opt out of the full-body scanner until the risks are more fully understood. Moms like Becky F. agree: "I would try to avoid them, especially if I were pregnant or breastfeeding." You can always elect to undergo a physical pat-down search instead of the full-body scan. (You can request a female agent and a private room.)
5. Book an Aisle Seat
"Forgo the sought after 'window seat,'" Cori W. wisely advises. Instead, request an aisle. "You will be happy when you don't have to ask the people next to you to move every 10 minutes when you have to get up to pee!" Having an aisle seat is also important because you'll want to get up and walk around frequently during the flight to aid with circulation. Once at the gate, you may also want to ask the ticketing agent if it's possible to be seated in a bulk head row, which offers extra leg room.
6. Get Up and Move
It's important to get up and walk frequently during the flight to avoid swelling or blood clots. As Elizabeth L. advises: "Get up and move around since you do not want your ankles to swell or end up with a blood clot in your legs."  Ryan B., a mom and flight attendant, agrees: "Try to move about the aircraft a bit during the flight — as long as it's not turbulent. That will help with the discomfort of sitting with your big belly!"
7. Bring Appropriate Footwear
While in-flight walking often helps with circulation, some foot and ankle swelling is to be expected when flying during pregnancy. As a result, many Circle of Moms members, including like Natasha R., recommend wearing socks and shoes that will more comfortably accommodate swollen feet: "I flew when I was 7.5 months pregnant. I highly recommend travel socks!"
8. Guzzle Water
It's very important for pregnant women to consume lots of water during air travel. "Drink plenty of water to avoid dehydration and constipation and eat regularly," Shirely S. recommends. And since in-flight food options may not be particularly appetizing, bring food as well. "Pack extra snacks for yourself," Sarah A. advises. "Trust me, you'll need them."