If it's been a while since the family was active, that's ok. Just get back out there and get moving. Get your start, and we want to support you. We partnered with Kohl's for this active post.
Whether your family is a set of gold-medal athletes or more of a books-and-movies crew, it is always fun to bond during an active family weekend. All it takes is a little planning (really, very little) and positive energy to get everyone outside and moving. You can stay close to home or venture further afield with these fun ideas. Do four in a row or spread these out to make the fun last. The most important thing? Commit to it, because you have to get your start somewhere.
The Scavenger Hunt Weekend
In a nearby park (or your own backyard), hide small trinkets in trees, under rocks, and near flowerpots. Write a set of clues for kids to follow and oversee a detective day where they hunt for prizes! Kids of all ages enjoy this one — and older siblings can help little ones interpret clues. The big treasure trove might be a set of Under Armour family activewear from Kohl's for next week's activity. A mix of Boys Eliminator Shorts, Girls Dazzle Tanks, and Micro G Motion shoes fits the bill.
The Biking Picnic Weekend
Choose a scenic destination not too far from home and pile onto family bikes (putting little ones in trailers or kid seats) for a ride. Someone's wheels can hold a basket of goodies for lunch because your destination is a picnic with a view. By the water, in the park, on a grassy hill in the center of town . . . any pretty spot will do. Bonus points for choosing a ride that cruises by a sweet shop on the way home — ice cream for everyone!
The Relay Race Weekend
Every good family sitcom has a relay race episode, and that's because they are fun and hilarious. In your local park or your backyard, bring plastic cones and flags, set up obstacle courses, and try three-legged races and potato-sack runs (trash bags work too . . . does anyone still have potato sacks lying around?). Laughter is guaranteed!
The Bear Crawl Challenge Weekend
Kids and adults will get in a fun workout doing the Bear Crawl and from laughing as everyone attempts this fun move. Be sure to snap a pic! Then it's time relax and stay in for a snuggle-on-the-couch family movie night. You've earned it!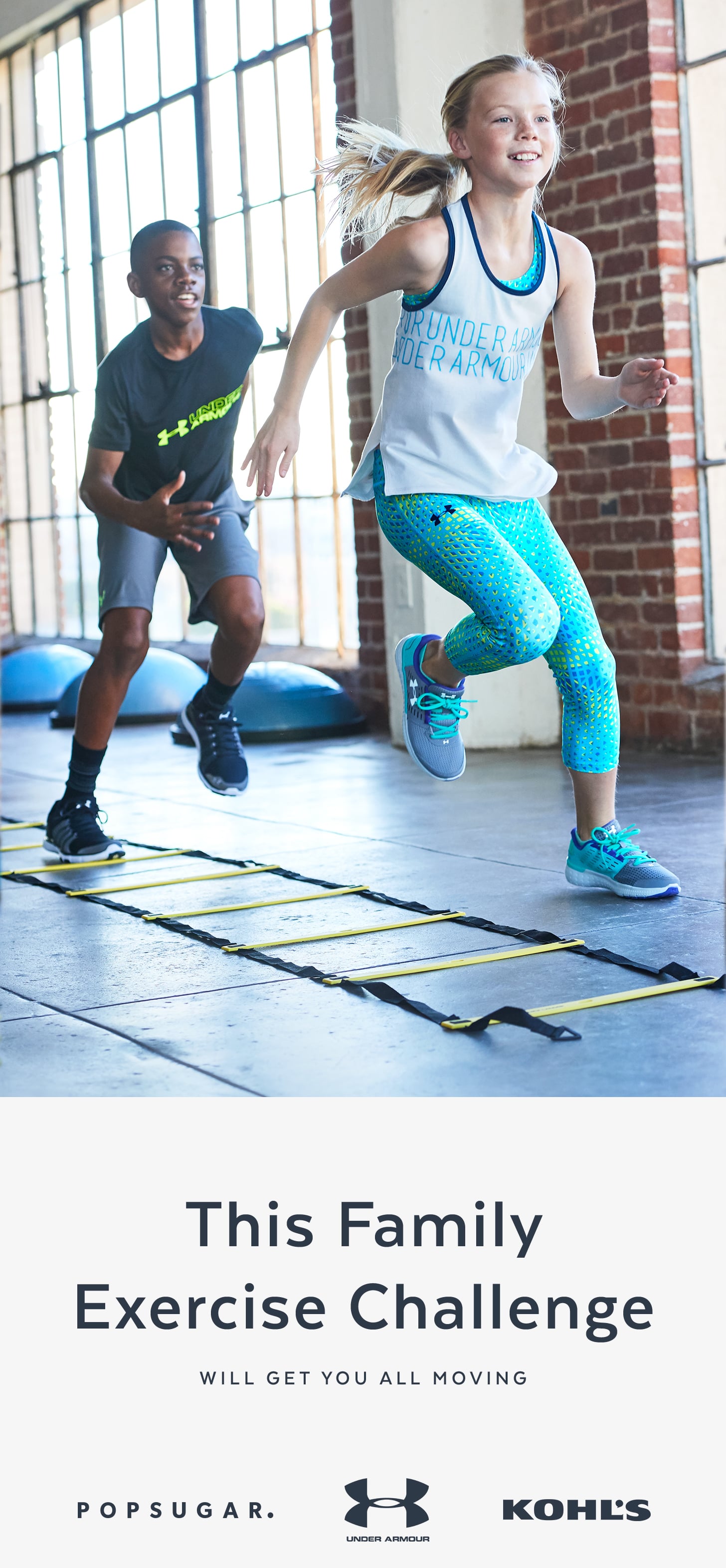 Join the Kohl's + Under Armour Bear Crawl Challenge!
To enter the challenge do the Under Armour Bear Crawl, take a pic or video, and tag #BearCrawlChallengeSweepstakes & @Kohls to be entered to win a grand prize of $1,000 in Kohl's Gift Cards or one of ten $100 Kohl's Gift Cards now through 3/31.



NO PURCHASE NECESSARY. Sweepstakes open to legal residents of the 50 U.S. & D.C., 18 or older. Ends 11:59 pm CT on 3/31/17. See Official Rules for full details including eligibility, prize descriptions & limitations. Void where prohibited.
Image Source: Kohl's