Fourth of July Cupcakes
Baked on the Fourth of July Cupcakes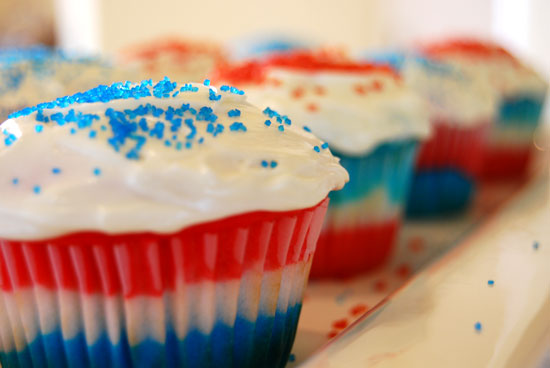 Come on mom... let them eat cake — and a colorful one at that! In the last few months I've discovered the fun to be had with cake mix and a box of food coloring. I'll still push strawberries and blueberries for a healthy dose of patriotism, but a lil red, white and blue cupcake love will be a welcome surprise to all guests at our Fourth of July dinner.
To see how to make them,
.
Buy white cake mix and all necessary ingredients.
Get a box of Betty Crocker food dye gels.
Mix the batter as instructed.
Divide the mix into three separate bowls and add red to one and blue to the other leaving one as is.
If you want to achieve layers, pour a small amount of red, then the white, and top it off with the blue mix.
Bake as directed.
Allow them to cool, frost them with white icing and top 'em however you like.
Ask tots to help stir while baking and include them in the decorating. Satisfaction guaranteed. Happy Fourth everyone!