Free Printable Boys Valentine's Day Card
Our "Roadway to My Heart" Downloadable Valentine Is Perfect For School!
Who needs hearts, kisses, and all that pink? If your home is filled with lil ones who'd rather play with cars, trucks, and things that go than add some glitter to a valentine he'll hand out at school, we've got just the card for you! We were challenged by the editors at Martha Stewart's Living in the Family Room blog to create a boy-friendly valentine that would get tots excited about more than the candy associated with Feb. 14.
The result: "Roadway to My Heart," an interactive card that combines a downloadable valentine and Matchbox cars.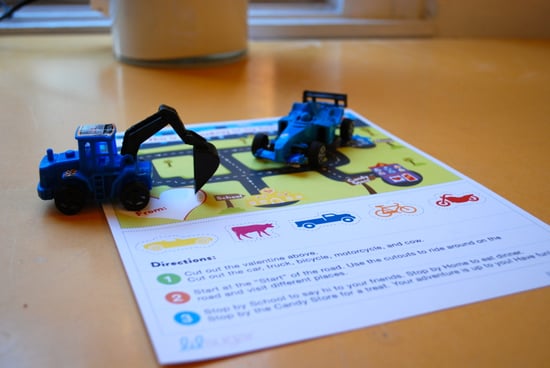 Keep reading for the free download and step-by-step instructions for creating the card at home.
Download our free printable card here.

Simply cut around the dotted edge and fold in half.

Glue on a small plastic car (we bought ours in bulk at Party City).

Address the card and watch as your lil one's classmates have fun!

Happy Valentine's Day and please don't forget to vote for us in the Valentine Blogger Challenge!