Frustration With Screaming Baby
One Parent Confesses: "I Would Never Shake a Baby," but . . .
Here's a post from our partners at BabyCenter! Every week, we bring you the best parenting and lifestyle stories from the experts at BabyCenter, including this post about handling a crying baby.
The other night I stumbled across a Reddit post that sent a chill up my spine. It provoked a memory I do my very best to stuff down under my level of consciousness — and yet at the same time a new thought occurred to me.
Related: 12 ways to say "No" without guilt
Take a look here, at a meme image post titled, "You have to experience it to understand," that a Reddit user shared this week: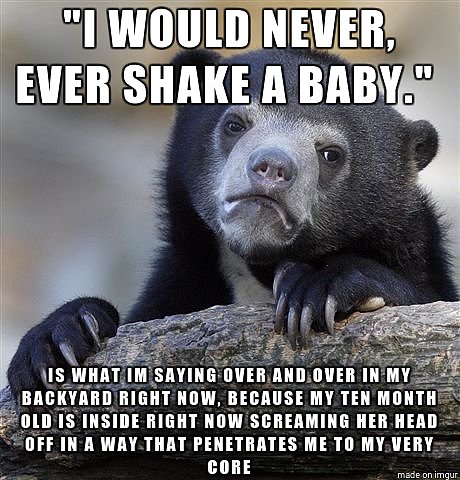 I don't know much about the person who posted this parenting confession, but I do know it hits uncomfortably close to home for me, and many others.
Take a look at a small sampling of the 2,000+ comments that followed such a scary admission:
I gave my son 2 shakes out of frustration when he was about 3 months old. He was my first child. I vowed to myself to never allow myself to get to that point ever again. I have every intention of apologizing to him when he is old enough to understand. He's 9 now and I would give the world for him.
I have a friend who had to endure torture in his special ops training, and part of it was a recording if a crying baby played non stop. It does something to your brain.
If they're not in danger, dry, and fed, it's no different than putting a crying baby in their crib and leaving the room. i agree this sounds terrible, but this is really only something few people that aren't parents could understand.
Being 4 years in and alone, I'm there with you. It does get better. You understand why some creatures eat their young.
One day you'll remind your child that you can sell them to the circus if they don't behave.
My mom told me that, if I had been their first, they wouldn't have had any more kids. My brother is the oldest, and he never cried and put himself down for naps. I came along and gave them a dose of reality.
Yep, been there, experienced it, understand it. Hang in there. They get better. They'll be driving you up the wall in completely different ways in just a few years.
Our pediatrician told me after our first baby was born, "if he's fed and dry and just won't settle down and there is no reason, you can just put him safely in his crib, take a shower, go scream into a pillow, whatever helps you relieve the stress and take a 10 minute break." So, just wanted to say, solidarity, mama/daddy. We have all been there. I know the time change here in the US has been tough on my preschoolers. Lots more tears than usual. You're doing a good job and I hope your little settles down for you!
I went through this. Took it out on a bag of almonds. We were finding them up to a year later in every possible crevice. Baby is good though and it passed.
I've mentioned before, briefly on this blog, there was a night well into my second born's 15-month streak of refusing to sleep through the night that I broke a little bit.
That particular 3 a.m. assault on the ears wasn't notably different than all of the others had been when I first sat up and swung my feet to the floor, but by the time I reached the hallway something was off. A numbness set in, tinged with rage and coupled by long-term sleep deprivation. I remember pausing in the hall, one hand against the cold and bumpy drywall, and then rather than continuing to his bedroom, I turned toward the living room.
I sat there on the couch and cried rivers of hot tears as he cried in his crib. Eventually, my husband awoke and stumbled out to the baby's crib, picked him up and the two of them found me. "I can't do it anymore," I told him, and though I hadn't actually shaken the baby myself, my hands were shaking and I realized with dread that I had the potential to.
That was over six years ago, and yet I still can recall the wholly unsettling feeling of becoming aware I was capable of doing something truly terrible. Now though, as someone who made it through a brush with losing it and is a contributor to a parenting blog where we talk about everything from breastfeeding to births at a near ad-nauseam rate, I wonder why it is the last time I can find we discussed Shaken Baby Syndrome was 2010, when Scott Adler dared to share his experience.
It's a terrible, ugly and scary thing — I know — but are we remiss in not bringing such dark moments into the light more often?
To anyone out there's who has felt their sanity snap, or may have the unfortunate experience of doing so in the future, please know you're not alone. I hope you find this post, or others to share with on a message board somewhere, anywhere.
For more resources, check out BabyCenter's articles on Shaken Baby Syndrome, as well as dontshake.org.
Can you commiserate with this parent's confession? What helped you cope?
More great reads from BabyCenter:
Whose job is it to clean up in a restaurant?
The top 10 lies people tell pregnant women
The 10 best breastfeeding tips from other moms
This child safety seat is designed to avoid hot car deaths
Source: Imgur
Front Page Image Source: Shutterstock