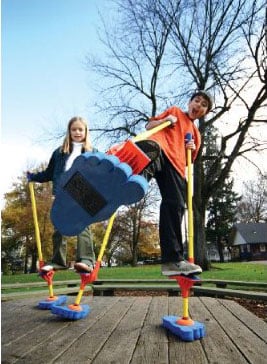 Instead of the 12 days of Christmas, we're celebrating the ages and the toys that go along with them. Keep an eye out for your age group as we tick along throughout the season!
On the tenth day of Christmas, yours truly gave to thee... an activity boosting toy! 10-year-old kiddos are more eager to get outside than their wee siblings. Help them out by giving them some rad tools to shake it up. A newer version of a skateboard, the Ripstick is all the rage with this age group and will keep them entertained for more than just five minutes. If mama's got a jumper in the house, the modern-day pogo stick is sure to be a hopping hit. When you're young, every inch counts. Make your tot the tallest of his clan with the Monkey Business Sports Stomp Walkers. And if your babe needs to practice some balance in his life, the Carrom board may physically aid him to the goal. Beyond that, you're on your own!
Check out what we suggest for the other ages of Christmas!