Normally, we turn to Etsy [1] for gorgeous handmade toys, accessories, and apparel. But every now and then, Mama needs a little comic relief. Enter the witty onesie. "Funny" baby tees and bodysuits can easily lean toward the vulgar — but that's not what we want on our precious little ones. These Etsy finds take baby humor to a (slightly) more highbrow level and would make fun baby-shower or "just because" gifts.
Facebook Famous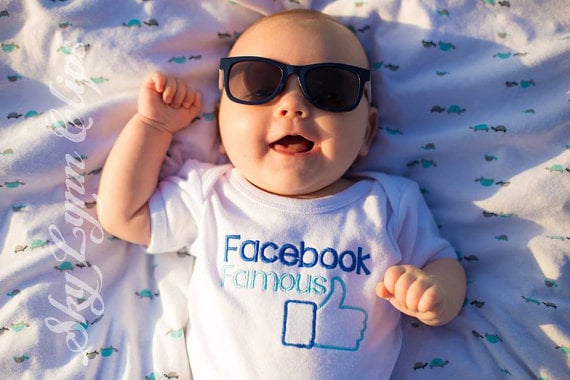 Baby social media overload! Are you guilty of it? Then your bambino must have this Facebook Famous onesie [2] ($20). It's just stating the obvious!
Birth: Nailed It
Nothing like feeding the old ego from an early age . . . This onesie [3] ($18) lets it be known that your baby nailed his first major life accomplishment — being born!
Chillin' in My Crib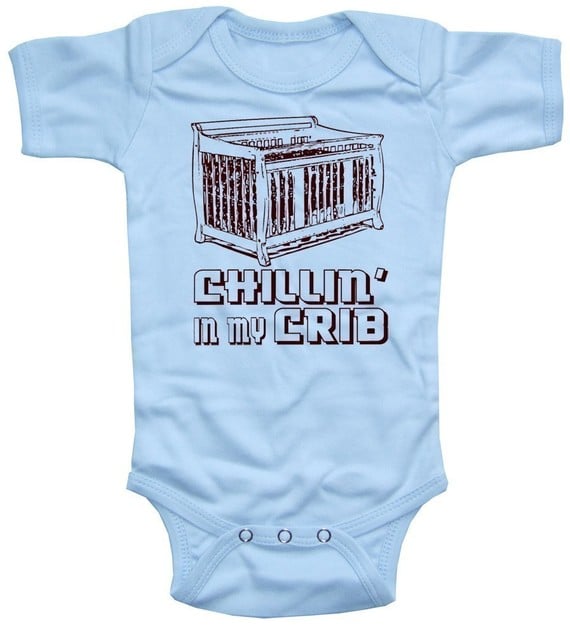 You worked hard on that nursery, so let your little one show it some love with this clever crib onesie [4] ($16).
I Still Live With My Parents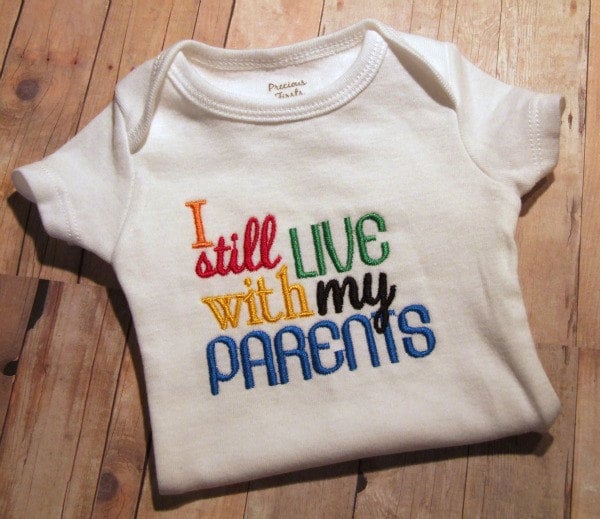 No job? No place of your own? No problem. Take this "I still live with my parents" onesie [5] ($27) with a grain of salt — everyone who sees your baby in it will get a laugh!
Mind on My Mommy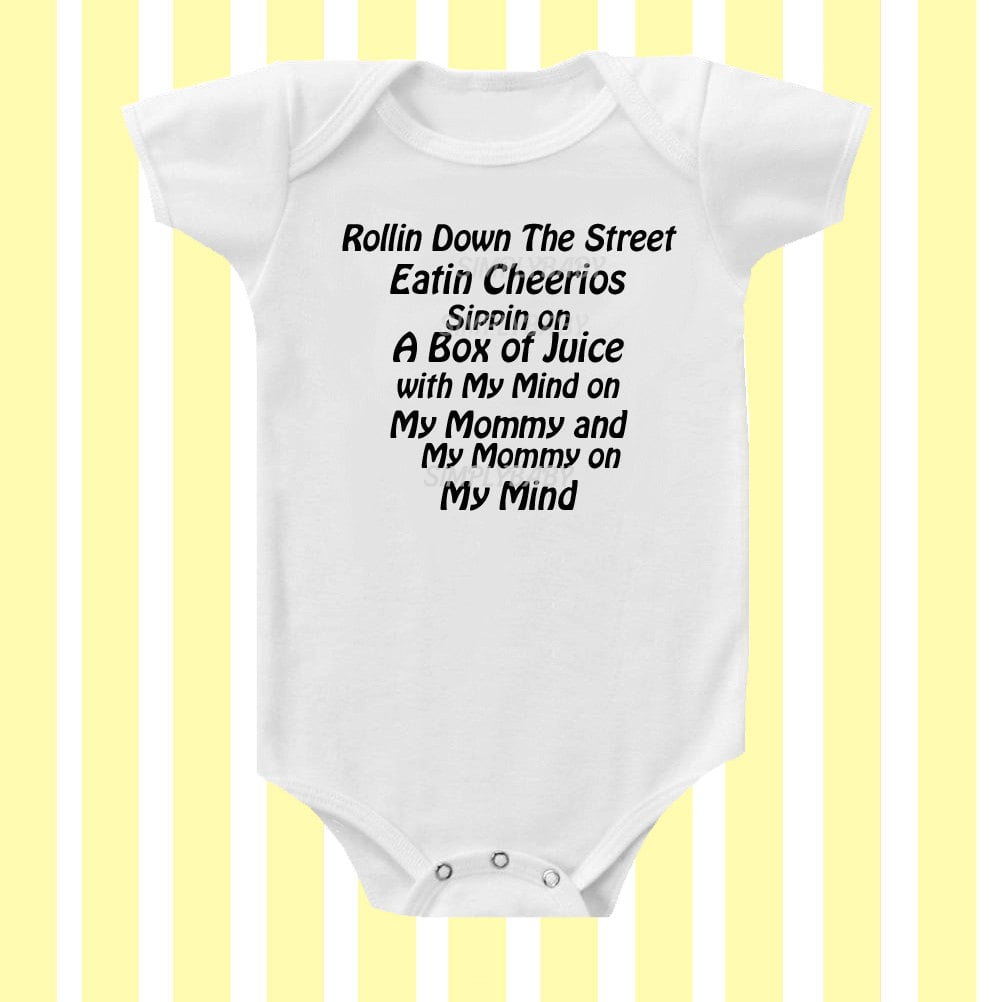 This parody of Snoop Dogg's "Gin and Juice" [6] ($15-$16) is sure to make fans of the rapper laugh out loud.
Nobody Puts Baby in a Corner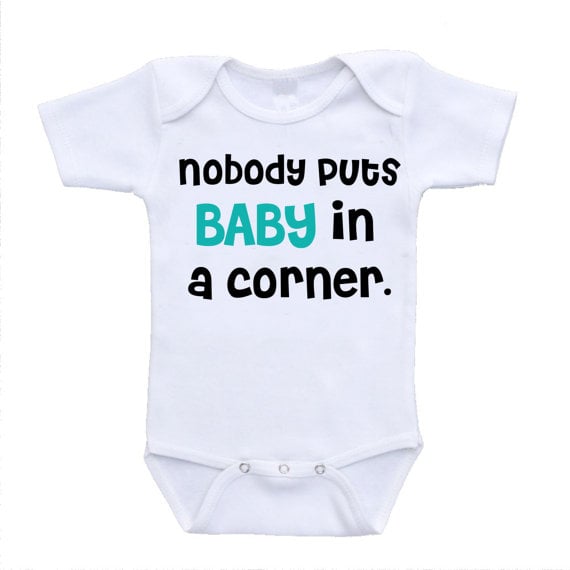 Pay tribute to the '80s classic Dirty Dancing with an adorable outfit [7] ($12) — leg warmers not included!
Drinking Buddies
Twins (or close-in-age pals) can tell it like it is with this pair of Drinking Buddies bodysuits [8] ($32).
I'm Acute Baby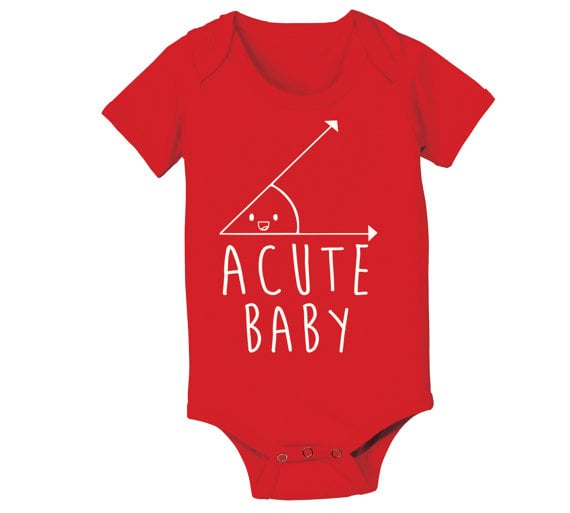 Self-proclaimed geeky parents are sure to appreciate this geometric onesie [9] ($9) — it's never too soon to put those geometry skills to use!
Miso Cute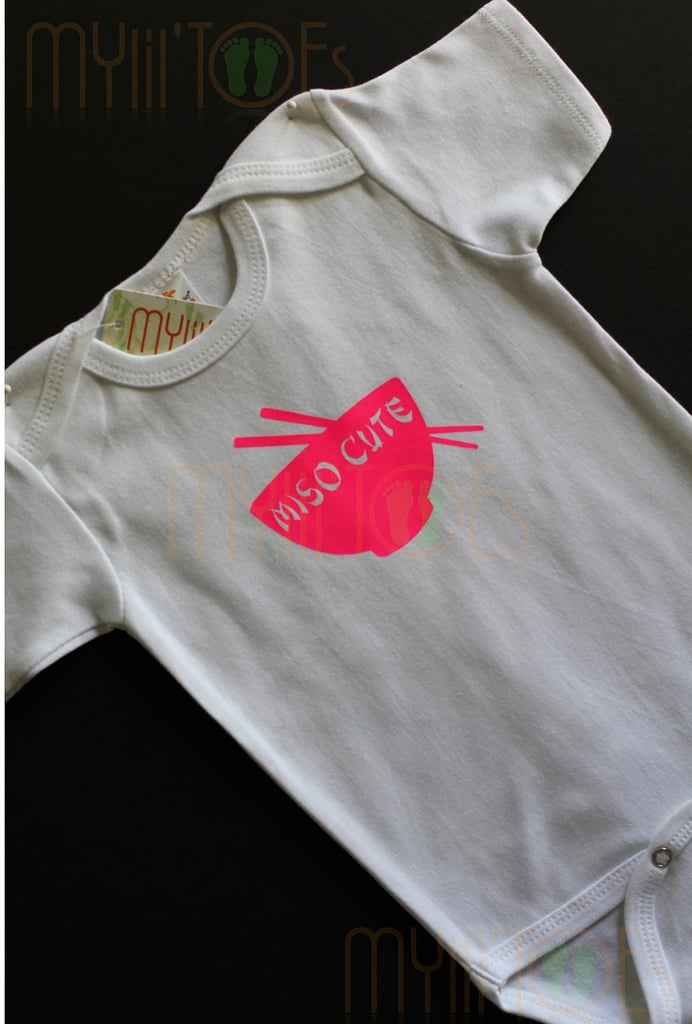 Because he or she really is oh so cute . . . this onesie says it in style [10] ($13)!
Keep Calm and Drink Milk
For the days when you're stressed out, this Keep Calm and Drink Milk onesie [11] ($16) will bring you back to normal.
AB/CD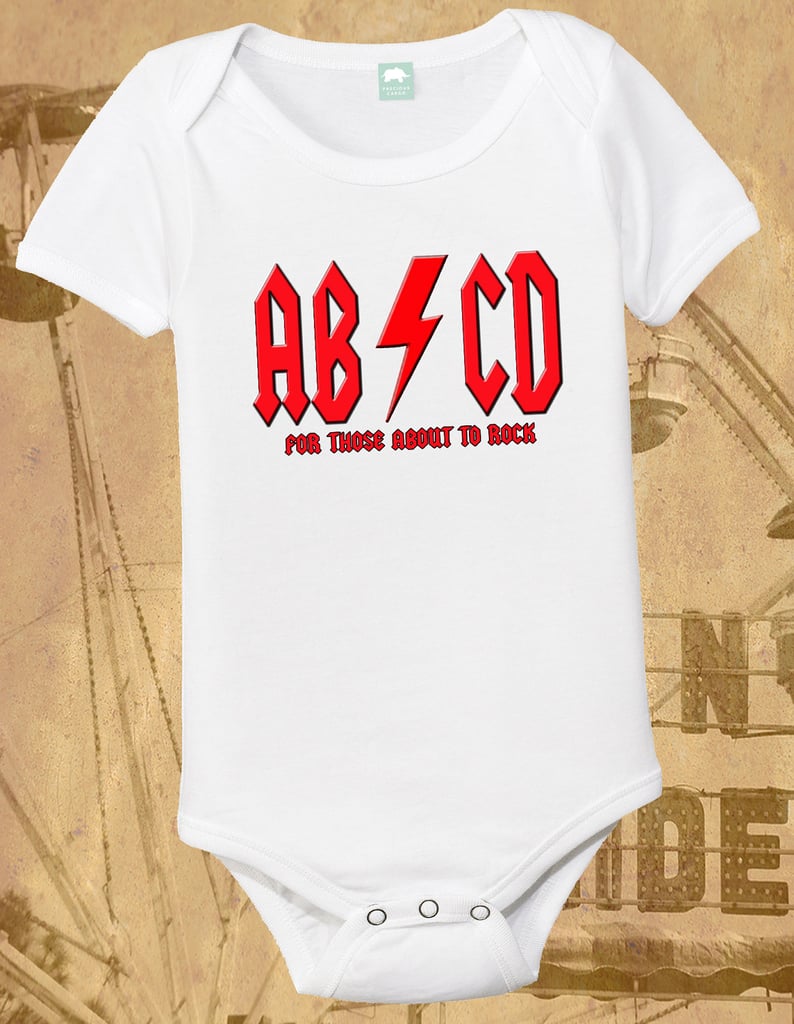 Put your lil rocker-to-be in Funhouse T-Shirts' clever take on an AC/DC tee [12] ($14).
A Jedi Is Born
Keep your tot on the right side of The Force with this Star Wars onesie [13] ($13).
I'm Kind of a Big Deal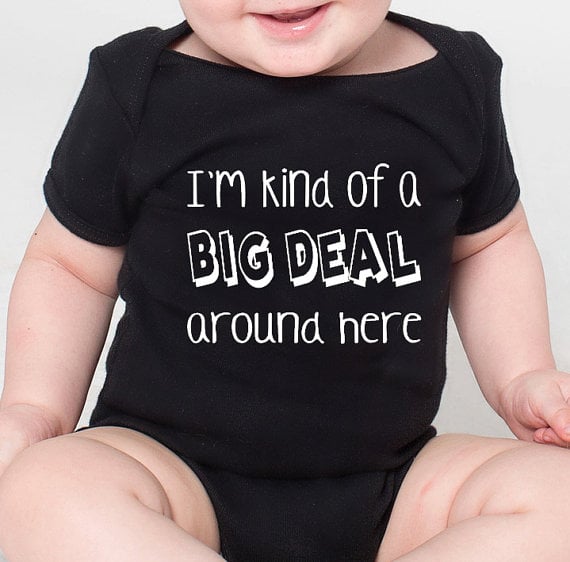 Narcissistic or honest? This literal fashion statement [14] ($15) just says what you're already thinking.
There's a Nap For That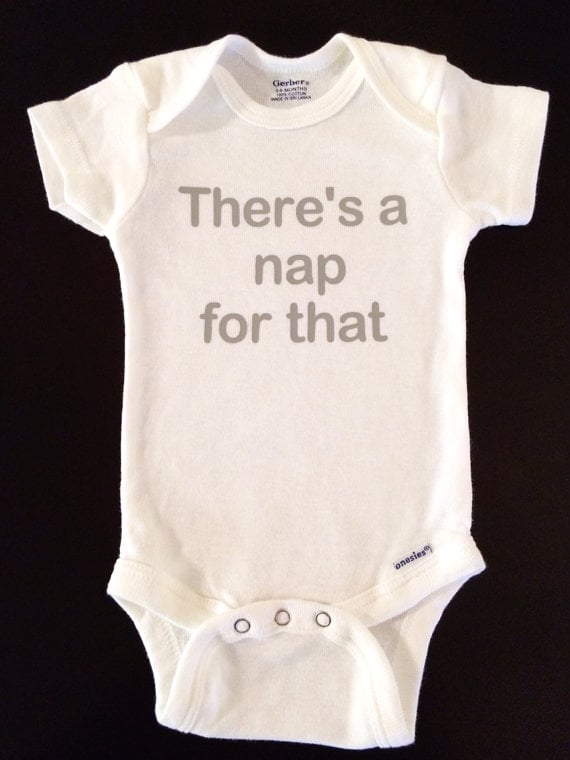 Attached to your phone? Then you'll appreciate this play on words [15] ($15).
Eat. Sleep. Play. Repeat.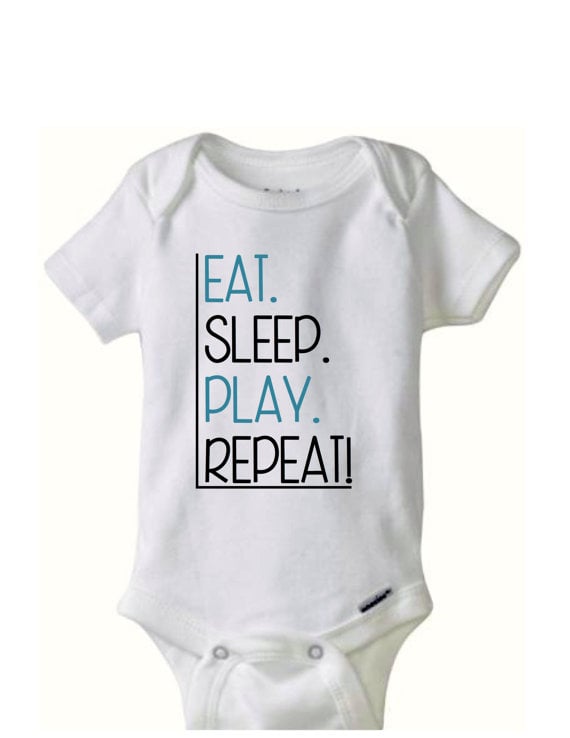 Worried that the sitter (or, more likely, your partner) won't know the baby's routine? She will once she sees this reminder [16] ($12).
Lord of the Rings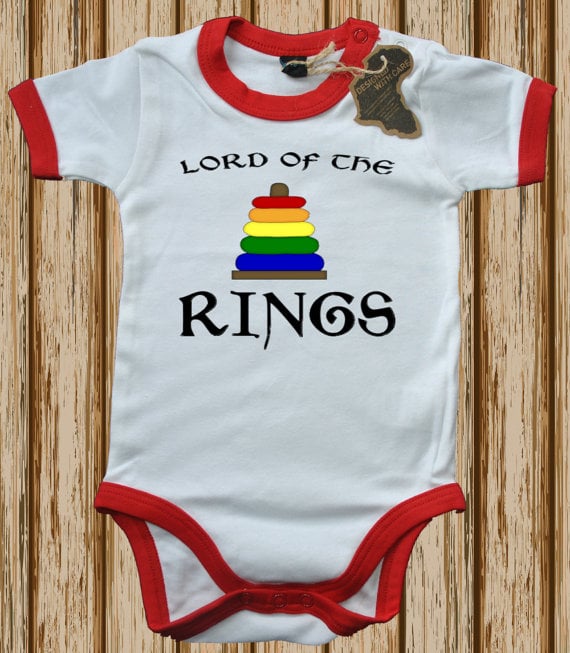 Teach them to appreciate Tolkien with a Lord of the Rings outfit [17] ($17).
Small Fry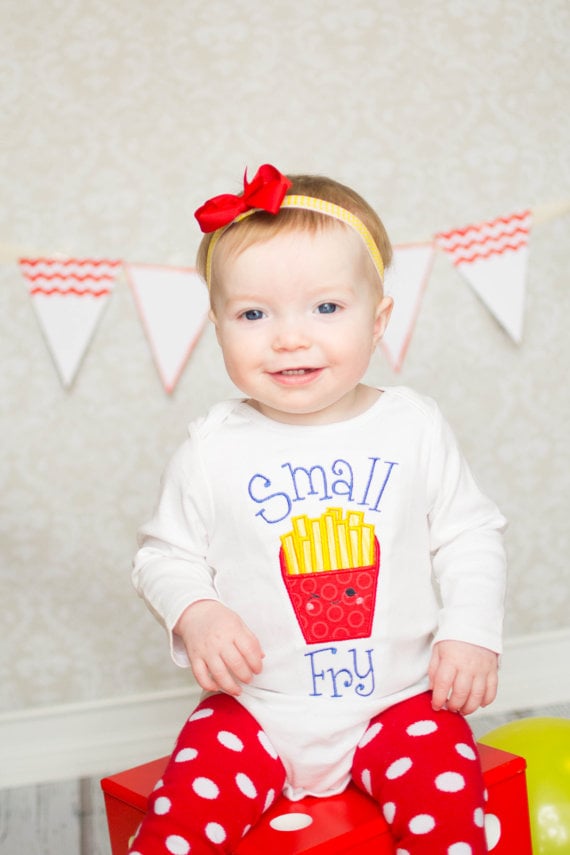 You'll want to eat your tot up even more when she's rocking this fast-food onesie [18] ($27).