Funny Pregnancy Books
A Must Read For Mommies: Let's Panic About Babies!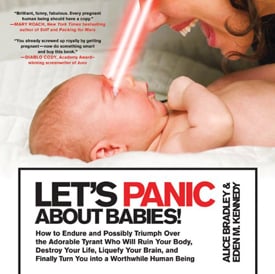 Think about the best pregnancy or baby advice you ever received and most likely, someone else gave you 20 reasons it was clearly wrong. There are few jobs in life that solicit as much advice giving (either wanted or not) as parenthood. Every day brings about a new study that is sure to strike fear in new and experienced parents alike, and it is only those who can take a step back and laugh about it that come out of it all stress (and wrinkle) free.
Fans of Alice Bradley's Finslippy blog know that the tongue-in-cheek mother has a way with words. Her new book, Let's Panic About Babies!: How to Endure and Possibly Triumph Over the Adorable Tyrant who Will Ruin Your Body, Destroy Your Life, Liquefy Your Brain, ... Turn You into a Worthwhile Human Being ($8), is a sarcastic look at the phenomenon of fear-induction that parents are subjected to once they learn they're pregnant. Packed with truly laugh out loud anecdotes, quizzes, tables ("Why Is She Yelling at Me?"), and illustrations, the book is perfect for friends who just can't smile and walk away when asked if their pregnancy was planned. The perfect antidote for the holier-than-thou pregnancy and child-rearing guides that line overcrowded bookshelves, this book is just what mama needs to get through her sleepless nights.