Creating a stylish room for one little boy or baby girl is hard enough, but when you've decided not to find out your child's gender — or to put your son and daughter into one room — you have double the struggle. Luckily we've found 18 gorgeous, gender-neutral individual and shared children's spaces [1] (don't miss our favorite boys' rooms [2] and girls' rooms [3], too), all ready to inspire beautiful rooms in your own home.
A Modern, Neutral Nursery
We love when parents find a way to make shared spaces feel cohesive and thoughtful. Case in point: the gender-neutral New York City nursery [4] created by first-time parents Robyn and Joe Wallace. The couple didn't find out the gender of their baby before she was born (welcome, Scarlett!), yet they managed to create a beautiful, calming space that works for both baby and grown-ups. Click here [5] to check out the details.
Source: Studio 1208 [6]
Martha Stewart's Grandchildren's Space
When your grandmother is Martha Stewart [7] (shh, don't call her Grandma, though), you can rest assured that your bedroom and playroom are more than just spaces to throw a few toys. Jude and Truman Stewart, 17 and 5 months old, respectively, are living the high life in a serene NYC triplex that their mom, Alexis Stewart, decorated as an urban oasis. In true Stewart form, both rooms are not only beautiful, but also practical, with furniture that can stay with the kids well past their infant and toddler stages. Click here [8] to see more photos.
Copyright © 2012, Martha Stewart Living Omnimedia Inc. Originally published in the September issue of Martha Stewart Living magazine [9]
A Twin-Tastic Nursery For a Lucky Boy and Girl
Stylish LA mom-to-be Kelly Zajfen [10] faced the ultimate design challenge when she found out she was having boy/girl twins. Not only would she have to fit two babies into a small room, but she would also have to find gender-neutral items that suited her modern-chic tastes. She met the challenge with Stokke cribs, custom-made sheets, a gorgeous (and inexpensive) wall map, and a crochet elephant head [11] that's long been on our Lil wish list. See more photos here [12].
Source: Oh Hello Mommyhood [13]
A Serene, Dreamy Nursery For Twins
Some might call Susan Hutchinson — an interior designer [14] who focuses on baby and kid spaces, an event and editorial stylist [15] and a blogger [16] — a bit crazy for creating an almost-all-white nursery for her boy/girl twins. But the serene space totally makes sense to us. Those little ones are sure to bring enough color into the West Chester, PA, mom-to-be's life! Nesting LLC [17]
Chalkboard Gallery Wall
Every nursery is a labor of love, but the cool room [18] created for Piper Jane, daughter of blogging duo Courtney and Dustin Bowden [19], was heavy on labor. Stripping wallpaper, creating a striped ceiling, painting trim, refinishing a hand-me-down dresser, converting an Ikea chair into a glider, creating a DIY [20] area rug, and building book ledges were just some of the projects the couple undertook to create a dream room for their daughter. But our favorite element by far is the awesome chalkboard gallery wall. Click here [21] for more photos and to get inspired to create your own!
Source: Project Nursery [22]
Adella and Nolan's Creative, Book-Filled Playroom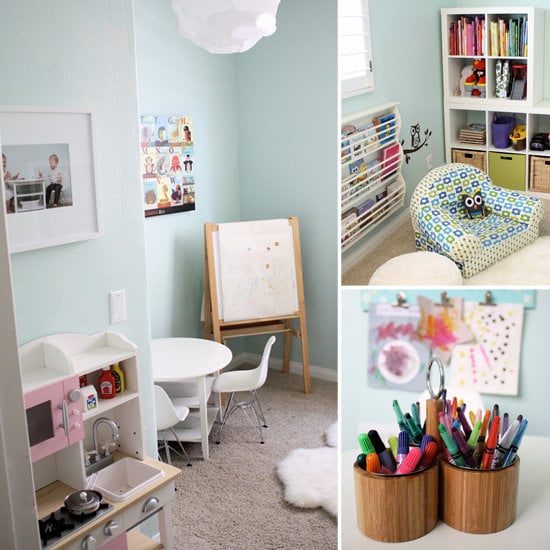 When Lexi Adams — blogger [23], former fashion designer, and mom to 4-year-old Adella and toddler Noah — was looking for a new house with her husband, Tim, finding a home with a potential play space was at the top of her wish list. While the home they found wasn't quite playroom-ready, after two years of renovation and lots of trips to Ikea, they turned what was a home office into a light, gender-neutral, creativity-boosting playroom and tot-friendly library. Click here [24] to find out how Lexi created such an awesome playroom on a budget.
Source: Adella & Co. [25]
A Hip, Shared Space For Baby Adela and Her Big Brother
Amanda de Beaufort is not only the brains behind amazing kids blog Coos & Ahhs [26], she's also the mother of two small children: newborn Adela and toddler Henry. Until her family's recent move to a larger place in Brooklyn, NY, in anticipation of Adela's arrival, Henry actually shared a room with his parents, so their new, two-bedroom space is a luxury in terms of square footage. But it still comes with the obvious challenges of putting a busy toddler boy in the same space as an infant girl. Luckily for these two tots, their mama is seriously gifted when it comes to design, and the room she created for them is stocked full of amazing finds. Click here [27] to check out the chic shared space.
Source: Coos & Ahhs [28]
A Free-Flying Brooklyn Brownstone
You would expect the creators of modern, eco-friendly nursery furniture and clothing line Oeuf [29] to live in a sleek space, but the Brooklyn brownstone [30] shared by Sophie Demenge and Michael Ryan, the husband-and-wife team behind the brand, and their two children is nothing if not unexpected. The living room's flying trapeze (yes, really) and the family's curated but decidedly lived-in look make this house feel wonderfully playful and cozy. Click here [31] for more photos.
Source: Stephanie Deleau on Project Nursery [32]
A Tiny Bedroom-Turned-Triplet-Oasis
While living in a small space can force families to cut down on the clutter and carefully edit their toys, kids will inevitably feel constrained by limited areas. Bob and Cortney Novogratz know all about small homes. The designing duo and stars of HGTV's Home by Novogratz [33] have lived in and around New York City with their seven kids. The couple helped a friend of a friend convert a small Hell's Kitchen, NY, bedroom into a clean, functional room for 4-year-old triplets. Click here [34] to see what the designers used to make it functional and fun for the tykes.
Photo by Matthew Williams
Baby Giacomo's Yellow-and-Gray Chevron Nursery
We love a baby room that's modern, soothing, and — unexpectedly — yellow and gray. Baby Giacomo's nursery, with its chevron-painted wall, stands out from the crowd. The space is filled with thoughtful details and plenty of one-of-a-kind DIY [35] projects, courtesy of creative mom Nadia of Mamemimany [36]. The former architect even created the chevron wall pattern using AutoCAD software, and her husband and mom helped out with the painting. Click here [37] to see more photos.
Baby Valentin's Shared Nursery and Guest Room
"Like any creative project, designing Valentin's nursery was both a challenge and a wonderful time of joy for me," said Caroline Colom Vasquez [38], proud mama and founder of online marketplace Paloma's Nest. The goal of the room, which was designed before Valentin's gender was known, was to serve as a space that could grow with the baby and, in the meantime, accommodate visiting grandparents. Click through [39] to see little Valentin's whimsical, one-of-a-kind bedroom!
Photos by Agnes Blum [40] and Jesse Ryan Photography [41]
Mariah Carey's Twins' Nursery
Before her twins' birth, Mariah Carey [42] gave an exclusive interview and tour of the duo's Bel Air, CA, and NYC rooms to Life & Style [43], revealing that the nurseries for her son and daughter match but aren't identical, so they can "celebrate the twins as separate entities." Forgoing a pink-and-blue color scheme, the classically decorated nursery is primarily outfitted in green, with pink accents (and butterflies, of course) scattered throughout. Click here [44] to see more photos.
Source: Lisa Rose for Life & Style [45]
Piper's Soothing White-and-Gray Nursery
Pastels aren't the only way to create a calm nursery for a tot. For her daughter Piper's nursery, Lauren Rauter, owner of Nashville's Rock Paper Scissors [46] and an incredibly stylish new mama, opted for a sophisticated white-and-gray palette. Animals are a theme throughout, and the overall effect of the neutral color scheme is soft and soothing. Click through [47] to enjoy the journey!
Mason and Penelope Disick's Sleek Playroom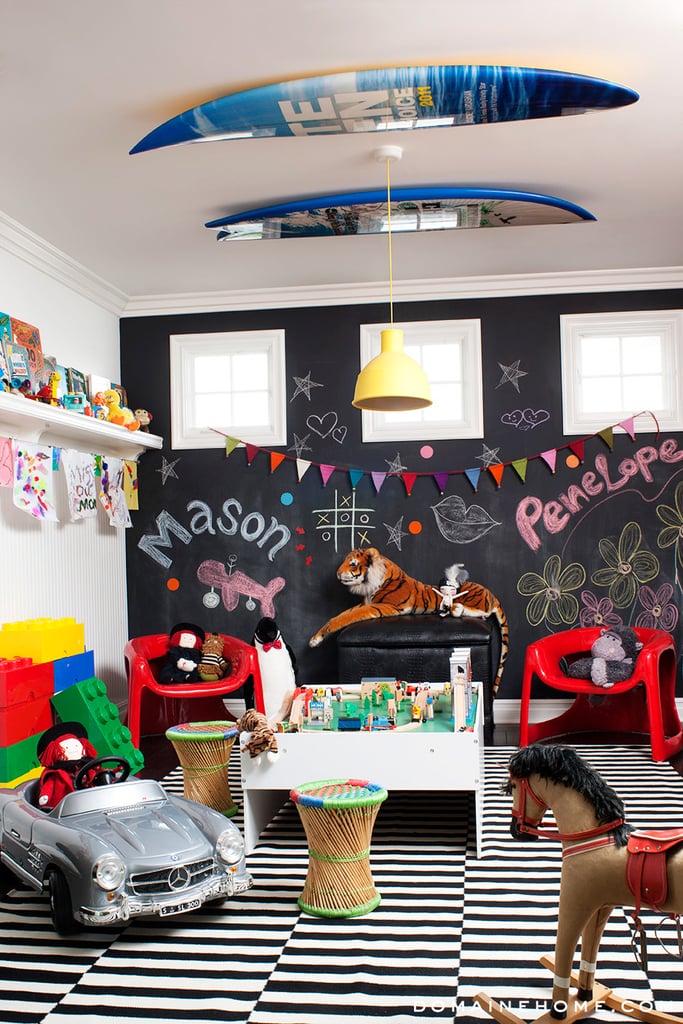 The room not to be missed in Kourtney Kardashian's former home was Mason and Penelope's playroom. There was no shortage of fun in this room, with surfboards adorning the ceiling, a Ride-On Mercedes [48], LEGO Storage Bricks [49], and a Melissa and Doug train table [50]!
Photo: Grey Crawford [51]
An Antique-y Nursery For Two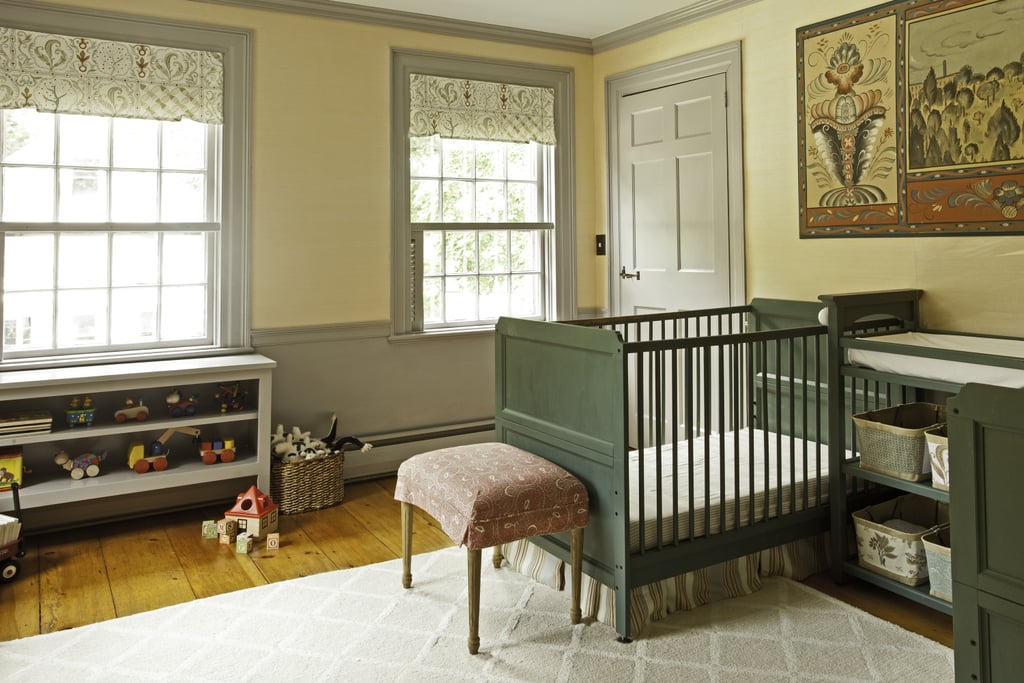 Kirsten Marchand, a retail designer for New Balance and design blogger [52], dreamed about what her nursery would look like long before she was even pregnant. "I wanted to create a nursery that could grow with the kids," says the mom of boy/girl twin toddlers. "I had kept a folder filled with inspiration for years before we started our family, so the nursery truly was a labor of love. One of the best surprises was how functional the nursery ended up being for two very tired parents — plenty of places for storage and play."
With its sophisticated, historic vibe, special art and toy finds, and muted color palette, the nursery isn't a departure from the style of the rest of the farmhouse [53], which was originally built in the 1700s and is located on Boston's North Shore. But with two cribs (Ikea finds made to look antique with Old Fashioned Milk Paint [54]) and two toddling residents, this room is all about creating a cozy, kid-friendly family space.
Source: Kirsten Marchand [55] and Malcolm Brown [56]
Flora's Muted Nursery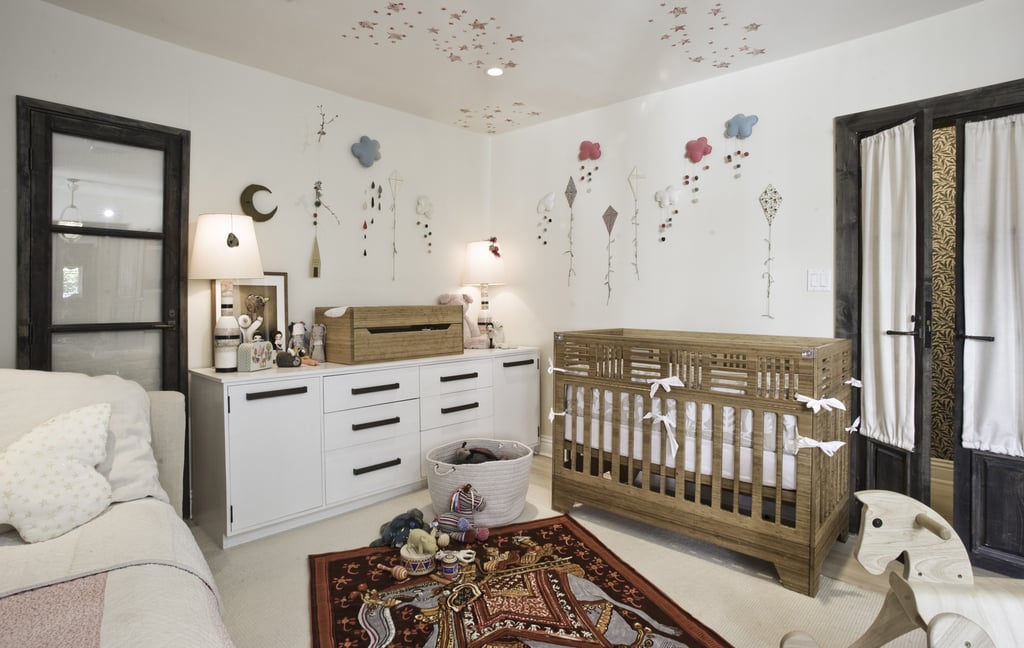 Stylist and designer Estee Stanley [57] is used to designing for big stars, but this time around, she was decorating for her own kids. "Being a designer, I've always found that everything for nurseries was so childlike . . . princesses and weird animal wallpaper," Estee says. "That's not my aesthetic. You can have a cute child's room without it looking like you're in Disneyland [58]!" Kid-friendly but mature, the spaces Estee designed for her son, Teddy, 4, and daughter, Flora, 1, feature her design hallmarks of muted tones, artistic details, and high-end pieces mixed with vintage finds. Keep clicking to check out the details . . . including Flora's Hermès playmat! Now that's Hollywood!
Source: Estee Stanley [59]
Teddy's Room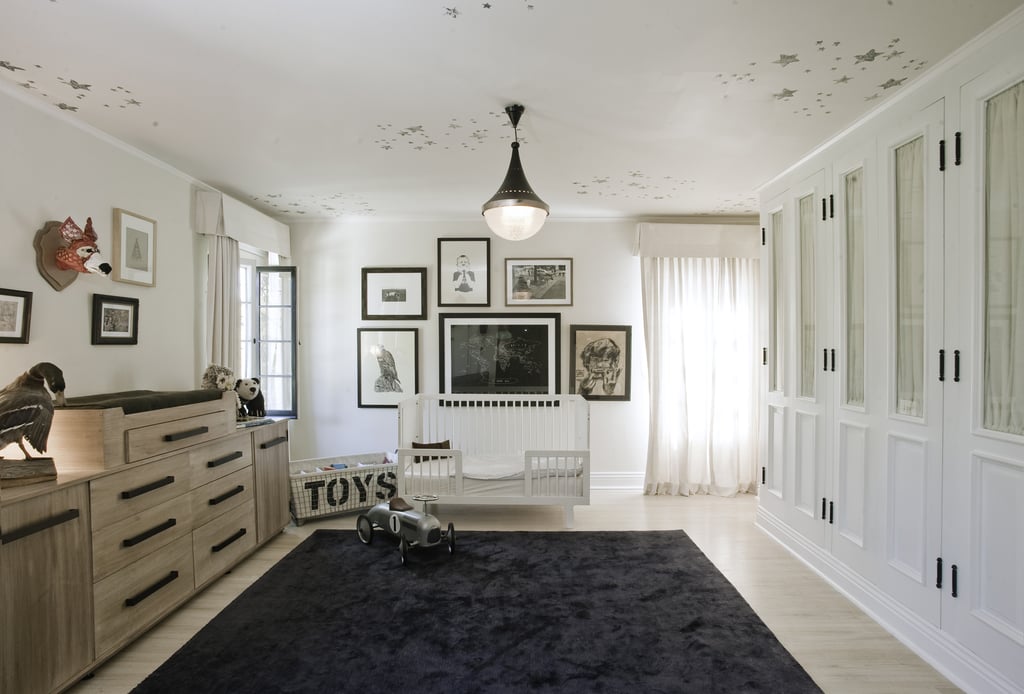 "I designed Teddy's room [60] thinking he would grow up there; I tried to keep it cute and kid-like but still mature," Estee Stanley says. "I figure he'll like it until he's at least 6 . . . then he'll probably want some weird boat bed." Oeuf's Sparrow [61] bed and a Restoration Hardware Baby + Child toy bin [62] are all little boy, but the back wall's collection of art is decidedly grown-up.
Source: Estee Stanley [63]
A Nursery Inspired by Nature
Birds, and bunnies, and bears — oh my! Born on Valentine's Day, sweet baby P. got to come home to this peaceful and serene woodland-inspired nursery [64] designed by his artist mom, Katherine Sable, who chronicles her family's adventures at Fancy Goods [65]. Dark wood furniture and a crisp white crib stand out against the soothing yellow and gray walls — an unexpected and beautiful palette [66] for a gender neutral room.