When it comes to throwing a shower for an expecting co-worker, most people settle for a few streamers and some store-bought sweets. Claudia Sigala-Ochoa, however, treated an in-office party for her friend Nina like an upscale affair. As the owner of Tini Posh [1], Sigala-Ochoa has plenty of ideas when it comes to parties for little ones. For this particular shower, the mother of two turned to the baby's nursery for help.
"The shower was inspired by baby Georgia's nursery colors of peach, teal, yellow, and gray," Sigala-Ochoa says. "No pink for this little peach!"
But Sigala-Ochoa didn't just rely on the pretty palette. She used fun fabrics, simple DIY [2] projects, and a lot of adorable accents to make this party superspecial. Check out all the elements of this sweet, southern-themed baby shower!
Source: Tini Posh [3]
G For Georgia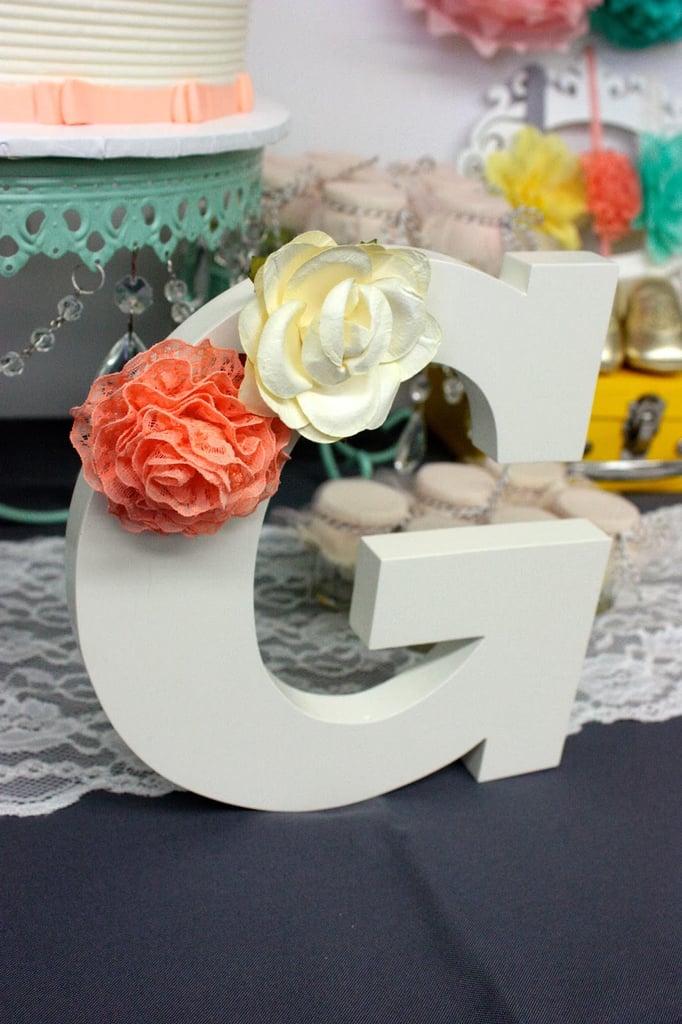 Making this DIY [4] decoration was supersimple! Claudia purchased the wooden letter from Land of Nod [5] ($5) and made the flowers out of fabric. After the party, the mom-to-be added the letter to Georgia's nursery.
Source: Tini Post [6]
Chalk Board Display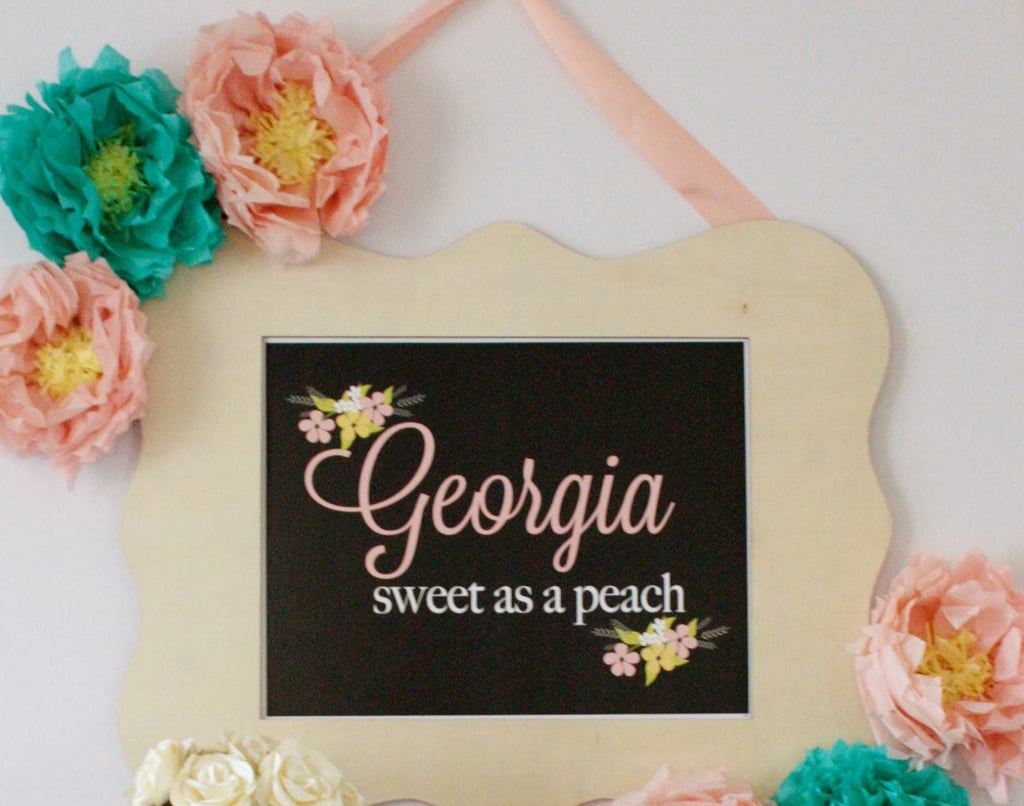 Claudia's homemade hanging tied the theme together and doubled as a decoration.
Source: Tini Post [7]
Floral Arrangements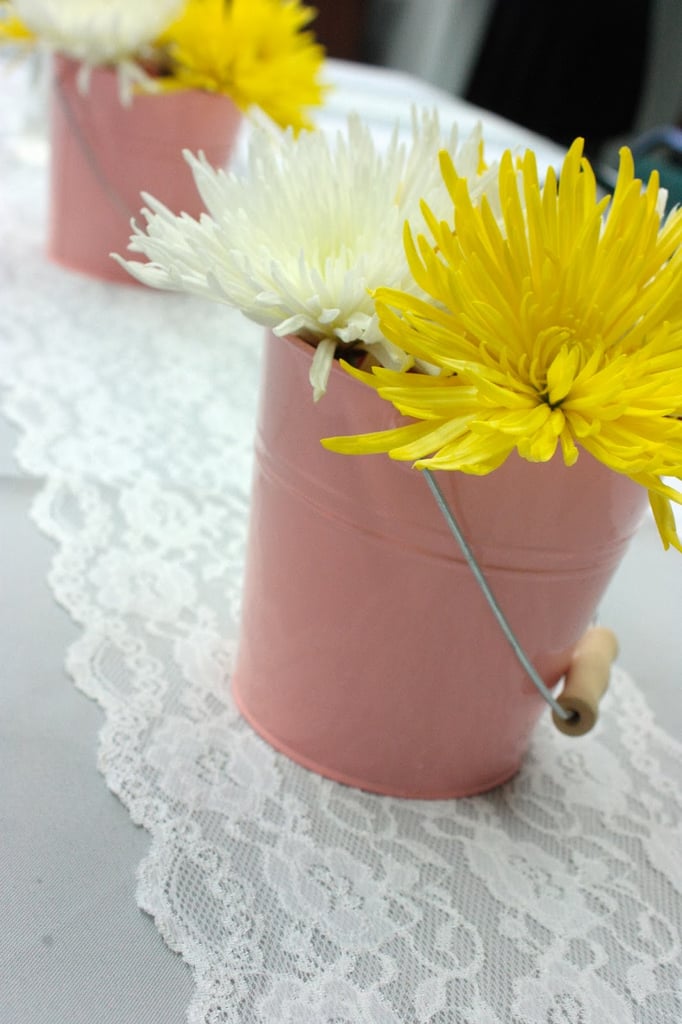 This simple centerpiece is just as beautiful as an upscale arrangement.
Source: Tini Post [8]
Sweet Signs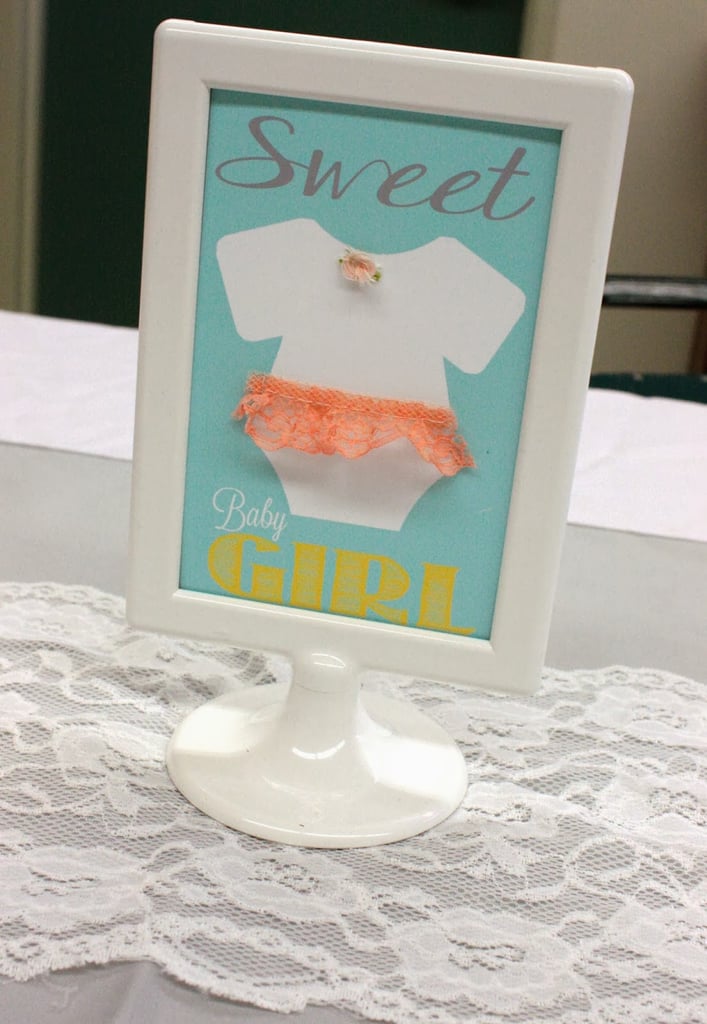 Claudia designed this printable herself and now sells it in her Etsy shop [9] ($4). She upped the ante, however, by adding a little lace fabric and a tiny flower.
Source: Tini Post [10]
Pretty in Pink and Teal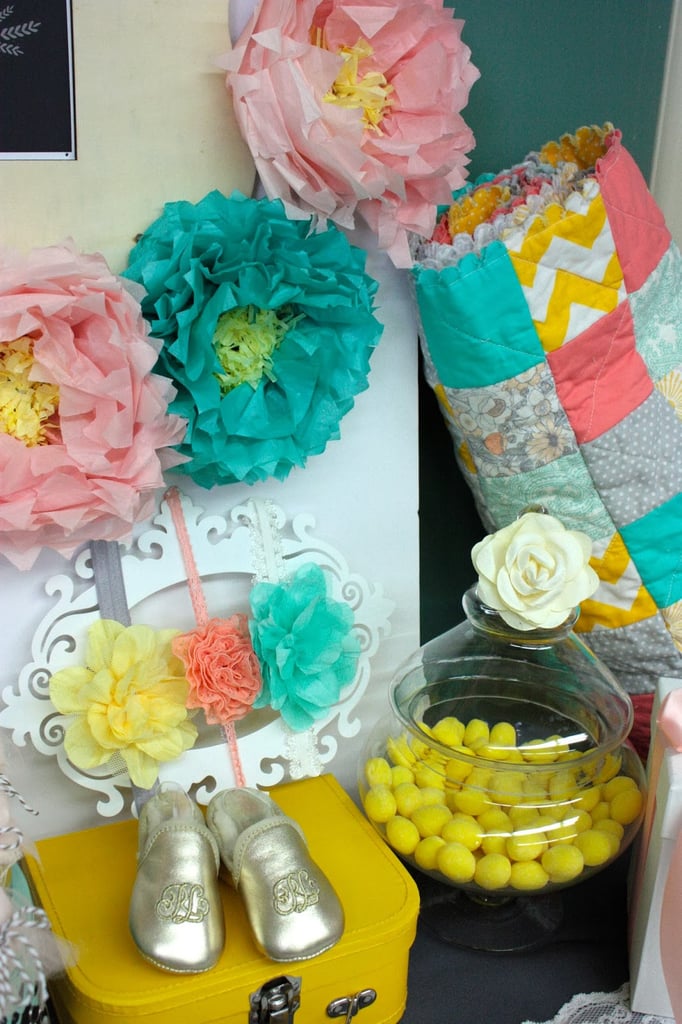 Thanks to Pinterest, Claudia was able to create some larger-than-life paper flowers. Her favorite part of the display, however, was a quilt made by the mom-to-be.
Source: Tini Post [11]
Little Baby Kicks
To create an adorable display, Claudia stacked these silver shoes on top of The Land of Nod's tiny suitcases [12] ($20).
Source: Tini Post [13]
Cute Clothes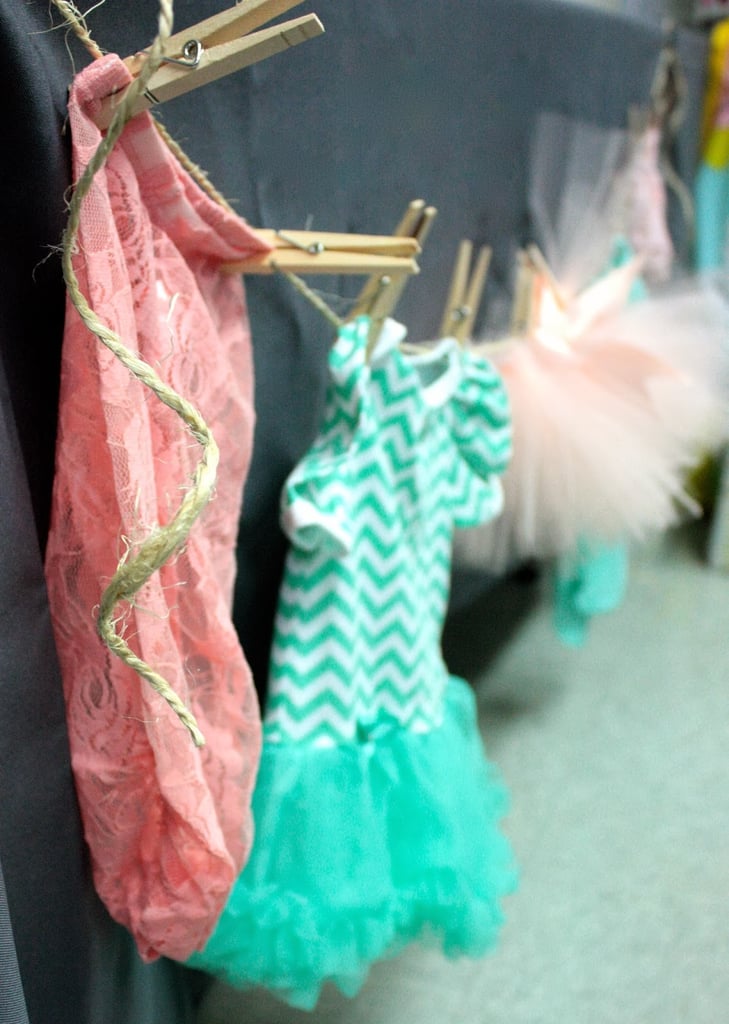 "I enjoyed putting together a tiny clothesline that incorporated some adorable accessories," Claudia says. Not to mention it helped fill Georgia's closet!
Source: Tini Post [14]
Tasty Treat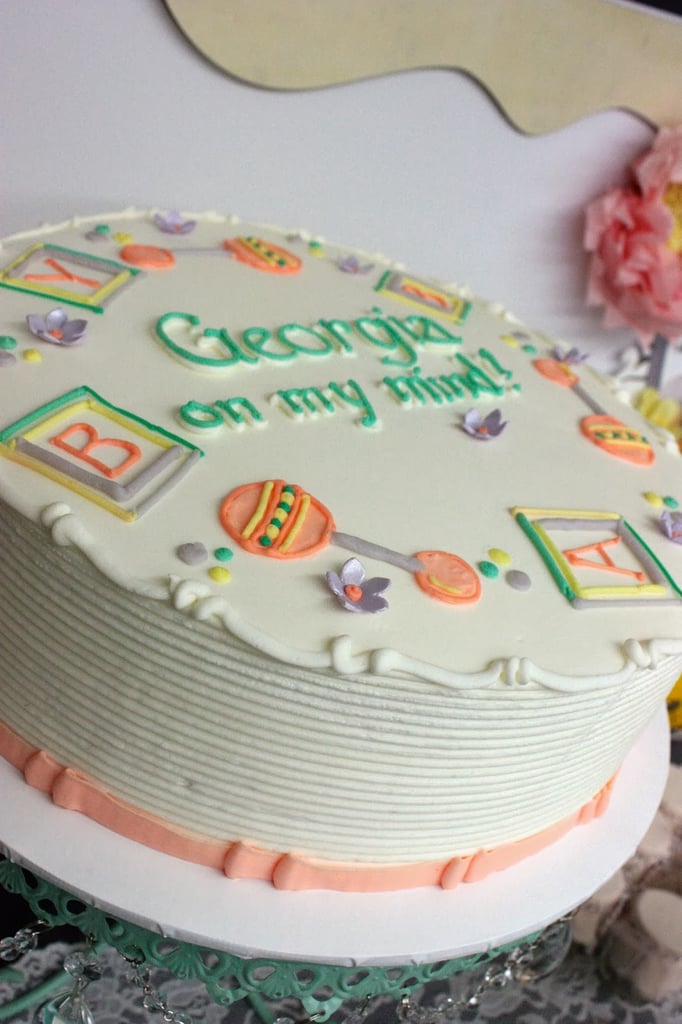 Claudia turned to local bakery Take the Cake [15] to create this adorable dessert.
Source: Tini Post [16]
Dapper Diapers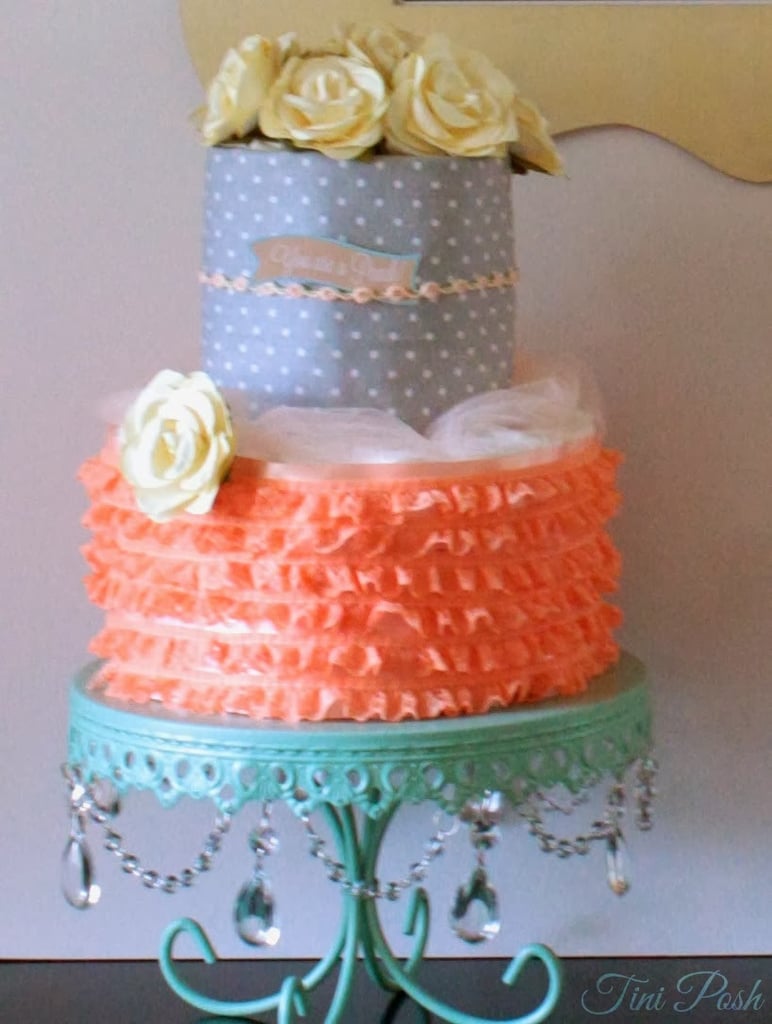 "I made a special diaper cake [17] using a receiving blanket, ruffled lace trim, satin ribbon, a little bit of tulle, paper flowers, and, of course, diapers," Claudia says.
Source: Tini Post [18]
Mason Jars and Mints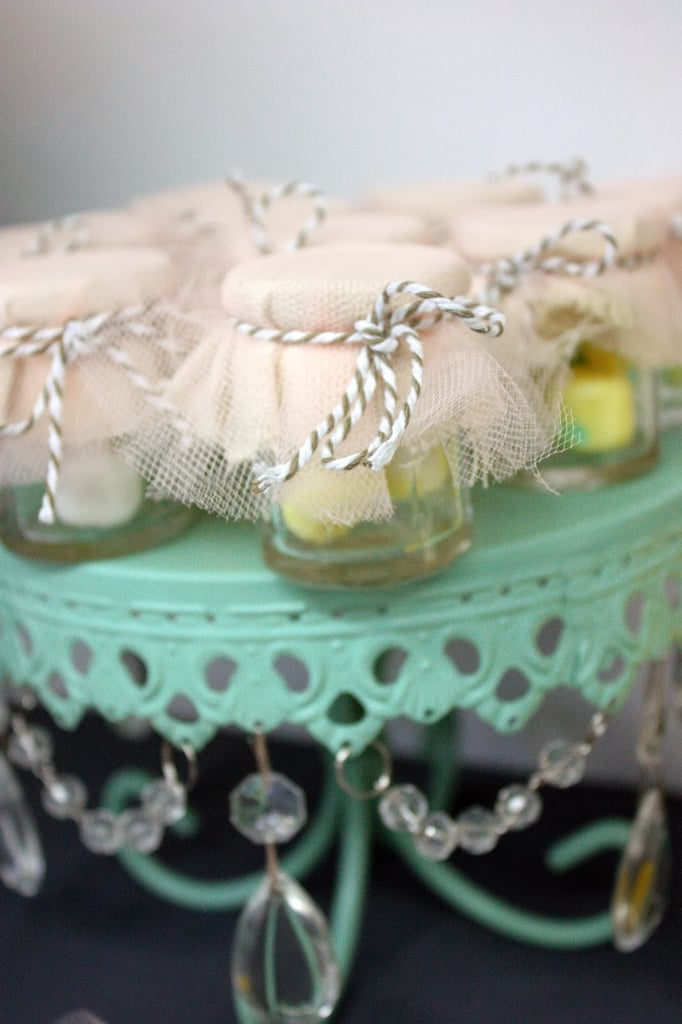 Guests left the party with pastel-colored mints, as well as an adorable mason jar.
Source: Tini Post [19]
Meet the Mom-to-Be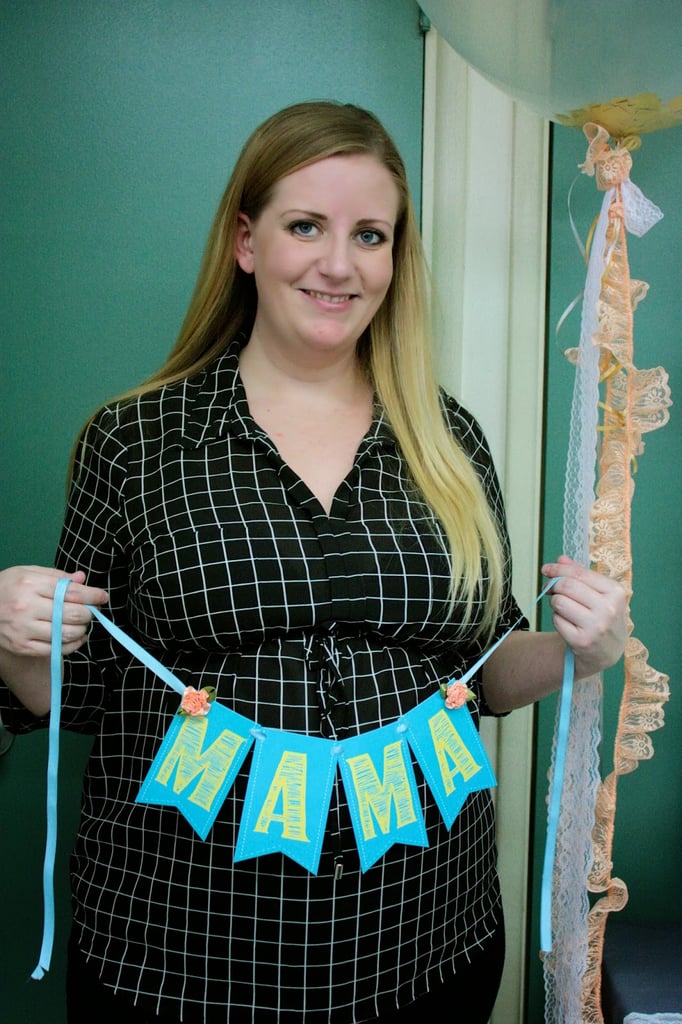 The mom-to-be, Nina Plourde, was overwhelmed by her co-workers' kind gesture.
"I was genuinely surprised when I saw they threw a baby shower for me," Nina says. "And not just a crepe paper and streamers party, but a gorgeous party that used the themes of my nursery. I just loved that so much time and effort was made for our baby girl Georgia."
Source: Tini Post [20]