Gifts For 1-Year-Olds
Lil Gift Guide: Great Gifts For 1-Year-Olds!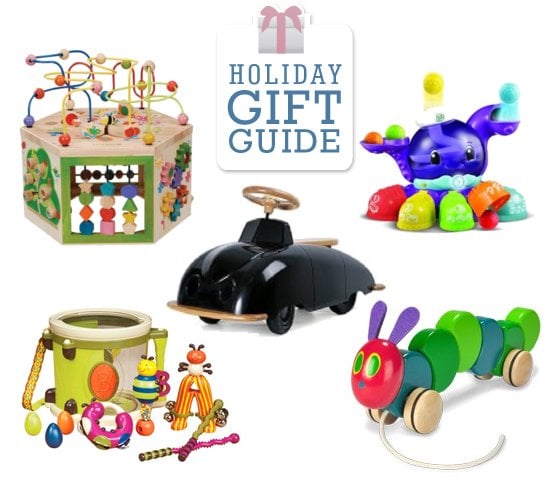 One-year-olds are a curious bunch, so it's important to find a toy that will satisfy their quest to explore the world around them. Look for gifts that show cause and effect — noises as a result of movement, changes in color, etc. — if you really want to keep them entertained!
An activity cube, like the Maxim Garden Activity Cube ($100) will ensure that lil ones stay entertained with seven sides of play to help teach colors, shapes, and colors. Best of all, it's made from eco-friendly wood and dyes. Leapfrog's Peek-a-Shoe Octopus ($25) is a great way to start introducing numbers and colors to tots. As the underwater charmer calls out a number, kids look under that shoe to find a ball. Eric Carle's Hungry Caterpillar is a favorite for this age set. The Pull Toy ($18) will encourage new walkers to get up and move with their favorite character. Kids will join the band with B. Toys' B. Parum Pum Pum Drum ($23). And for the hipster in the house, Playsam's Saab Roadster ($600) will ensure that your tot has the coolest ride in town the next time he hits up the playground races.