Gifts For 2-Year-Olds
Lil Gift Guide: Great Gifts For 2-Year-Olds!
Terrible twos? Sure they exist, but they're not as bad as everyone would have you believe. Plus, when they look at you with those adorable eyes, mama's sure to give in! One way to combat the tantrums is to have a steady supply of activities on hand. Here are some that should do the trick!
http://media17.onsugar.com/files/2011/11/45/2/192/1922664/b5b9c4d3a3159b35_giftguide.jpg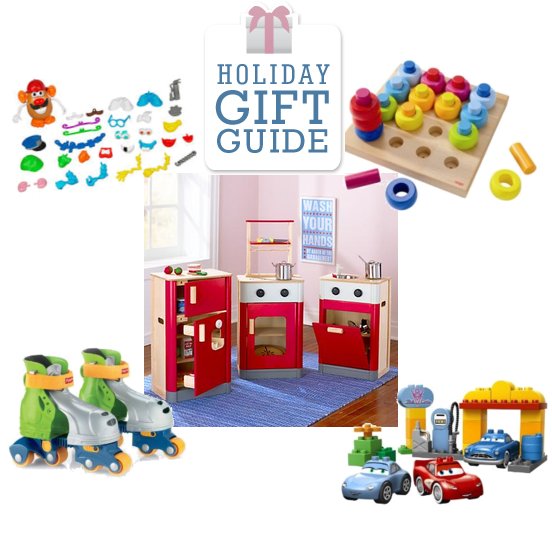 A classic like Mr. Potato Head has been keeping lil hands and minds busy for decades. The Mr. Potato Head Silly Suitcase ($16) is packed with so many combinations that tots will be creating funny faces for years to come. HABA's Rainbow Whirls Pegging Game ($32) is a fun take on the classic stacking rings. A combination puzzle and ring game, tots can pile up the rings by color or any reason they see fit. Lego's are another classic that continues to entertain a new generation. The company's Duplo line brings toddlers in on the action and their new sets range from movie-influenced themes — like Cars Flo's Café ($55) to more familiar sites like the farm or the grocery story. It's never too early to get kids active and Fisher Price's Grow With Me Inline Skates ($24) to do just that! Finally, for lil ones who want to mimic mom and dad in the kitchen, this wooden play kitchen ($200/piece) will help them whip up some imaginary food for upcoming tea parties!