Girlfriend Getaways
Need a Break? Book a Girlfriend Getaway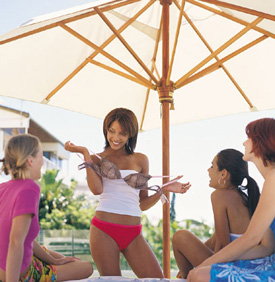 Pack your bags and don't look back. When some mothers need a break from their daily routine, they plan a night out with friends. Others look for a more extended escape, they gather their friends together for an overnight retreat.
Recent studies show that female bonding activities can help manage stress and may contribute to longer lives. Many women are taking a cue from these studies and booking excursions to spas, beaches and shopping destinations across the country and abroad. Unlike family vacations to similar locations, women find that traveling to these locales allow them to reconnect with friends and leave stress behind. The practice has become so popular that Budget Travel magazine recently launched a supplement specifically for this audience called Girlfriend Getaways.
For our 30th birthdays, my former college roommates and I celebrated with a relaxing long weekend in Mexico. Used to carting a diaper bag and my kids, it was wonderful to adjust to all six of us sharing one bag for the beach. After a few days of uninterrupted conversation, lounging by the pool and toasting rounds of cocktails, I returned home to my husband and children revived and ready to be mom again. Now, I'm counting down to our 35th birthday trip!
Do you indulge in girlfriend getaways?