When it comes to planning your favorite girl's birthday, there are a few focal points that every hostess with the mostess puts her time and energy into. There are the invitations, the activities, decor, and of course, the all-important cake. Whether she's turning 2 or 10 and is into ponies, puppies, princesses, or most anything else, you've come to the right place for inspiration. Keep reading . . . these 50 ideas will literally put the icing on your cake!
Sweet Smash Cake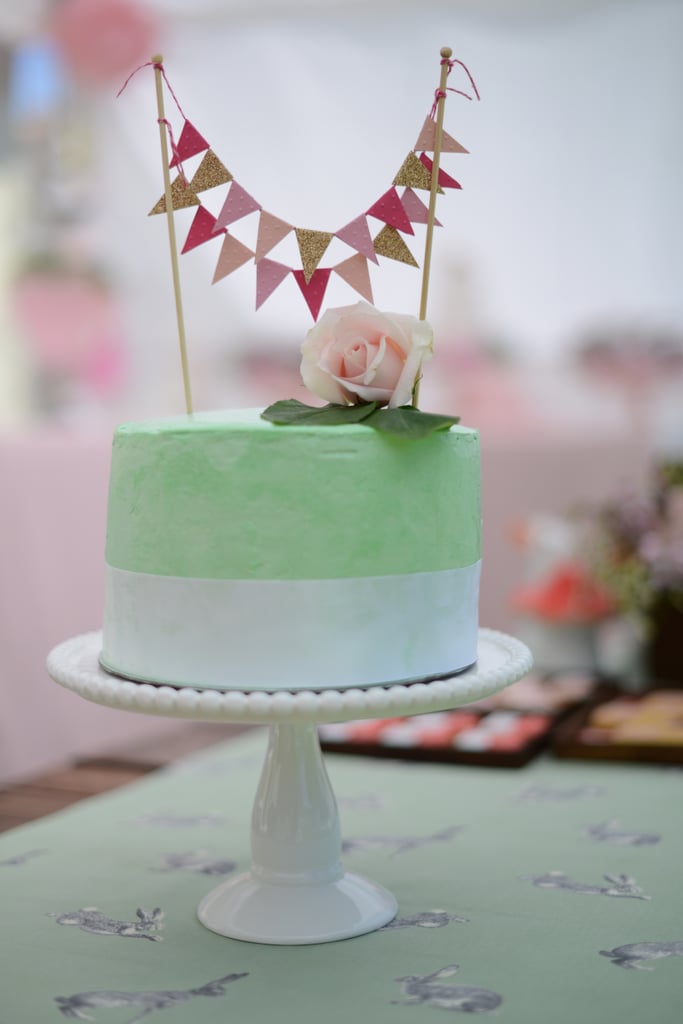 Cerise's adorable smash cake was topped with bunting from Etsy's Confetti Creations [1].
Source: Event Head [2]
Elmo Cake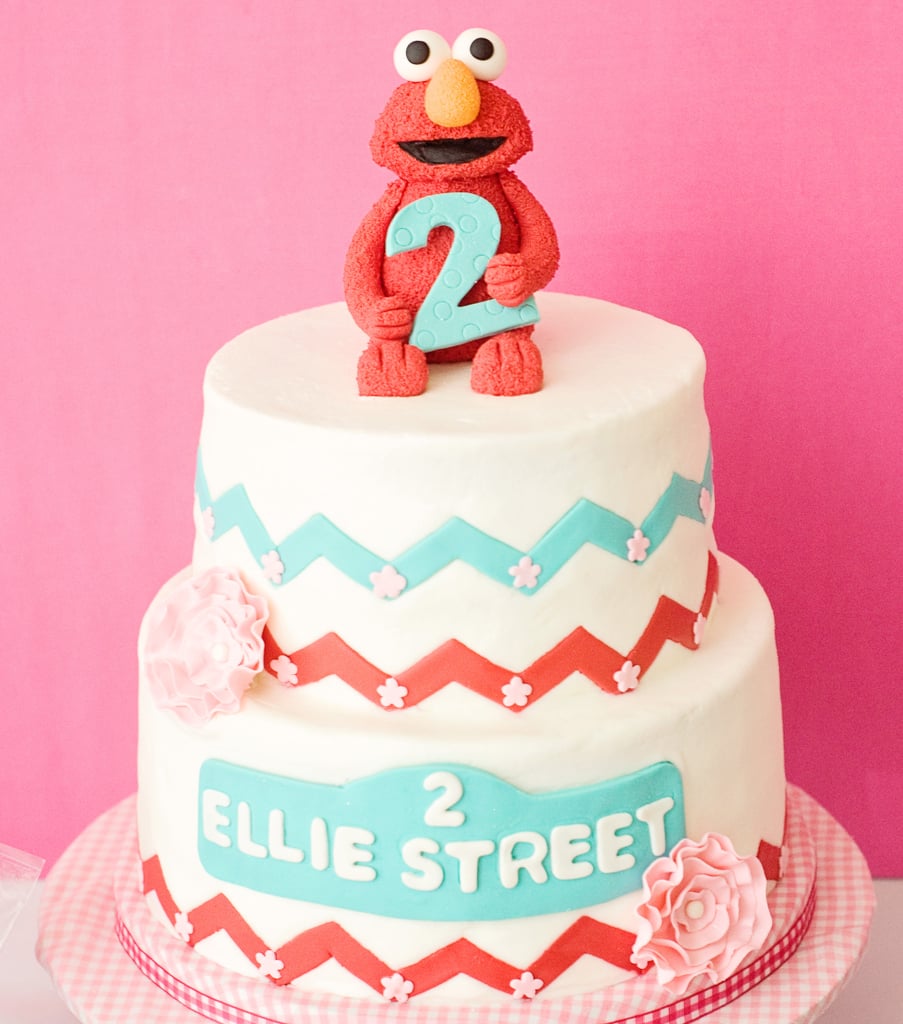 An Elmo-themed party [3] can look elegant and special with a cake as beautiful as this one.
Source: The Crafting Mama [4]
A Pastel Carousel Cake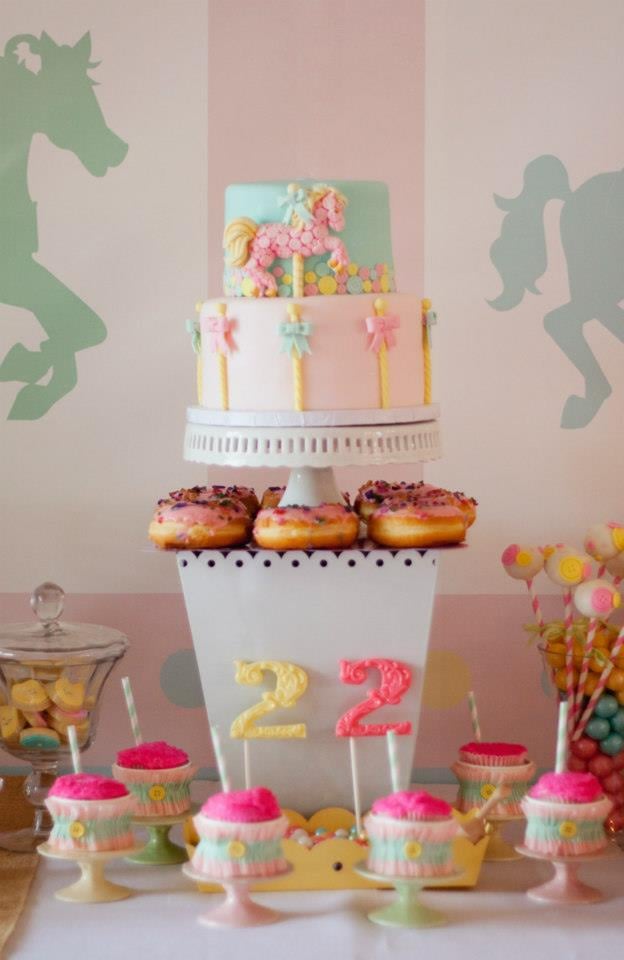 This awesome carousel cake and rock-candy-topped doughnuts were just some of the many desserts at this carousel-themed party [5].
Source: Fanciful Events [6]
An Elegant Princess Cake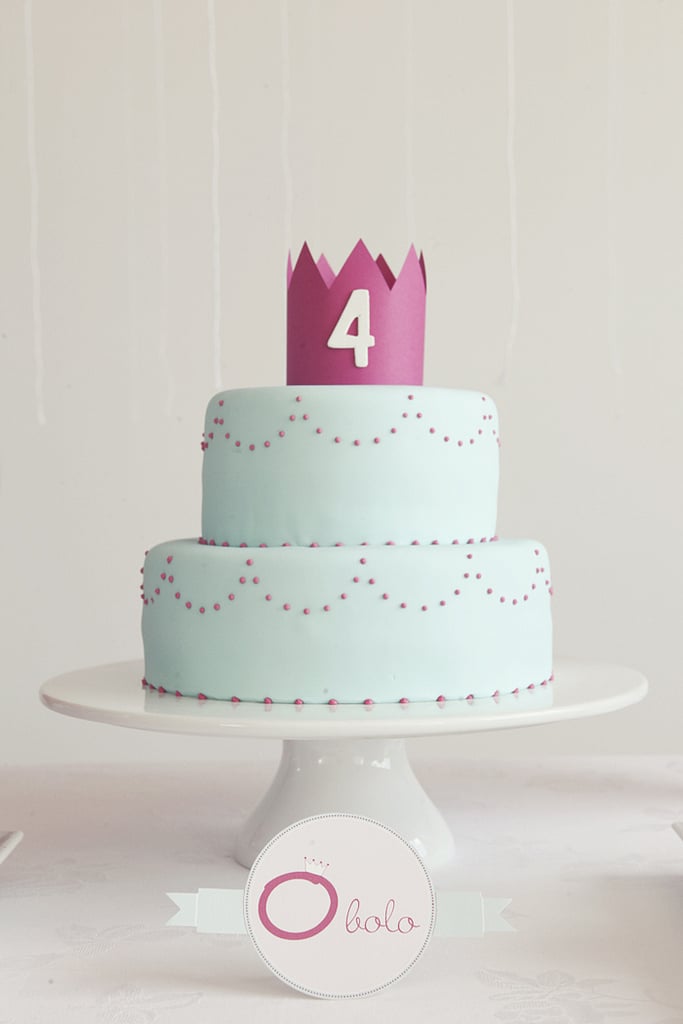 Who says a princess cake has to be frilly and pink? This princess-themed birthday party [7] had a simple and beautiful cake that proved you don't have to go over the top to be royal!
Source: Branco Prata [8]
Modern Geometric Cake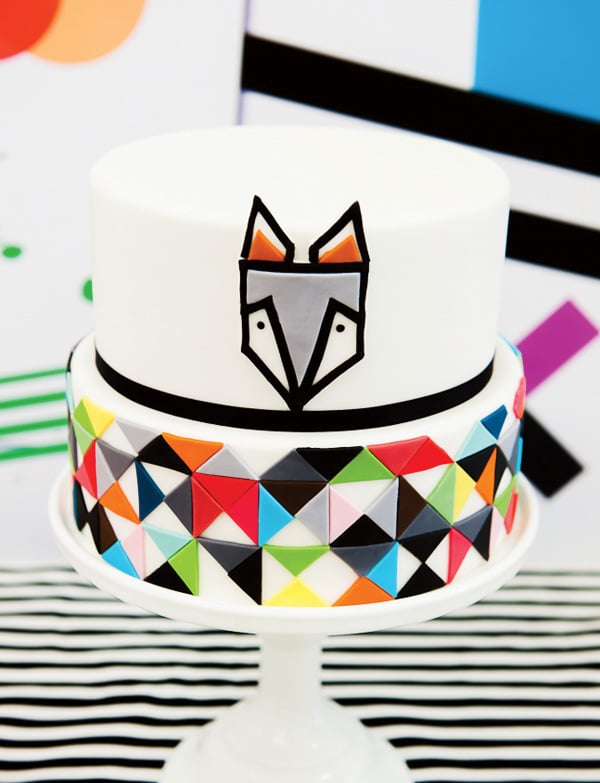 This fun modern geometric cake [9] was lovingly created by Helen of Kiss My Cakes [10].
Source: Hostess With the Mostess [11]
A Butterfly Garden Cake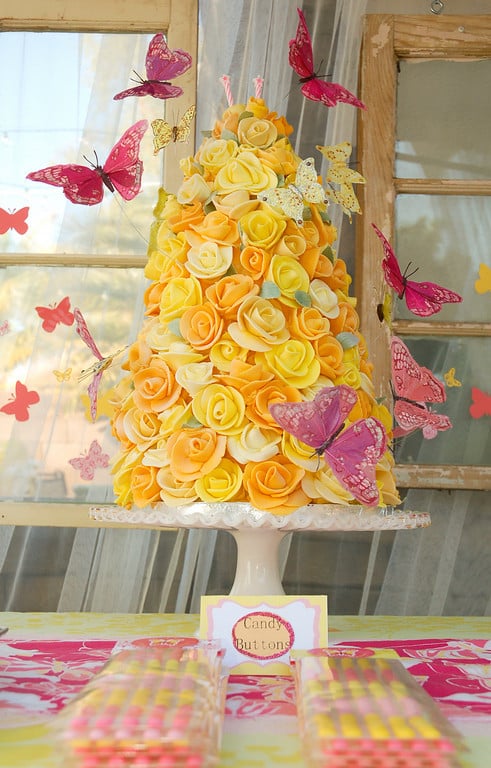 A little girl is never too young to host a garden party! And this cake — a Peggy Porschen design — had over 200 roses on it to rule the dessert table.
Source: Tradewind Tiaras [12]
Magic Hat Bunny Cake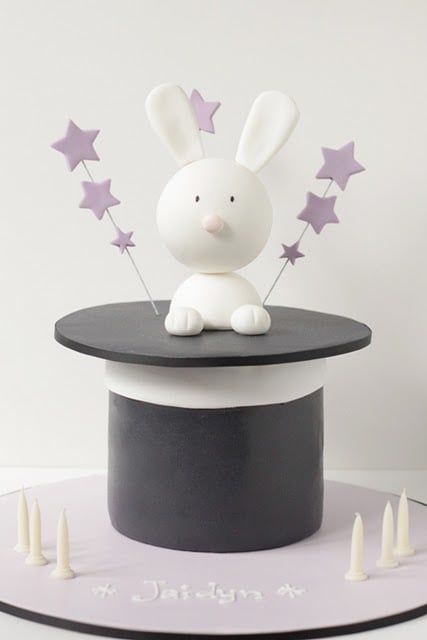 Abracadabra! One of the most beautiful things about being a kid is the ability to wonder and be amazed. A magic-themed party — with an especially magical rabbit-in-a-hat cake — could make a believer even out of the most skeptical of guests!
Source: Hello Naomi [13]
Glamping Cake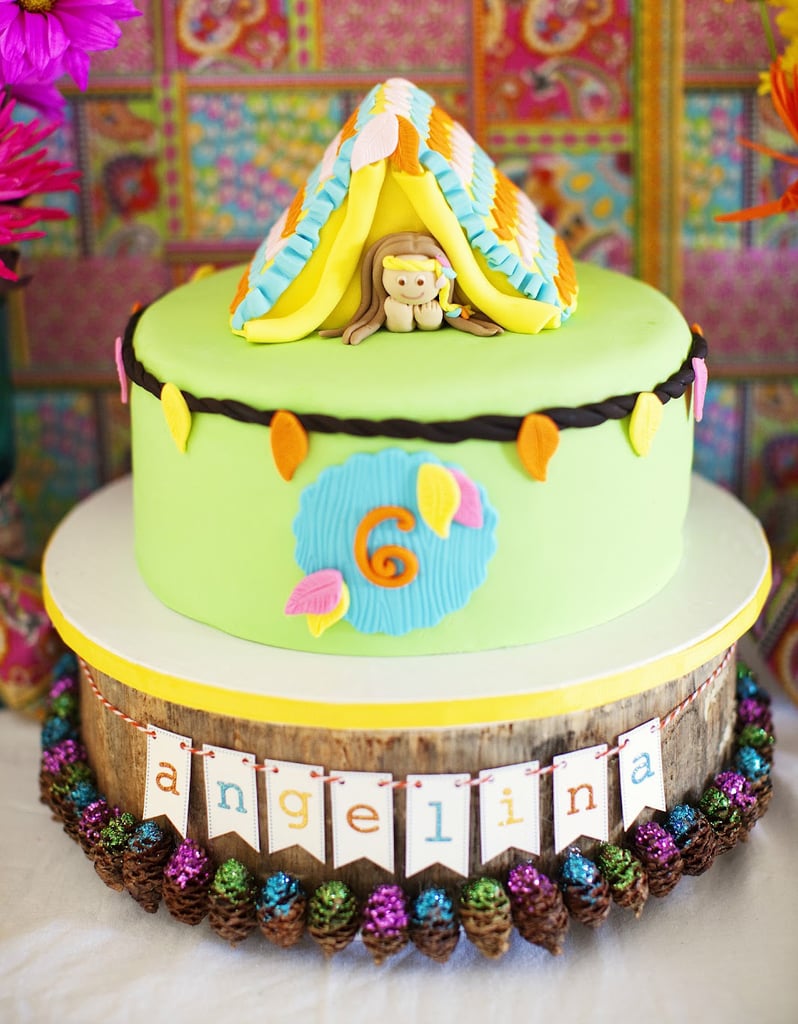 For the cake at her vintage glamping party [14], this birthday girl asked for a little girl inside of a tent. And that's just what she got — including a feather headband.
Source: Love & Sugar Kisses [15]
A Puppy Party Cake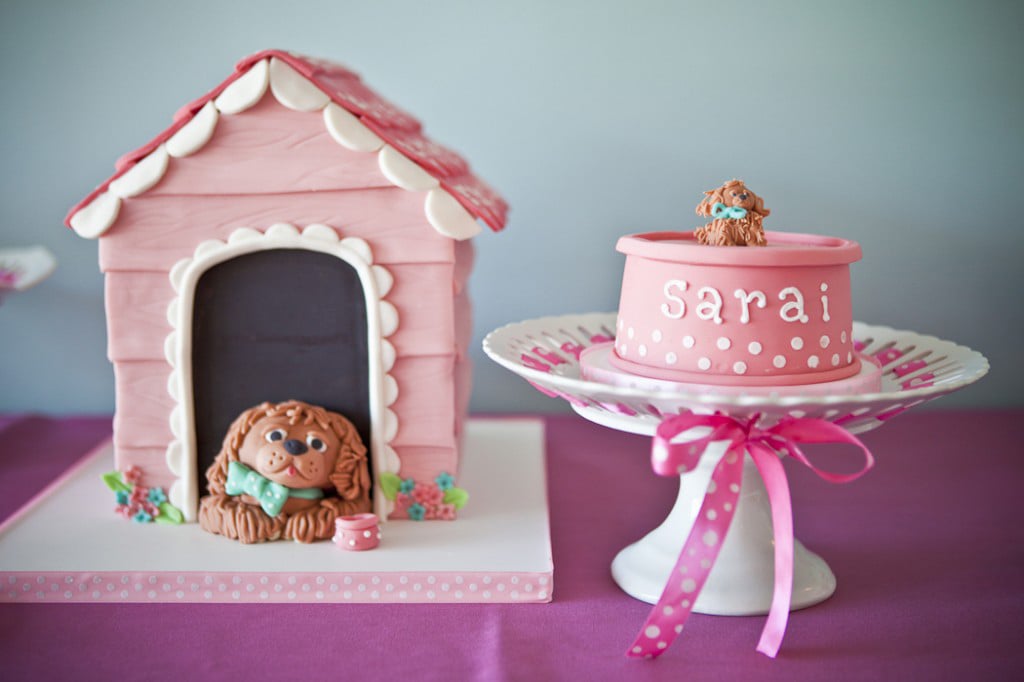 Bow wow indeed! You don't have to have a pet dog at home to love them — but it certainly helps for the pictures! This puppy-themed cake [16] proved that puppy power is here to stay.
Source: Allyson Wiley for A Little Savvy Event [17]
A Hello Kitty Cake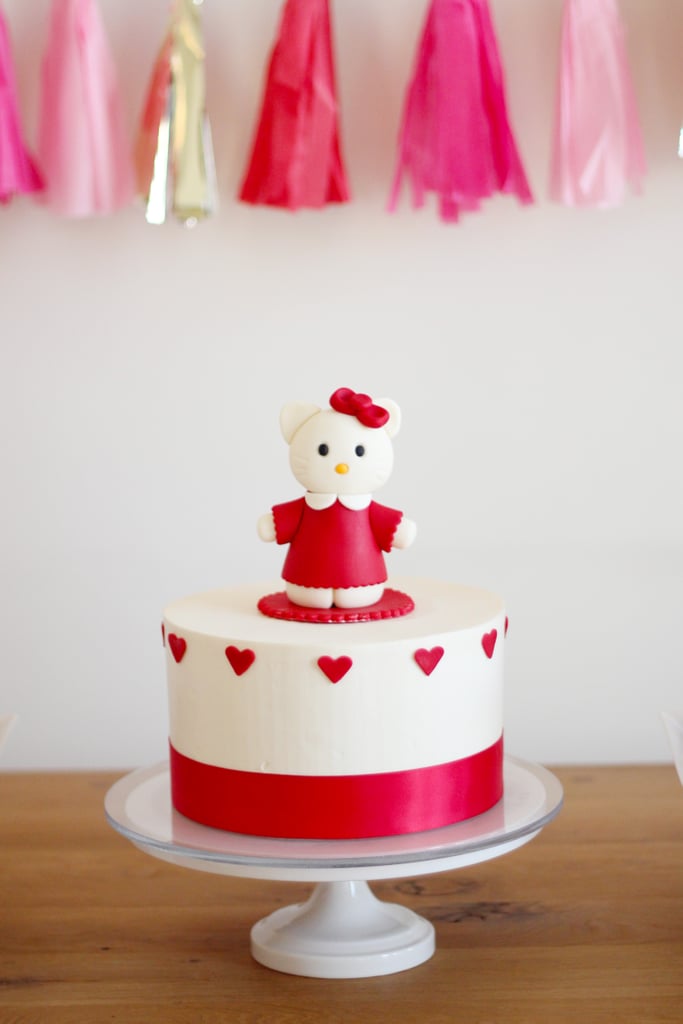 This sweet Hello Kitty cake [18] was just perfect!
Source: Gloria Wong Design [19]
An Ombré Flamingo Cake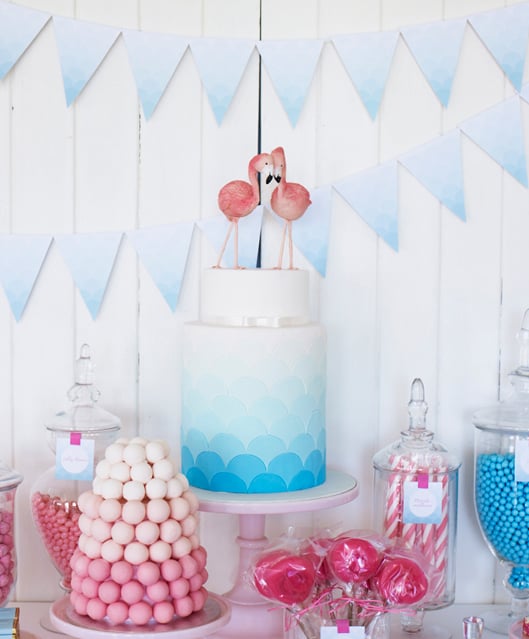 For a retro pink flamingo pool party [20], this ombré blue cake — topped off with flamingos — was just the way to go!
Source: Sweet Style [21]
Abby and Elmo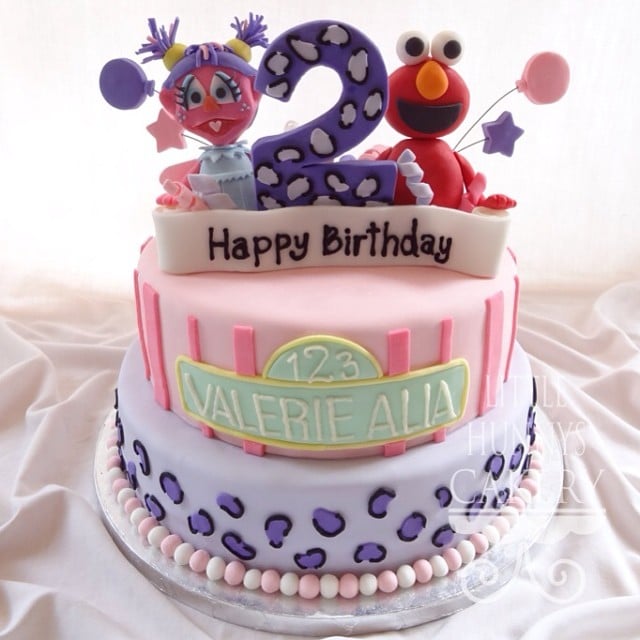 A 2-year-old's dream team!
Source: Instagram user littlehunnyscakery [22]
Pink Pony Cake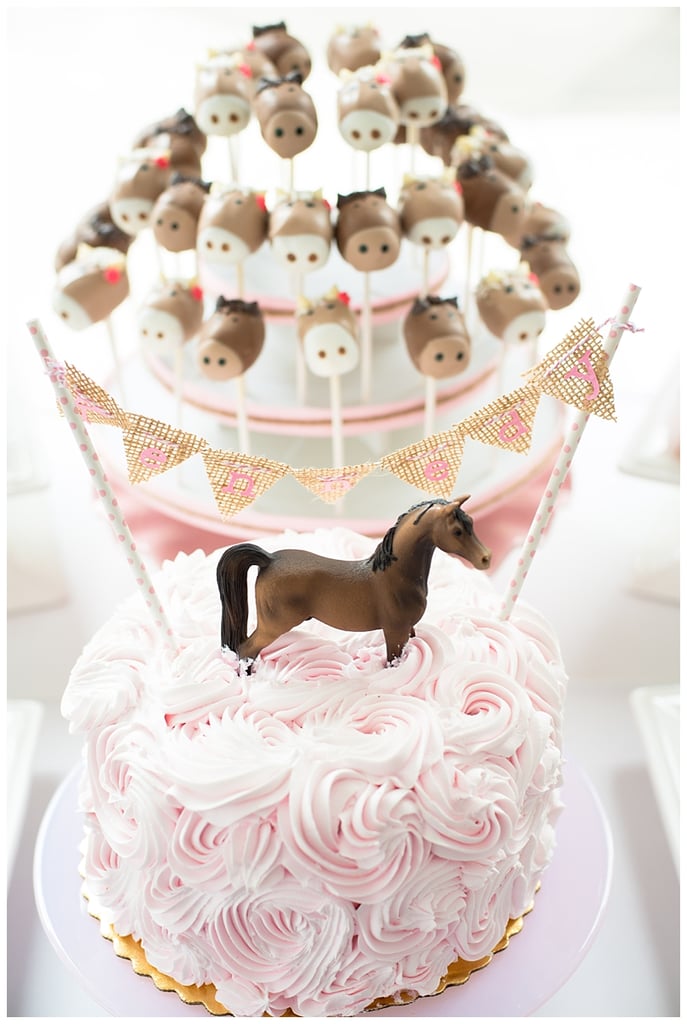 Let them eat (pony) cake from Wagner's Bakery [23], complete with an adorable mini pennant from A Felt Affair [24].
Source: Lauren Oliver Photography [25]
A Wow-Worthy Frozen Cake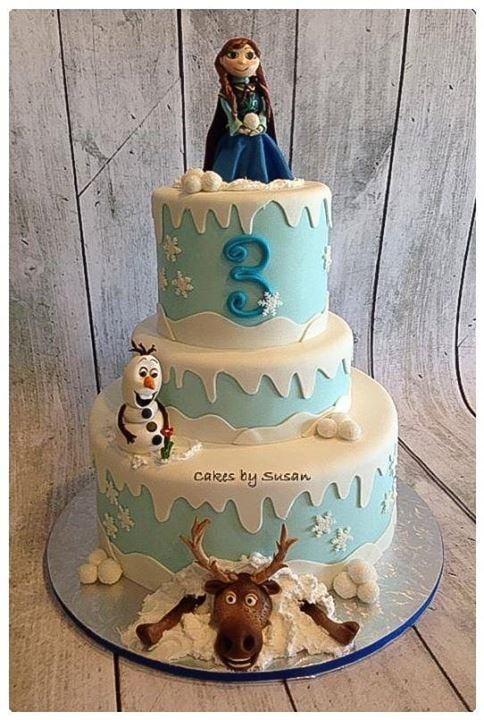 This Frozen cake channels several scenes from the flick, including when Sven finds himself sprawled across the ice.
Source: Facebook user CakesDecor.com [26]
Summer Flowers Cake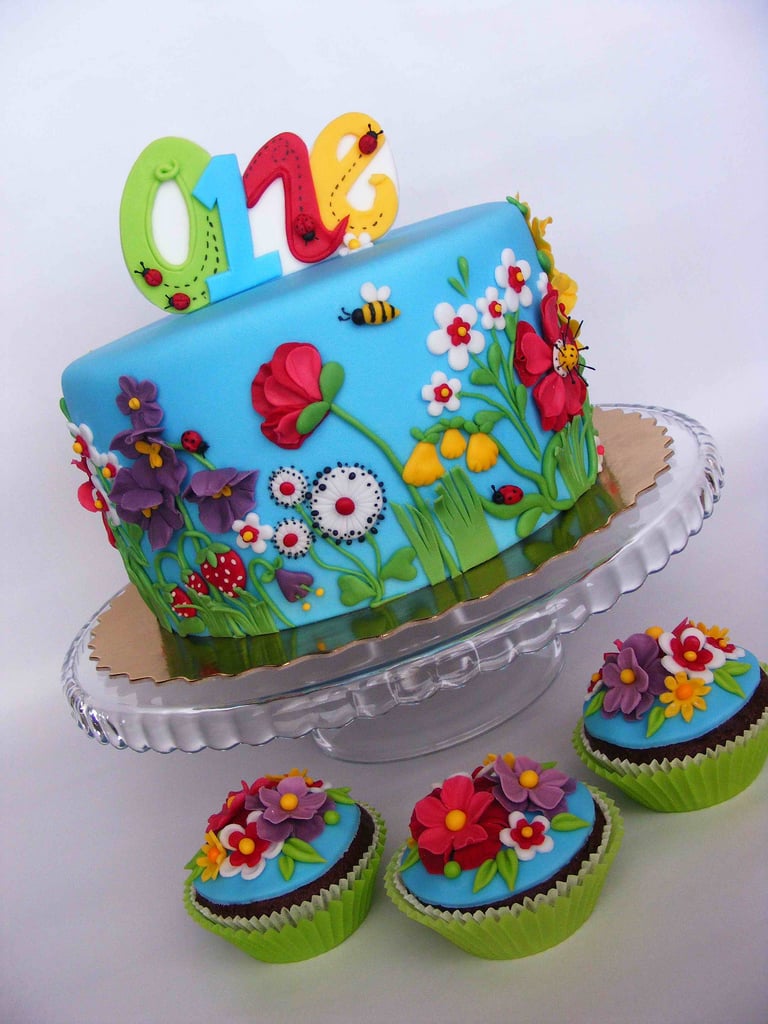 'Tis the season! Instead of celebrating with a character-themed party, honor the season your child was born in. Delicate and colorful details, like in this Summer flowers cake, will be unforgettable, picture perfect, and delicious!
Source: Flickr user bubolinkata [27]
Ombré Cake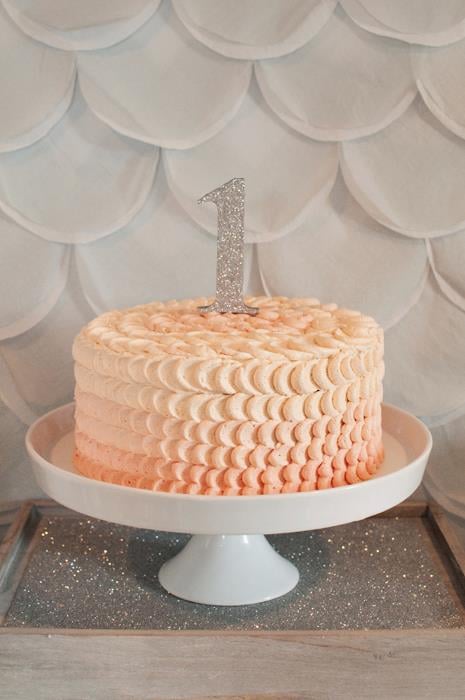 For a sweet silver and peach first birthday party [28], partygoers were treated to an ombré cake with a sparkly number 1.
Source: All the Frills [29]
Sprinkled Ruffle Cake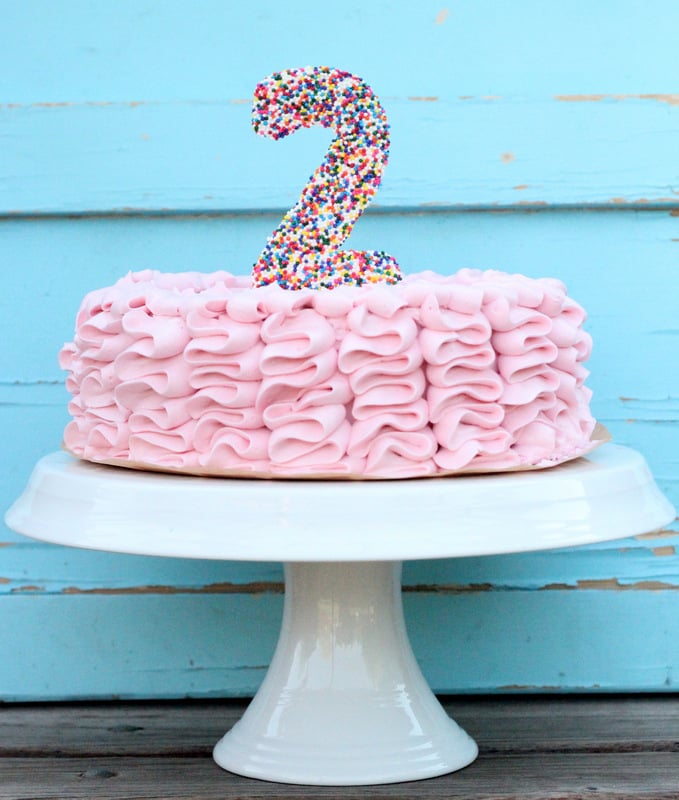 For her daughter's second birthday, this mama made a ruffle cake and sprinkle cake topper [30]. Get the tutorial here [31].
Source: Kojo Designs [32]
Princess Cake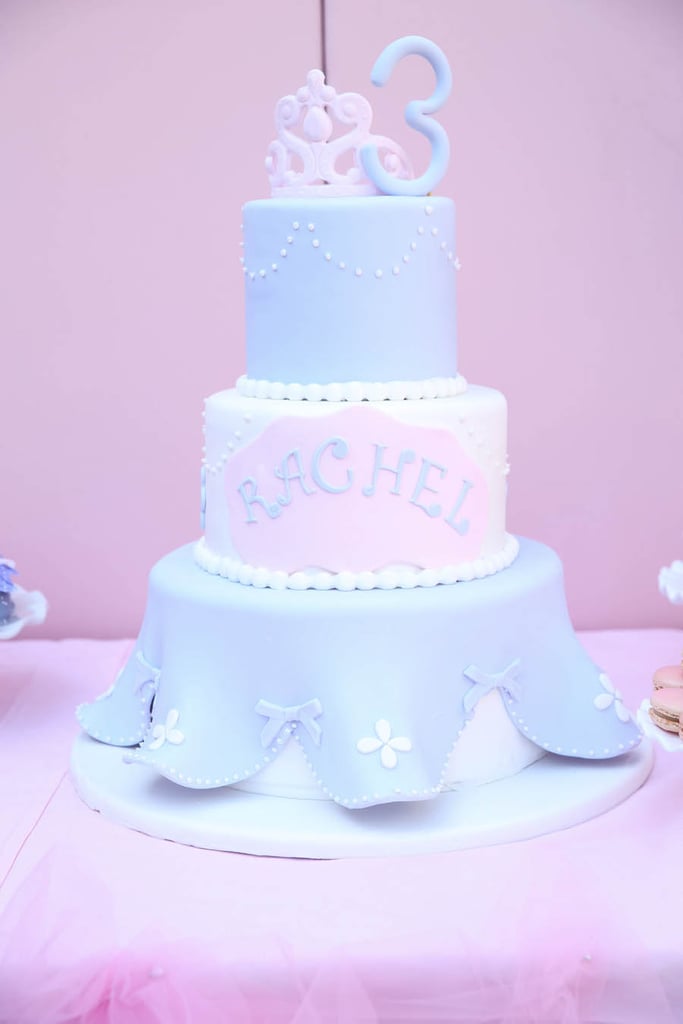 This princess cake from Rafi's Pastry was simply divine.
Source: Melody Melikian Photography [33]
Miss Piggy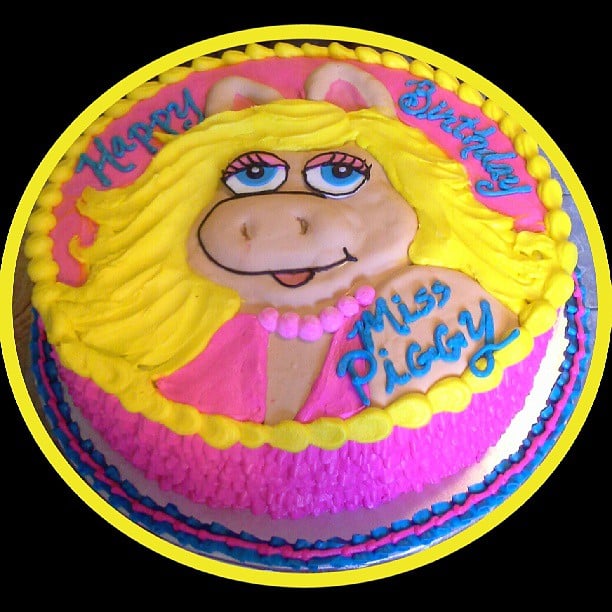 Excuse us, but we want this cake all to ourselves.
Source: Instagram user theoriginalsueberry [34]
Cakes Galore
Why only serve one cake when you can serve nine? That was the thought process behind this pretty and cake-filled party [35] thrown by an Australian mom.
Source: Sweet Style [36]
A Glass Menagerie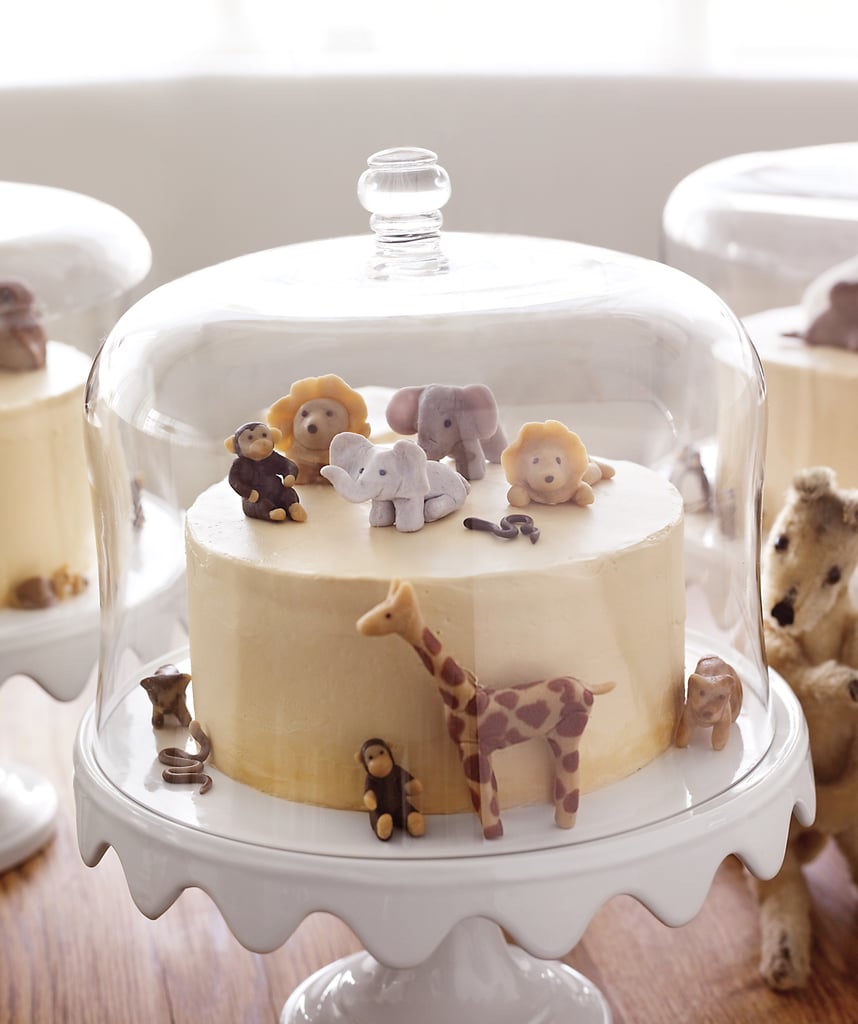 The focal point at Martha Stewart's granddaughter's first birthday party [37] was the dessert table, where three cakes covered with marzipan animals stole the show.
Photos by Francesco Lagnese. Courtesy of Martha Stewart Living. Copyright © 2012. Originally published in the October issue of Martha Stewart Living magazine [38].
A Sleeping Beauty Creation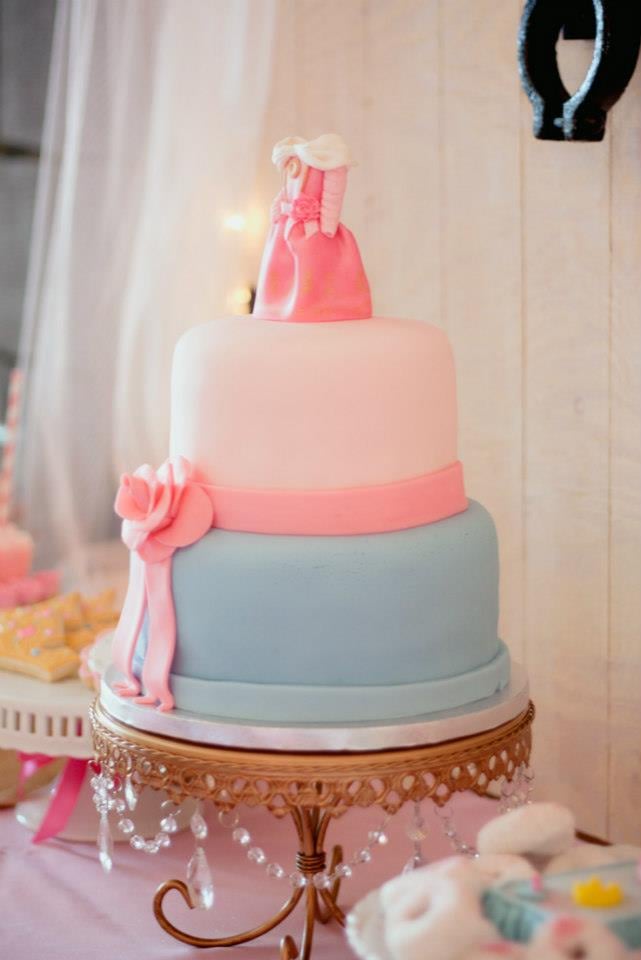 Sleeping Beauty's classic style was epitomized in this beautiful cake topped with her dress [39].
Source: Fanciful Events [40]
And One Baby Makes Three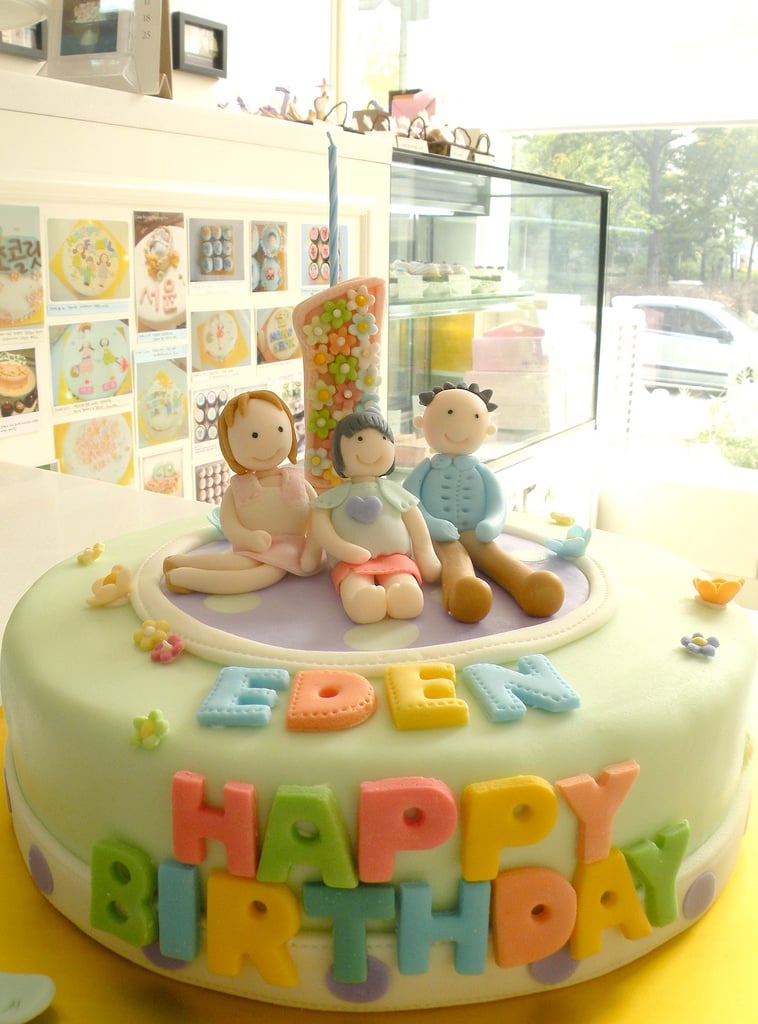 I'd call this impressive masterpiece a family tribute cake. It honors Mama, Papa, and Baby — all of whom have survived baby's first year!
Source: Flickr user cakegirl [41]
A Rose-Swirled Smash Cake
Perfectly girlie and perfectly pretty, this rose-covered smash cake made for a great photo op before the birthday girl dug into it!
Source: Momentology Photography for I Heart Nap Time [42]
A Tower of Color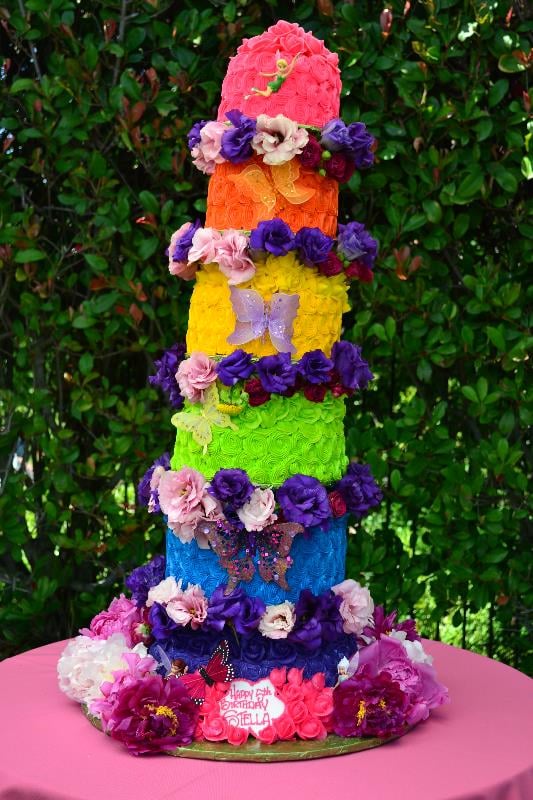 Tori Spelling [43] threw a flower-power-themed party [44] for her daughter Stella, taking the theme to new heights with this cake. "It's a tradition in our family to get a cake from Hansen's Cakes [45] — the cake makers in Hollywood. I had a Hansen's cake at every one of my birthday parties as a little girl, and I'm of course continuing the tradition with my four babes," she said.
Source: Tori Spelling [46]
A Barnyard Cake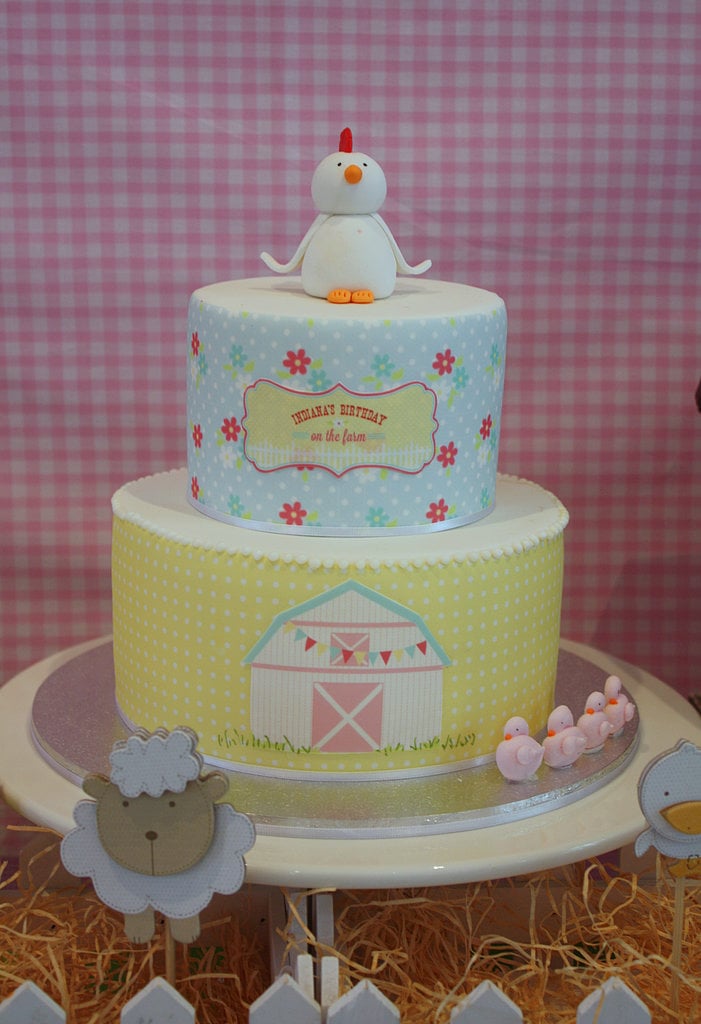 Topped with an adorable rooster, this farm cake [47] featured sweet edible paper to finish off the design.
Source: Kiss Me Kate [48]
Mahna Mahna
This cake makes us want to sing a certain song.
Source: Flickr user The Perfectionist Confectionist [49]
The Very Hungry Caterpillar Cake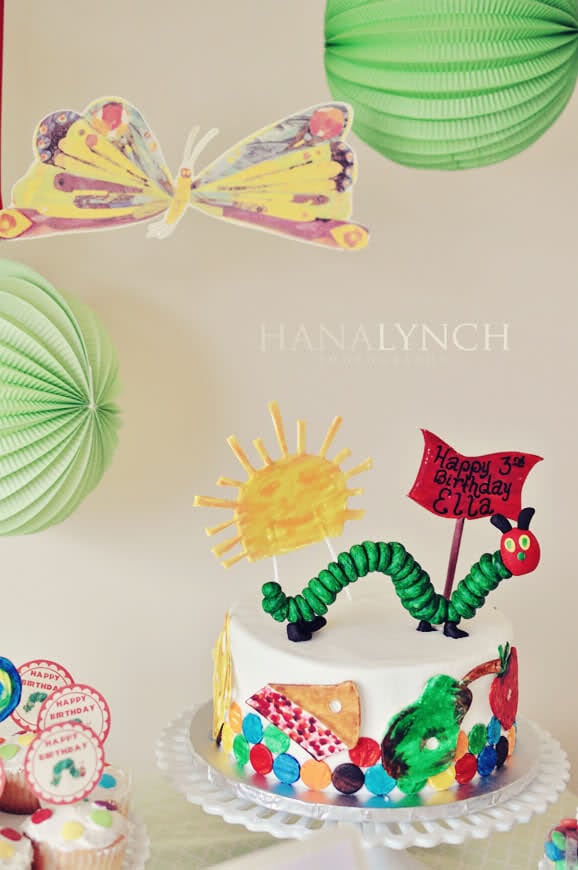 Got an Eric Carle fan on your hands? If your kiddo loves the classic children's book, then a Very Hungry Caterpillar birthday party [50] might be in your future — and you can't have a Very Hungry Caterpillar party without a hungry-caterpillar-themed cake!
Source: The Mom Tog Diaries [51]
A Braided Green and Pink Cake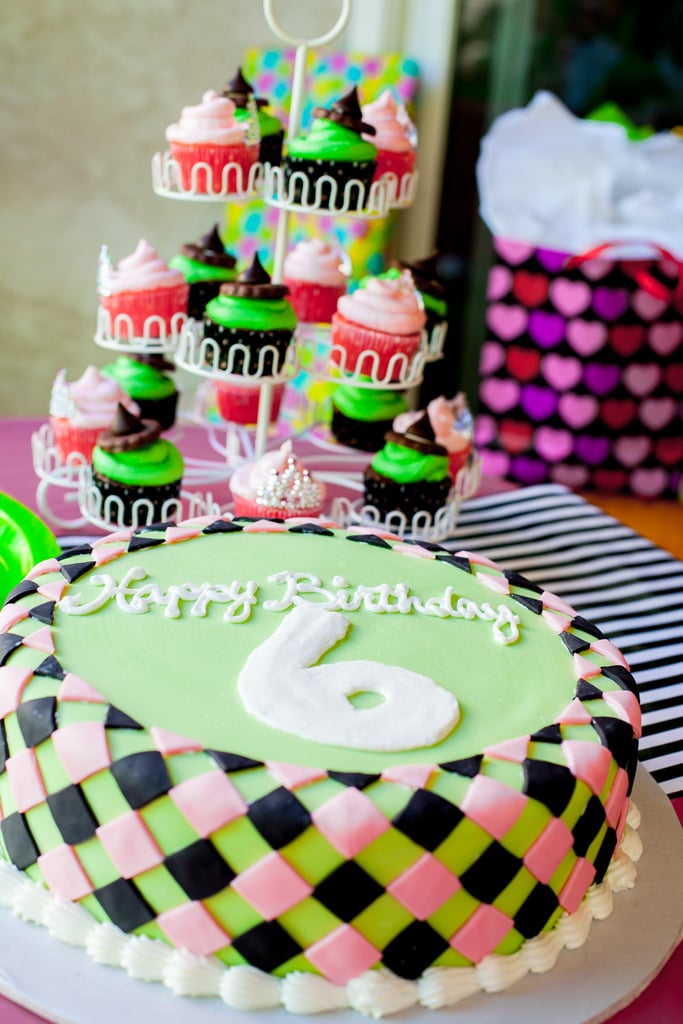 This green cake — part of a Wicked-inspired birthday party [52] — was made by adding pink and black diamonds to a plain green cake.
Source: Melanie Monroe Photography [53]
A Sunny Birthday Celebration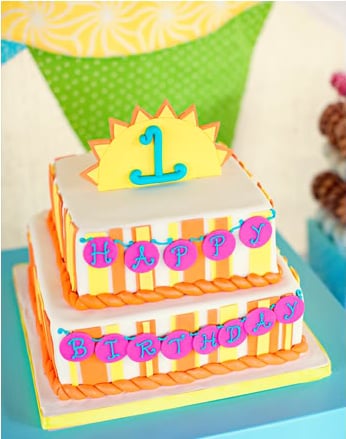 A chic and happy soiree to celebrate the light in your life! We love the bright look of this square cake.
Source: Wendy Updegraff Photography [54]
Rose-Adorned Cake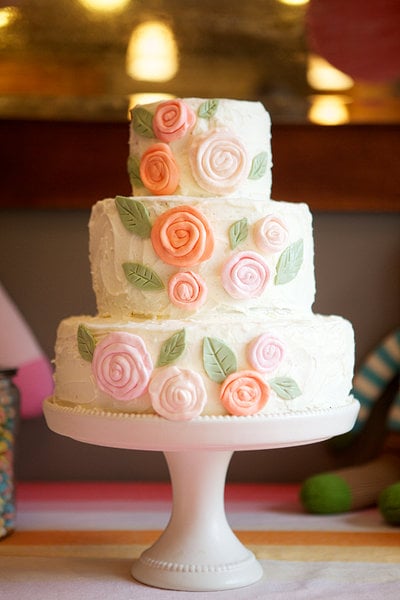 For a Blabla doll-themed party [55], this shabby-chic, rose-adorned cake was a beautiful way to celebrate.
Source: Portraits by Lucinda [56]
Mad Hatter Cake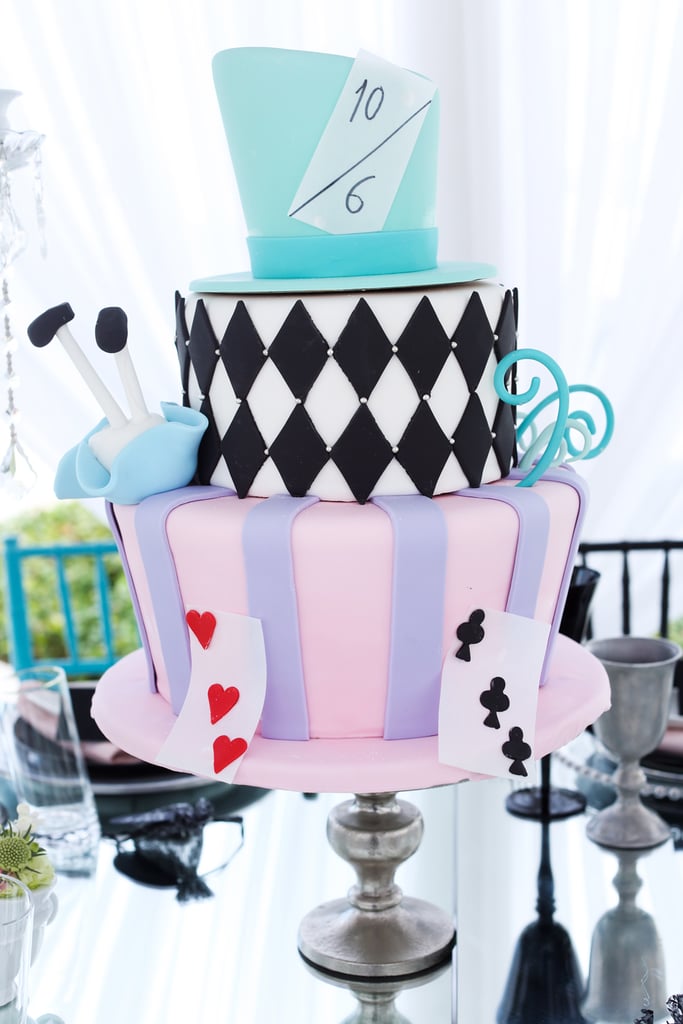 Rafi's Pastry in LA created this magical cake for an Alice in Wonderland-themed bash.
Source: Melody Melikian Photography [57]
Honeycomb Cake
This beehive cake by Stellar Cakes & Cupcakes [58] will be the sweetest part of her day!
Source: ADN Designs [59]
Rainbow Hearts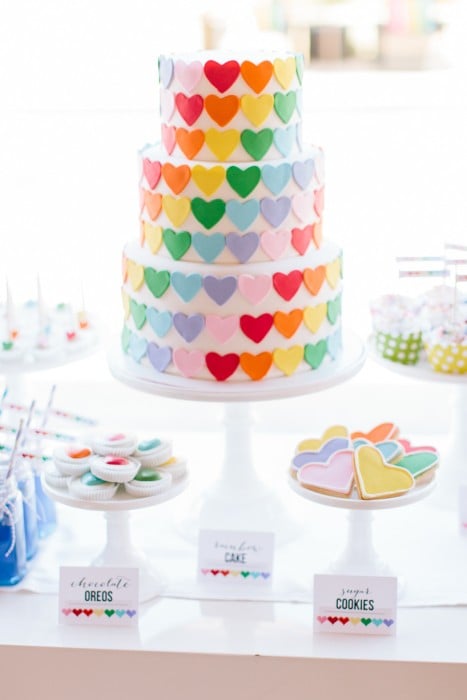 How beautiful was this rainbow hearts [60]-themed cake that tied the whole rainbow-themed party together?
Source: The TomKat Studio [61]
Cinderella Cake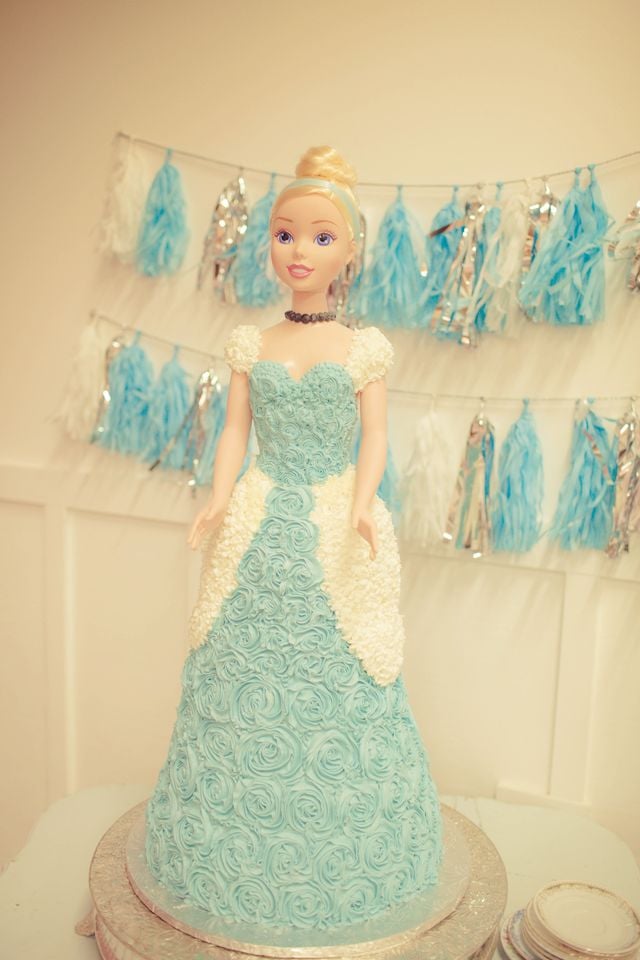 A cake in the likeness of the Disney princess made for a dramatic centerpiece at a Bibbidi Bobbidi Boutique party [62]. "As if we didn't have enough dessert, my husband and I decided to make Ally an actual Cinderella cake," Jenny shared. "It was quite the experience. We spent an evening carving cake to shape Cinderella's dress, and I decorated Cinderella in blue buttercream roses until the wee hours of the morning. When the cake was done, it was gorgeous, but ended up being almost four feet tall! A little too tall to transport. So we had to call in a friend with a van to get Cinderella to the party! We placed Cinderella on her own table, in front of the cutest tassel garlands made by The Flair Exchange."
Source: Jenny Cookies [63]
Friendly Faces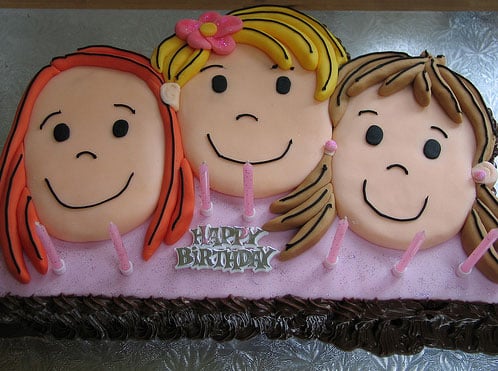 Your birthday girl will get a kick out of seeing herself and her best buds depicted on the cake.
Source: Flickr user whiper [64]
Peter Pan Cake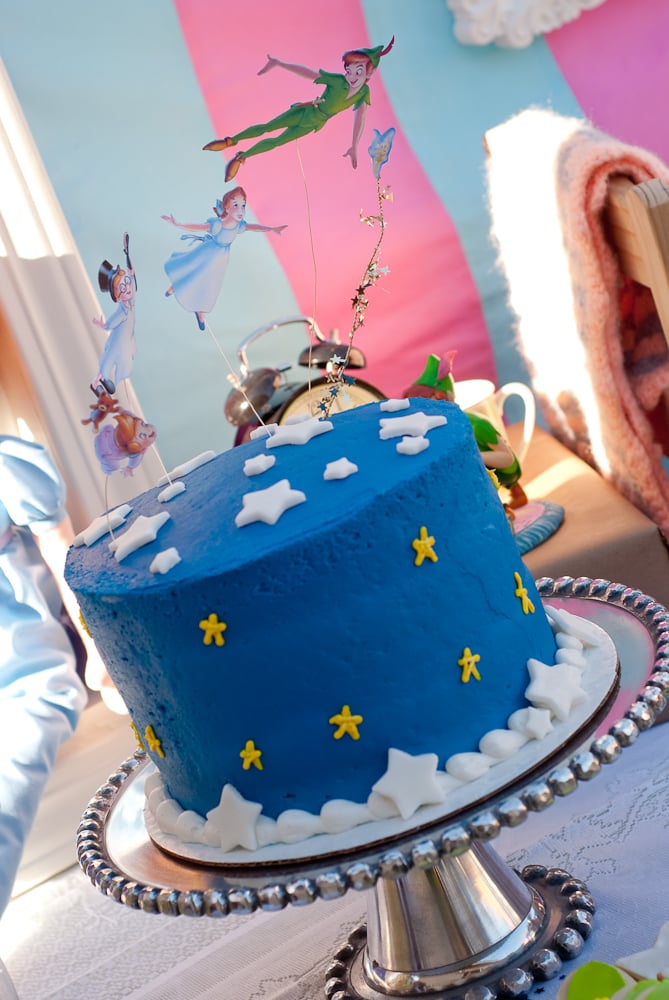 A simple blue cake with a few added stars quickly transforms into a scene from Peter Pan's flight [65] with the addition of a few cutouts flying high above.
Source: Miss Party Mom [66]
Meow! A Ruffled Kitty Cake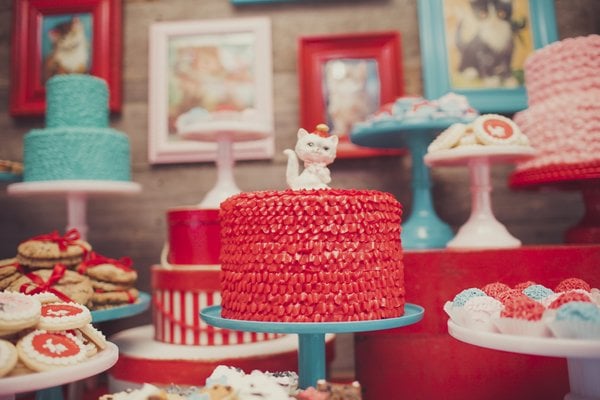 Sometimes simplicity reigns. This red cake with ruffled icing was the perfect platform for its kitten topper.
Source: Jenny Cookies [67]
The Crowning Jewel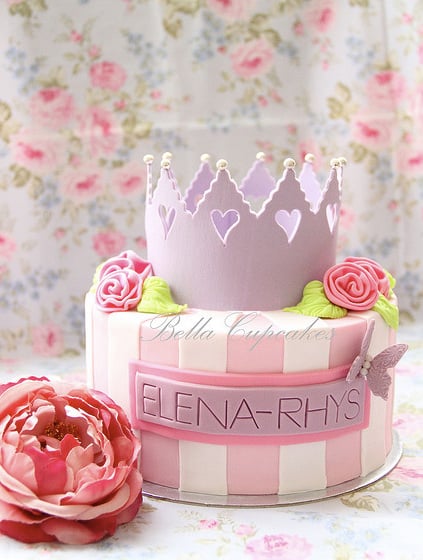 Happy birthday, princess! Your little girl may not be of noble blood, but she gets the royal treatment anyway — after all, she's royalty in your eyes. Make cake time at her next birthday party even more magical with a cake made especially for her royal highness — like this pink and lilac fondant princess cake.
Source: Bella Cupcakes [68]
Elmo's World
Finding a tot who doesn't love Elmo is like finding a needle in a haystack, and this girlie Elmo soiree [69] — complete with a towering Elmo cake — took the standard Sesame Street party to a whole other level!
Source: WH Hostess [70] via Hostess with the Mostess [71]
It's . . . Abby!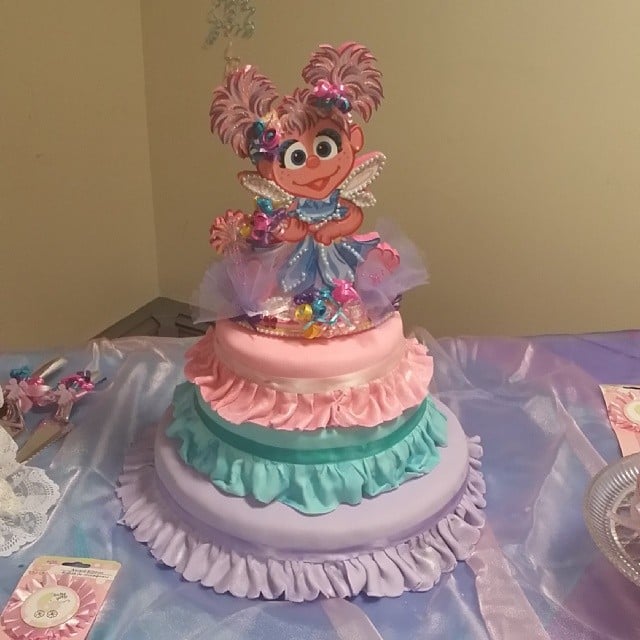 Her favorite Sesame Street character could come to life with this tiered and ruffled Abby Cadabby cake.
Source: Instagram user th_110 [72]
Pink and Brown Owl Cake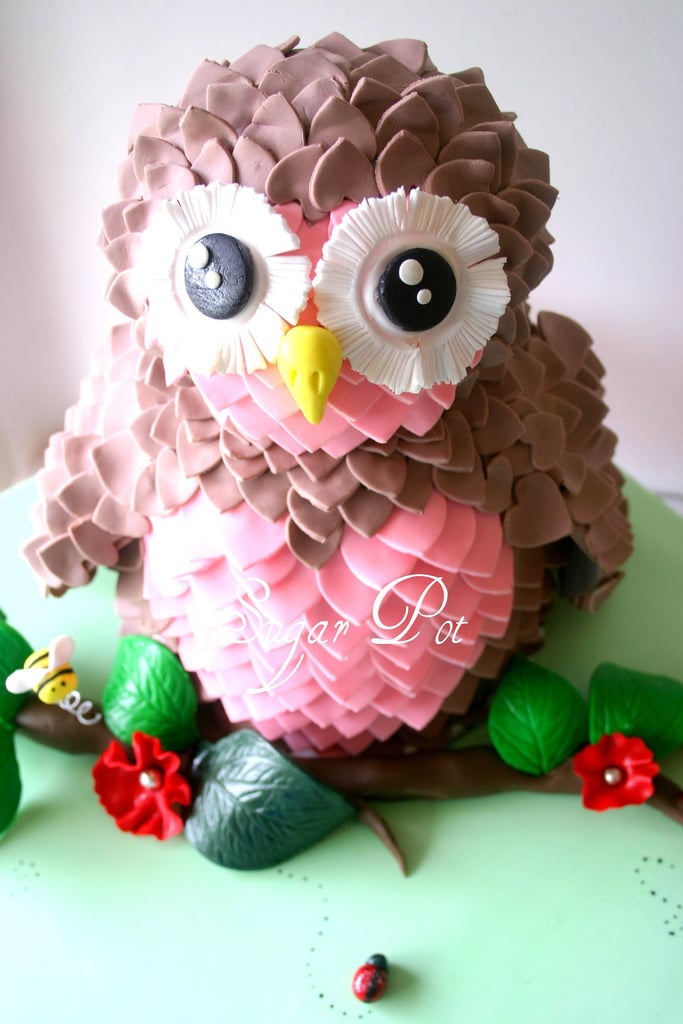 You'll have a hoot! Owls are still pretty popular creatures in the baby industry — because they're just so darn cute, we can't help ourselves. If owlies have captured your tot's heart, too, why not celebrate her next birthday with an owl cake?
Source: Sugarpot [73]
Bumblebee First Birthday Cake
Bee happy! A bee-themed birthday is a wonderful idea for celebrating your kiddie's transition to toddlerhood — and a beehive smash cake is just the right detail to make an ordinary bee party extra bee-utiful!
Source: And Everything Sweet [74]
A Cinderella Princess Cake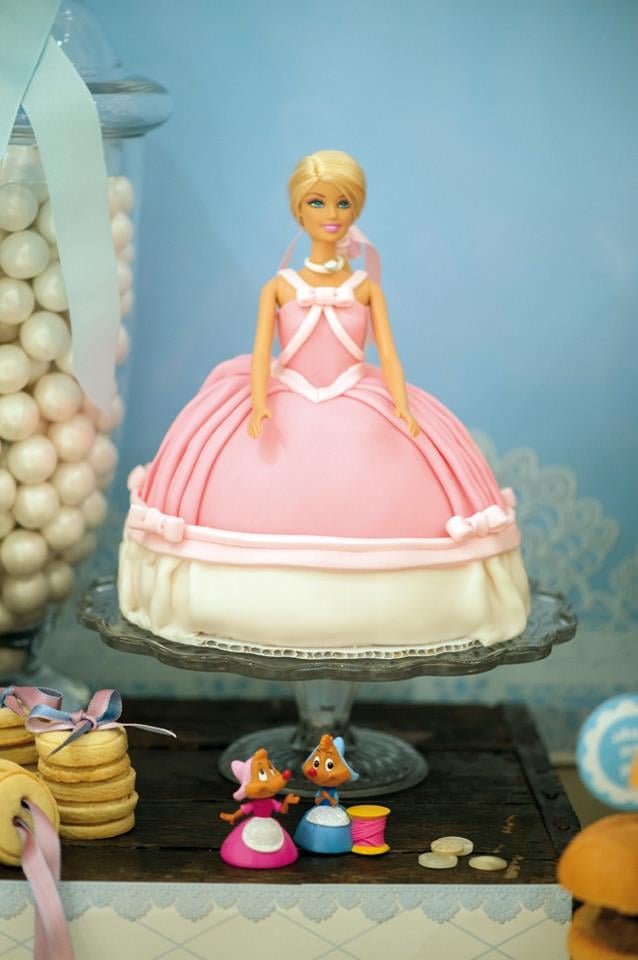 Cinderella certainly looked like the belle of the ball with this amazing princess cake that was the centerpiece of a Cinderella-themed party [75].
Source: Keren Precel Events [76]
A Girlie Birthday Cake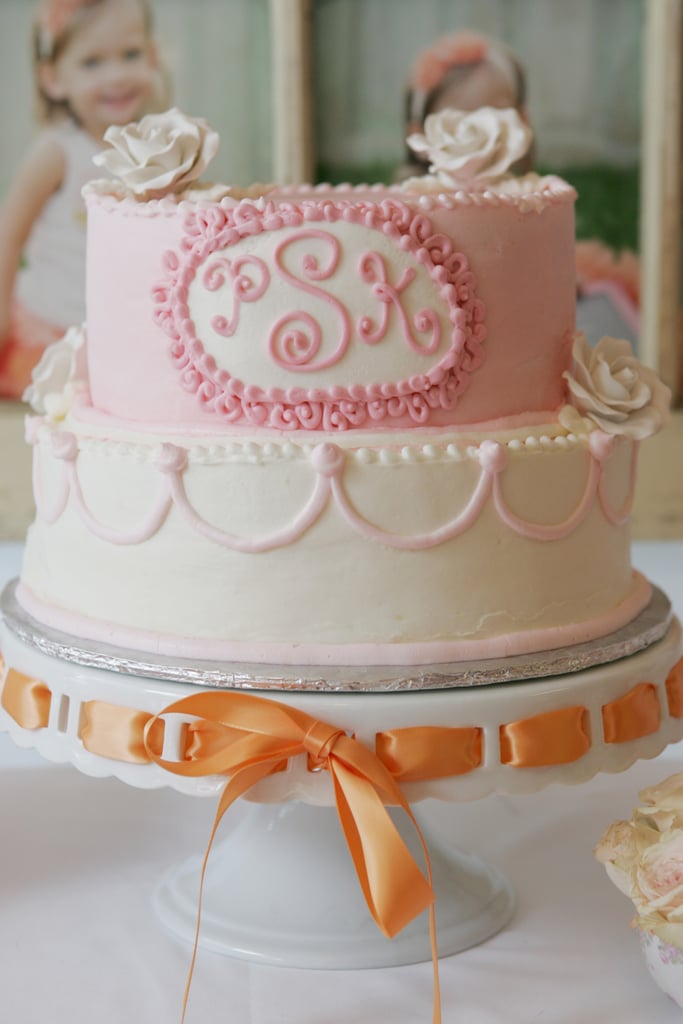 This girlie cake was perfect for a tutus and teacups [77]-themed party.
Source: CN Photography [78]
A Shabby-Chic Safari Cake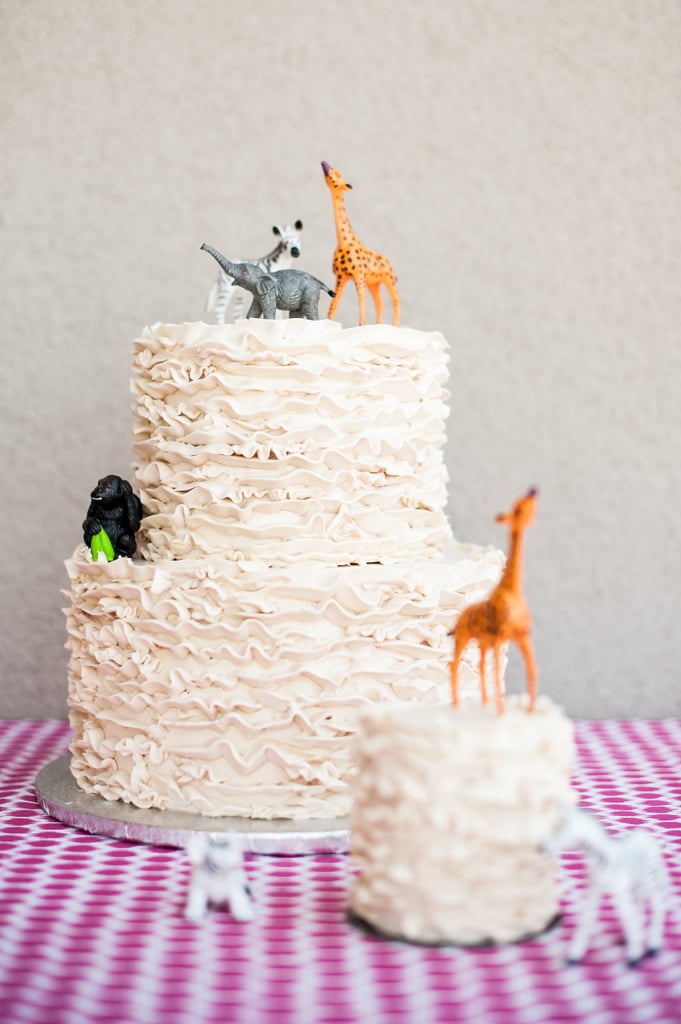 A simple ruffled cake was topped with a menagerie of safari animals to tie in with a safari-themed party [79].
Source: A Little Savvy Event [80]
Pink and Gold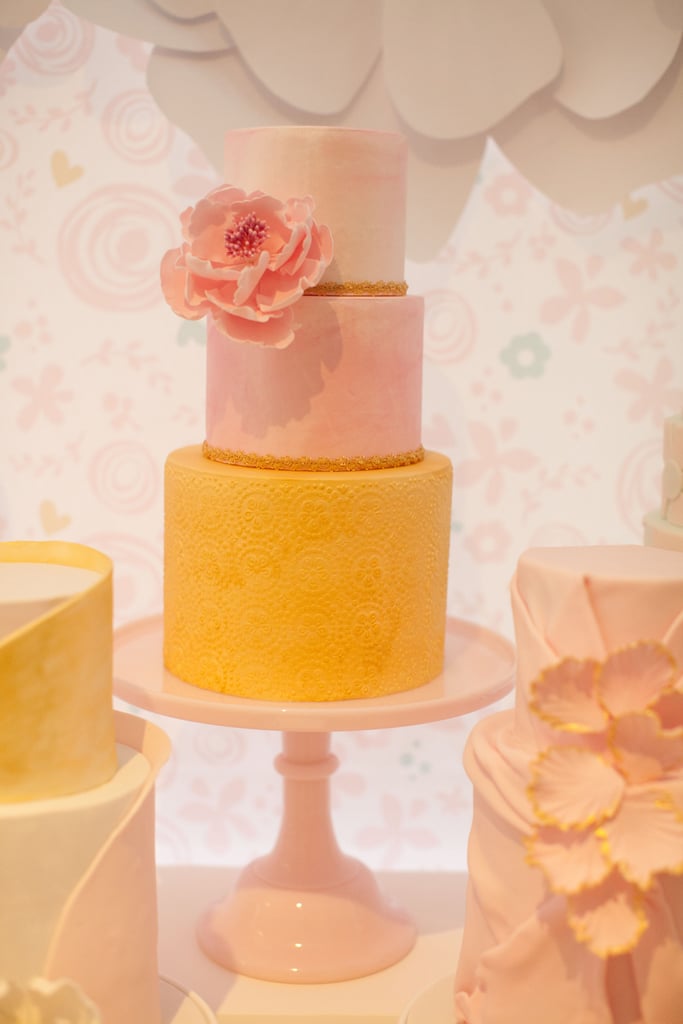 Sweet as can be, this pink and gold cake [81] was simple and elegant for a first birthday party.
Source: Sweet Style [82]
Birthday Princess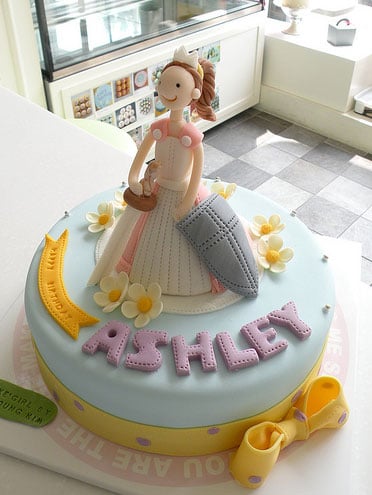 With a sword and shield in hand, this birthday princess can still hang with the boys.
Source: Flickr user Cake Girl by Hyeyoung Kim [83]
Come Fly With Me Balloon Cake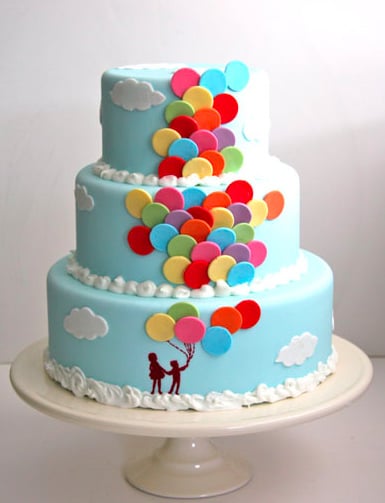 Up, up, and away we go! A whimsical cake — like this intricate fondant balloon masterpiece — can take an ordinary party table to unimaginable heights. This cake is so beautiful, Mama might keep the idea for her next birthday!
Source: The Cake That Ate Paris [84]
Cozy Owl Cake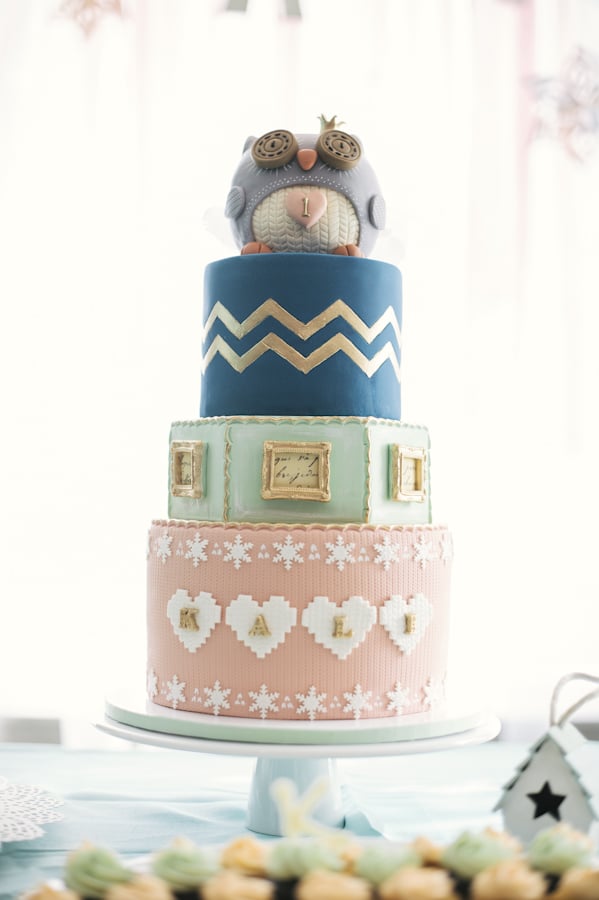 Bloom Cake Co. [85] created the over-the-top cake, inspired by owls, Winter's sweater weather, and French culture.
Source: Heidi Lau Photography [86]