Gourmet Baby Food
Table For Two For Fresh Baby Food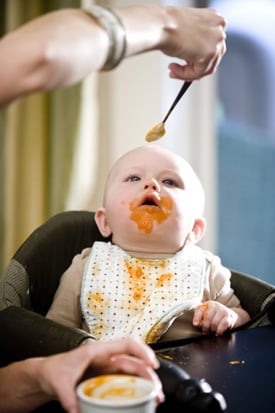 Waiter, we'll have one zucchini, carrot and potato puree please – hold the salt. The homemade baby food trend has taken the parenting community by storm, so it is hardly a surprise that restaurateurs are jumping on the bandwagon.
GustOrganics, a certified organic restaurant in New York City's hip West Village neighborhood, caters to a foodie crowd that can't even order for themselves. In addition to the adult menu of all natural dishes, the eatery introduced a baby menu featuring fresh, organic purees for early solid food eaters. With menu items such as baked squash, tenderloin beef puree with zucchini, carrot and one bay leaf and macaroni with spinach and Parmesan cream, the restaurant gives parents a break from the Beaba machine.
But such luxury comes at a cost. GustOrganics offers home delivery of their gourmet creations which starts at $60 for a four day supply – quite a bit more expensive than steaming and pureeing in your own home.