Gwyneth Paltrow Shares Lunch Box Ideas
Kitchen Queen Gwyneth Paltrow's Goop Granola Bar Recipe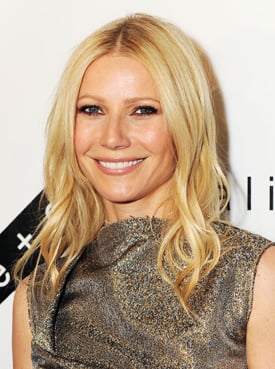 Get your kids to eat like Apple and Moses Martin! Gwyneth Paltrow may be a queen of the big screen, but she also showcases her talents in the kitchen. Focused on health and very much a fan of Jamie Oliver's food revolution, the mom of two whips up healthy snacks. In today's Goop, the actress shared a trick — cut a sandwich wrap into pinwheels to make it look more appealing — and a recipe for wholesome granola bars that you can tuck into your child's lunch box.
To see the Iron Man 2 star's recipe for homemade granola bars,
.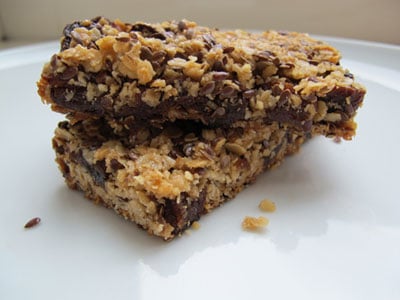 Gwyneth Paltrow's Homemade Granola Bars
Ingredients
1 1/3 cups quick-cooking (not instant) rolled oats, divided
a pinch each fine salt, ground cinnamon, ground nutmeg and ground ginger
1/4 cup flax seeds
1 cup dried apricots, roughly chopped (or any combination of roughly chopped dried fruit and/or nuts)
1/4 cup canola oil
1/4 cup high quality maple syrup
2 tablespoons brown rice syrup (a great substitute for corn syrup, available at lundberg.com)
Directions
Preheat the oven to 350ºF. Line a 8" square baking pan with parchment paper, letting a bit of excess paper hang over the sides.
Grind 1/3 cup of the oats in a food processor until powdery. Add them to a large mixing bowl with the remaining oats, the salt and spices, flax seeds, and apricots. In a smaller bowl, whisk together the wet ingredients and then stir them into the dry ingredients.
Put the mixture in the prepared pan, smoothing the top with a rubber spatula. Bake for 1/2 hour, or until evenly browned. Remove from oven and let cool for about 15 minutes. Remove to a cutting board (the parchment paper will act as a sort-of sling, making this very easy). Cut into individual granola bars.
Information
Category

Snacks, Kids
Did Gwyneth's recipe get you inspired? Share your recipe with other lunch making mamas in The Children's Table group over in the LilSugar Community!