Halloween Party Treats for Kids 2009-09-29 13:30:34
Tasty Treats For Halloween Bashes: Trick or Treat Lollipops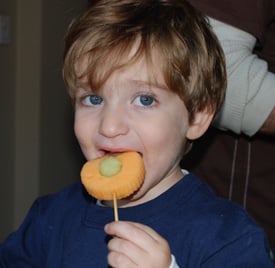 Halloween may be all about the costumes and candy, but that doesn't mean you can't trick kids with a treat that's healthy too. Take an all-time childhood favorite – the lollipop – and convert it into something that will fill trick-or-treaters up with necessary nutrients.
Take a selection of firm fruits like watermelon, cantaloupe and pineapple and cut them into thick slices. Then using cookie cutters cut them into fun shapes, filling holes in one slice with smaller pieces from other fruits like blueberries, grapes or strawberries. Place bamboo skewers into the pieces to create fruit lollipops that lil ghosts and goblins can't keep their hands off of throughout the party.
Do you have a healthy treat that your tots love? Share it with other lunch making mamas in The Children's Table group in the LilSugar community!