Halloween Party Treats for Kids
Tasty Treats For Halloween Bashes: Haunted Houses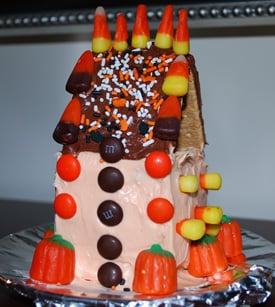 Who's afraid of the haunted house on the corner? Not your lil one if he helped create it! Take cookie decorating one step further when you offer wee ones the opportunity to create their own spooky houses filled with sweet treats.
Prior to your Halloween soiree, construct the house frames with graham crackers and thick icing. On the day of the party, set out a selection of colored buttercream frostings, candies and other items that will make the homes seem as frightful as possible, and let the little ghosts and goblins demonstrate their creativity as they decorate their houses in their own unique ways. When the mini-decorators are done, gather all of the homes together for a photo of this Halloween neighborhood.
Do you have a treat that your tots love? Share it with other lunch making mamas in The Children's Table group in the LilSugar community!