Handling School Gossip
Mommy Dearest: School Yard Gossips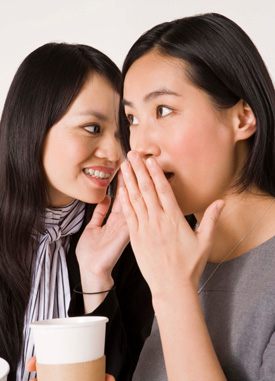 Mommy Dearest –
I'm at my wits' end. After school drop-off this morning, it came to my attention that two of the moms in my child's class were discussing me and my family's financial situation on their children's playdate. A number of the kids in the class are signing up for an extracurricular activity and I decided against putting my daughter in the class due to the cost. I told the class moms that we had a scheduling conflict, but understand that they were speaking rather loudly in the school yard about my family's inability to donate to school funds. I would simply ignore the women, but my daughter truly enjoys playing with their kids both in school and at home. I would hate to cut off her friendships due to their mothers' cattiness.
How should I approach them?
– Mama on the Verge
To read Mommy Dearest's response,
.
Dear Mama on the Verge –
You would hope that school yard gossip was left back on the high school field, but it obviously continues to exist. Your personal finances are no one's business but your own, and if the class moms have an issue with that they should obviously approach you directly. Ignoring them will hurt your daughter's friendships as will confronting them (as they are sure to deny it). Rather, make a point of scheduling playdates in a group setting where you don't have to speak to them on a one-on-one basis. If you can't contribute financially to the school, and you want to help out, volunteer more so they can see your involvement. Most importantly, don't let it get you down – you don't want your daughter to see how upset catty moms can make you.
– Mommy Dearest
Submit a question for this series at the Mommy Dearest Group on our new community page.