Happy 4th, Birthday Girl!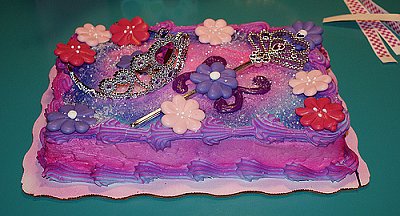 Getting ready to kick off your daughter's 4th year? After doing Winnie the Pooh for her first, Dora for her 2nd, and butterflies for her 3rd, you may be a party planning expert…or running dry on ideas! Don't worry, we've got great suggestions for a girl's 4th birthday, all of which come highly recommended by other Circle of Moms members.
4th Birthday Parties for Girls
Dress Up Parties. 4 year-olds adore dressing up—whether in fairy wings, full-out princess regalia or cowgirl costumes. As mother of three Tanya B. shares: "Last year my 4 year-old had a costume party. She loved it; everyone else did too."
Dessert Decorating. From cupcakes and cookies to ice cream sundaes, dessert decorating parties are simple, fun, and very affordable. As mother-of-three Dorothy W., shares: "I had a very inexpensive birthday party for my daughter. I had a sundae party. I bought a couple of buckets of vanilla and put it on a decorated table and let all the children make their own sundaes (with parental help of course). The children had a ball…the table had crushed Oreos, rainbow sprinkles, carmel, fudge, gummie bears, chopped nuts and anything else you can think of to put on a sundae."
Bounce House. Whether you rent equipment or go to a bounce center, 4 year-olds will love jumping their way through a birthday party. As Amy M. shares: "(Bounce centers) are lots of fun. I had my daughter's 4th birthday party there and the kids had a blast. It is all inflatable slides and bounce house type things."
Bumper Bowling. Bowling alleys also make for easy and entertaining parties. Mindi R. advises: "Check out your local bowling alley. If the parents are staying, they can help the kiddos bowl, and many bowling alleys have bumpers and ramps that help the kids aim the ball."
Great Gifts for 4-Year-Old Girls
Dolls and Dress Up. By age 4, your daughter may have some pretty strong opinions on what she likes, and you can use those interests as cues. If you're not sure though, many 4 year-old girls love dolls, animal toys, and dress-up gear. As Heather W. shares: "My daughter is 4 and she really enjoys Barbies, dress-up clothes, Zhu Zhu pets, any kind of princess things, books...Littlest Petshop, and baby dolls."
Arts and Crafts. Arts and other creative gifts are great at this age. For example, Michelle M. found that a "kitchen set, puzzles, and Play Doh" were all hits with her 4 year-old daughter.
Outdoor Toys. Frisbees, jump rope, bubbles, glittery bouncy balls, and water balloons are all fun for 4-year-old girls, says Sheila M. Meanwhile Jessica H. found that a motorized jumping toy was the most successful gift to date: "When my daughter was that age I got her a game called 'Honeybee Hop'. Hands down, that is the gift she played with more than any other we've given her. In fact, she is 6 1/2 now and she and her friends had it out last week, having a blast with it again."
Advice for the 4th Year
Kids in the Kitchen: A Guide to Cooking with Your Preschooler
Streamline Your AM Routine: 9 Strategies for Getting Out the Door Smoothly
6 Tricks for Getting Kids to Eat Healthy Foods
The Realities of Imaginary Friends 
7 Easy Art Projects for Preschoolers
Preschoolers Behaving Badly: 6 Tips for Dealing with Naughty Behavior
How to Deal with Language-Based Learning Difficulties 
5 Tips for Teaching Preschoolers to Share