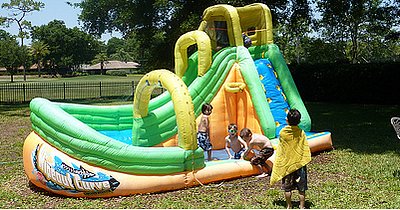 Happy 5th birthday! As you prepare to celebrate your little guy's first half decade, check out these great tips on parties and age-appropriate gifts, all from Circle of Moms members who've already celebrated their son's fifth birthdays.
5 Party Ideas for a Boy's 5th Birthday
One of the key ingredients for 5th birthday party success is choosing a location or activity that kids this age will love. Consider the following five locales, all of which come highly recommended from moms.
1. The Zoo
A small outing to the zoo is perfect for 5 year-olds who are fascinated by animals. As Alison O. shares: "We had a zoo birthday party. They got to tour the zoo, feed the fish and geese, ride a small train and had a guest animal visitor."
2. Pirate Theme and Scavenger Hunt
While character-themed parties are a bit less common at age 5 than in earlier years (often themes are restricted to cake decorations), the pirate theme persists as a favorite for this age. Even without the pirate theme, a mini treasure hunt is a fun activity. "We did a scavenger hunt with little dollar store treats around the yard," shares Tara L. "We made maps for each of the kids and sent them around with clues and activities to complete at each location. It was lots of fun, something a little different, and the kids all had goodie bags by the end of it."
3. Kid-friendly Museum
If your 5 year-old boy is obsessed with a certain vehicle or always asking how things work, a few hours at a kid-friendly museum may be the perfect party idea. Chrissy S. explains: "We had a birthday party at (an) Air Force museum for him and 8 other kids....they supplied food for the kids and with help of my mum and sister, I made him an airplane cake."

4. Play Center
Indoor amusement parks, bounce houses, Chuck E Cheese…any location with an activity center is great for entertaining energetic 5 year-olds.  As Heather B. glowingly says of bounce houses: "They do everything and you don't have the clean up! Some places offer to supply the cake, favor bags, etc. at an additional cost, or you can supply your own…I love having their parties there! It wears them out and all you really just have to do is sit back and watch the kids play." And if you've got the space for it, you can rent a bounce house for your own backyard.

5. Gardening Party
Another great backyard party idea comes from Tanya G.: "They painted terracotta plant pots….each child got to plant their choice of vegetable or flower seed…I found kids' gardening gloves at the dollar store, so instead of a goody bag, each child got to take home their planted pot and their gardening gloves."
Birthday Gifts for 5 Year-Olds
Drawing a blank on what to gift your soon-to-be 5 year-old? Circle of Moms members frequently recommend the  following three gifts for 5 year-old boys:
Outdoor Toys. Five year-old boys love outdoor toys! First bikes are a popular gift at this age, but swing sets, mini golf sets, and giant bubble wands are fun too—just beware of dousing your lawn with too much bubble soap!
Getting Ready for the 5's
As you get ready to leave the 4's behind, be sure to check out The RoundUp's Preschooler and Big Kid articles for tips on raising 5 year-olds. Here's a taste: