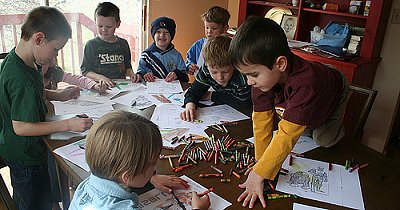 Looking for inspiration for celebrating your son's 6th? We've got you covered with tips for 6th birthday parties and presents from other Circle of Moms members whose sons have already hit the 6 year mark. Happy birthday to your son — and to you!
Boys' 6th Birthday Party Ideas
1. Reptiles
Young children are thrilled by animals, but reptiles especially are a smash hit with boys turning six. Consider gathering at a local nature museum, as Lindsey I. did: "The theme was turtles and the kids got to have a private showing of the turtles and later got to feed them. Then they had a tour of the museum and it ended with an impromptu feeding of the museum's alligator." Or follow Beth T.'s lead and host a reptile-themed party at a local park: "We had a dinosaur themed party…The cake was a T-Rex…We buried little plastic toys and had the children dig for them."
2. Water
Several moms, including Sarah D., recommend splashing away an afternoon with a water-themed party: "My boyfriend rented a giant inflatable water slide, which was a huge hit not only with the kids, but myself! Jude kept hugging me and telling me I was the best mom ever." Other backyard water ideas include sprinklers, a Slip 'N Slide, water balloons and water guns. Or consider taking a small group to a local water park.
3. Indoor Entertainment
Whether you're celebrating your son's 6th birthday in the dead of a snowy winter, or simply don't want the hassle of cooking for and cleaning up after a dozen or more kids in your own home, indoor entertainment centers like Chuck E Cheese or bounce centers like Pump It Up can be a great 6th birthday choice. Quanda C. shares: "We went to his cousin's party at Chucky Cheese…and the kids had a blast!! They didn't even want to leave…and the moms didn't have to clean up!"   
4. Backyard Games
6th birthday parties don't have to be extravagant affairs. Many moms prefer to keep things simple (and affordable) with a backyard BBQ and classic games like a scavenger hunt, mummy wrap (a race to wrap a team member with toilet paper), sandbox treasure hunts, pin the tail on the donkey, and variations on tag.
Gifts for 6 Year-Old Boys
1. Wheels
6-year-old boys are big on wheels! If he's already happy with his bike, consider gifting two-wheeled scooters, roller skates, remote controlled cars, Hot Wheels sets or ride-on diggers.
2. Action Figures
Action figures are still popular with 6 year-old boys. Take your cues from your son's recent TV or movie obsession— think Transformers or Thor toys.
3. Legos
Legos can happily divert 6-year-old boys for hours at a time. New Lego products are continuously rolled out (does he have the Pirates of the Caribbean or Cars ones yet?) so there's always a way to add to his collection.
4. Water Toys
While some moms disapprove of giving any gun toy to a child, others suggest water toys like the giant Super Soakers as harmless fun that 6-year-old boys will love.
5. Electronics
Break out the batteries! From Sega and Wii games to a basic digital camera or electronic drumset, electronic toys have been a succes with many other Circle of Moms members' 6 year-old boys.
Welcome to the Sixes!
Ready for the next year? The RoundUp is full of "Big Kid" articles to help you through challenges of parenting a 6-year-old. Here's to the year ahead!
5 Winning Tips for Losing Teeth
A+ Breakfasts for School Day Mornings
4 Ways to Curb Your Child's Endless Arguing
Lice Advice: Mom Tips for Preventing and Treating Lice
What to Do When Your Kids Are Running Wild