Happy 6th, Birthday Girl!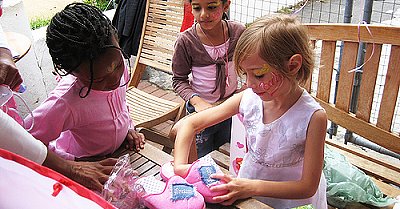 Getting ready to celebrate your not-so-little girl's 6th birthday? Whether you're planning to invite the whole class or are angling for a simpler celebration, we've rounded up great real-mom tips on great themes and gifts for your daughter's 6th birthday party.
Party Ideas for a Girl Turning 6
1. Dress Up Parties
Little girls love an excuse to play dress-up. As Kimberly K. relates, "We had a Fancy Nancy-themed tea party. Everything was over the top with the more accessories the better. The girls received boas, and jewelry. We decorated sunglasses, had a runway show and lunch of tea sandwiches." Or instead of fancy dress, consider "fairy dress." Hailey J. threw a "fairy party (with 16 little fairies and 1 little elf)." Imagine the adorable pictures!
2. Crafts
From making jewelry to decorating cupcakes, crafty activities are ideal for a girl's 6th birthday party. As Tasmin V. recalls of one 6-year-old's party she particularly enjoyed, "They painted little ceramic vases and made paper flowers."
3. Cowgirls
Looking for a theme you can really go all-out with? Karen D.'s creative cowgirl party should be great inspiration: "Sophie had a Cowgirl party…Invitations were a 'Wanted' poster, we had stick horses, tug-of-war, shooting gallery, cooked s'mores on a campfire, horse shoe toss, and I hid marbles covered in gold foil in a haystack…For goody bags I made calico money bags with an iron-on dollar sign on them and [filled them with] a mini Whitakers gold bar and some chocolate coins."
4. Entertainment Centers
If your daughter is determined to invite two dozen kids, consider an entertainment or bounce center, which are popular birthday party locations for good reason: the kids have a ball and parents have minimal planning and clean-up responsibilities. As Krista M. shares: "I kept it easy on me. We went to our local Pump It Up and jumped the night away…2 hour party and no pre or post clean up! Voila, moms happy and so were the jumping kids!" Kandia P. agrees: "We had Kaley's birthday party at Chuck E. Cheese. It was great. The kids had a blast and there was no cooking or clean up for me (which was very important because I have a 3-month-old)."
5. Bowling
Another popular location for 6th birthday parties are bowling centers. As Opal O. shared of her twins' bowling birthday party: "For $75...they got to invite 4 other friends with 1 hour of free bowling plus t-shirts, and they provided a private room with free popsicles and balloons... it was a good deal for 2 hours of happiness for them...I would recommend it!"
Gifts for 6 Year-Old Girls
1. Dolls
"Barbies are always a hit with 6 yr old girls," says Kylie K. From fairy Barbie dolls to new outfits and animals, there are endless ways to add to your daughter's collection. Not big on Barbie? Other Circle of Moms members say their 6-year-old daughters love little girl dolls, princesses, and fairies.
2. Little Toys
Tiny toys are really fun for girls at this age. Littlest Pet Shop animals and Polly Pockets are both among the favorite 6th birthday presents received by many Circle of Moms members' daughters.
3. Arts & Crafts Kits and Supplies
It's no surprise that the favorite gifts Haley J.'s daughter received were "crafty things to make [like] sticky mosaics and plaster molds to paint." Many 6-year-old girls love creating things with their hands. Consider pottery-decorating supplies, beading and jewelry-making kits, looms, origami books, snow-globe kits, flower pressing supplies, or paints, pens and notebooks.
4. Movies and Wii Games
Did your daughter love Tangled or Toy Story 3? Consider giving her a DVD of her favorite film. If you have a Wii, try a new game like "Kirby's Epic Yarn Adventure," which Desiree S. says her daughter loved.
Tackling the Sixes
Ready for the next year? The RoundUp is full of "Big Kid" articles to help you through the sixes. Here's a look at some of the issues other moms have encountered during their daughters' 6th year:
A+ Breakfasts for School Day Mornings
Should Your Child Repeat Kindergarten?
5 Winning Tips for Losing Teeth
Lice Advice: Mom Tips for Preventing and Treating Lice
What to Do When Your Kids Are Running Wild