Happy Birthday to Your 3 Year-old Boy!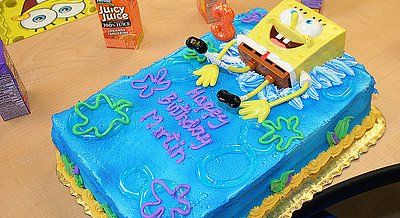 Congrats mama! You and your son have survived the Terrible Twos! To help you celebrate the past year and prepare for next year's adventures, we've collected our moms' best advice on birthday parties and themes for 3-year-old boys, as well as great gifts and advice for taking on the Threes.
Happy Birthday!
3rd Birthday Party Tips
Guest List
Huge birthday bashes for three-year-old's aren't unheard of, but Circle of Moms members generally recommend keeping guest lists relatively short at this age. J.H. offers a helpful rule of thumb: "Some people suggest having the number of friends (the same as) your child's age at the party to keep it manageable."
Themes
Circle of Moms members have offered tons of theme ideas. As Amanda B. shared: "For a boy you could do Spiderman, Sponge Bob, or even Elmo or Mickey Mouse." Other suggestions included characters from favorite books, such as Curious George, Cars, hockey, Toy Story, Little Einstein, and John Deere. Still at a loss? As Lindsey H. advises "Picking your child's favorite cartoon or movie as the theme always works."
Location
If you're hosting at home, moms suggest simple activities like bubbles and Play Doh, basic games (think Duck Duck Goose, musical chairs, Pin the Tail on the Donkey), or hiring an entertainer for an hour—such a balloon artist, face painter or animal handler. A birthday pinata is another great activity for this age, says Kimberly G.: "Pinatas are always fun. My son and his friends love beating on it." Rentable bouncy houses are also terrific for burning off the sugar rush from the birtday cake, and as Hillary V. shared, home-made ball pits make kids gleeful: "We have an inflatable kiddie pool that we put plastic balls in that is always a BIG hit with the kids (and their dads too hahaha)."
Other moms like Jaclyn P. prefer holding 3rd birthday parties away from home: "I really wanted to do something where I wouldn't have to worry about cleaning up my house before and after." Suggested locations include local parks, gymnastic or activity centers, inexpensive restaurants with play areas, petting zoos or aquariums, or locations involving trains and fire trucks.
3rd Birthday Gifts
Wondering what to gift a three-year-old boy with seemingly every toy on the planet? Try these four winning ideas from other Circle of Moms members:
Getting Ready for the Threes!
As you move into the threes and begin leaving toddler-hood behind you, be sure to check the Preschooler section in The RoundUp for all kinds of advice on raising a three-year-old. Here's a taste of what you'll find: