Hatch Collection Labor and Delivery Clothes
The Hatch-to-Hospital Box: Ga Ga or Gag?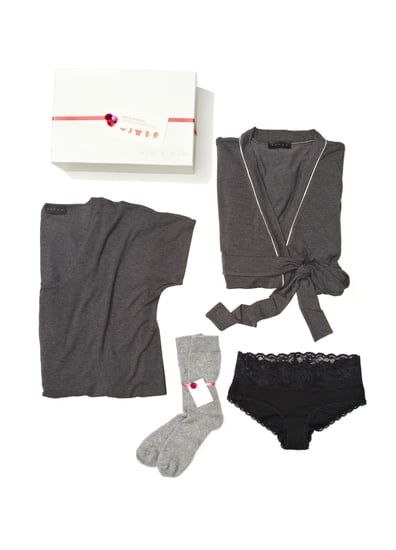 Packing for the hospital has never been easier, thanks to HATCH Collection and Gilt. While the idea of packing a bag of necessities for an unknown experience fills many mamas with fear, HATCH is introducing a collection of high-end birthing room essentials that reflect Ariane Goldman's belief that maternity clothes should be luxurious, comfortable, and unstructured.
The HATCH-to-Hospital box is filled with a supersoft knee-length nightgown, a gray jersey robe, a pair of gray cashmere socks, and a specially designed pair of Cosabella panty briefs so mom doesn't feel like she's sacrificing style her baby. Designed to be a grab-and-run box that eliminates the need to stew over what actually goes into a hospital bag. The box currently resides on HATCH Collection's site for $248, but on beginning on May 19 (and ending on May 22), it will appear on Gilt.com for $205 to celebrate Pregnancy Awareness Month.
Luxury does come at a price, but is this pregnancy wear simply over the top? Vote in the poll and tell us below!