Gone are the days when McDonald's and Burger King were the only fast-food options for families looking for lunch on the run. Whether you're on a road trip or shuttling between pickups and drop-offs, sometimes the drive-through window is simply the only reasonable option for a busy family. Luckily, parents now have plenty of choices when striving to feed kids quickly, without sacrificing quality and nutrition in the process.
But beware of hidden pitfalls, like seemingly healthy meals that are actually loaded with fat and calories or lacking in any nutritional value. We've scouted out the best meals to buy and those to skip when the goal is to keep little ones' engines fueled.
Source: Thinkstock [1]
Zoes Kitchen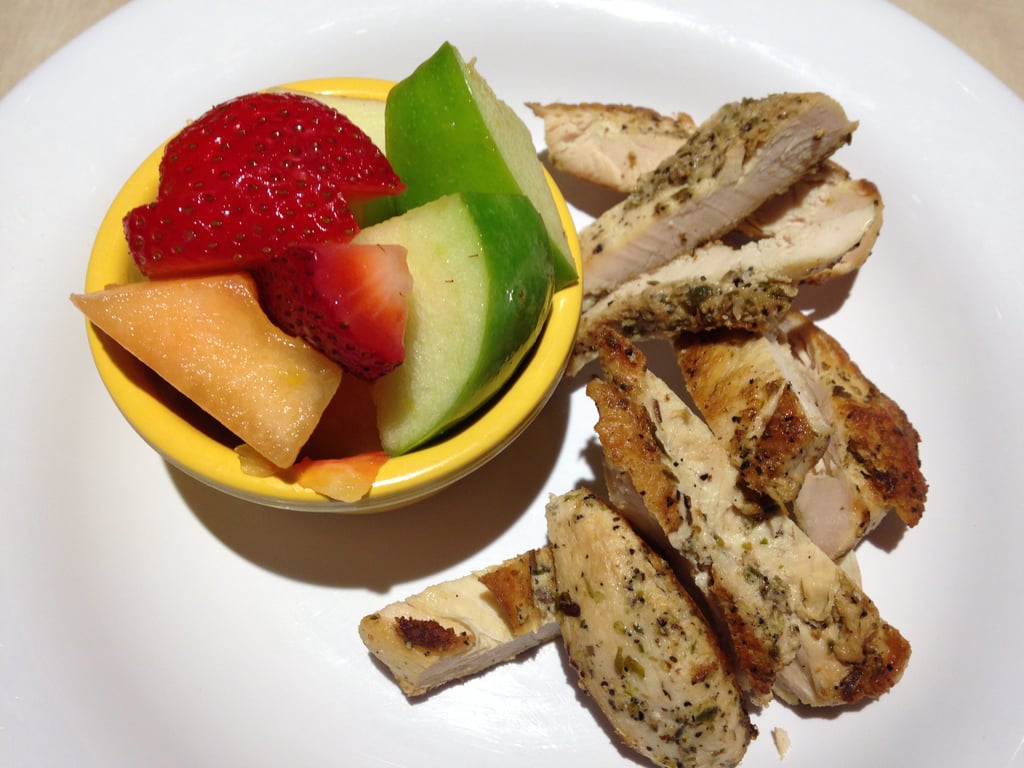 Freshness is key at Zoes Kitchen [2], where Mediterranean-inspired recipes dominate an extensive menu that's perfect for a family lunch outing, or dinner to-go. Moms will love the fresh salads and protein-packed kabobs, and an affordable kids menu has something for even the pickiest of tots.
Where It's Located: Arizona, Texas, Oklahoma, Louisiana, Alabama, Georgia, Florida, South Carolina, Tennessee, Kentucky, North Carolina, Virginia, Maryland, Pennsylvania, and New Jersey
What to Pick: The Grilled Chicken Fingers on the kids menu are gluten and allergen-free, and pack in 35 grams of protein alongside a gram of fiber. They're served with a side of chips or fruit.
What to Skip: We're loving all of the choices on the kids menu — a grilled turkey sandwich, chicken and mozzarella roll-up, and chicken salad sandwich, to name a few. When selecting your sides, however, skip the buttery rice pilaf and opt instead for roasted veggies or seasonal fresh fruit.
Source: Zoes Kitchen [3]
Baja Fresh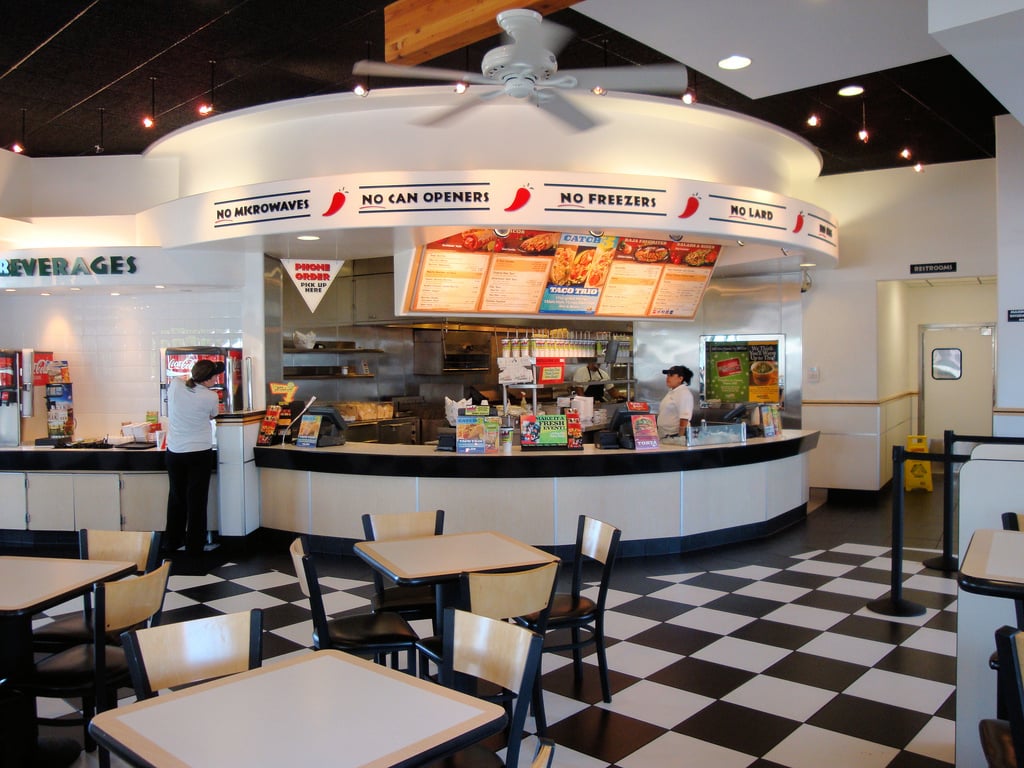 A relatively fresh approach to Baja-style Mexican cuisine, Baja Fresh [4] offers a variety of options — some good for you, some not so good for you. There is a dedicated kids' menu, which helps with portion control.
Where It's Located: New York, Washington DC, Chicago.
What to Pick: The mini bean and cheese burrito with charbroiled chicken. While it's high in calories (590), it's free of trans fat and packs plenty of fiber, protein, and calcium.
What to Skip: Mini chicken taquitos: avoiding fried foods is always wise for little tummies. And gear them toward milk or juice in their drink selection. Soda is offered as a kids' meal option but probably shouldn't be!
Source: Flickr user jimg944 [5]
Noodles & Company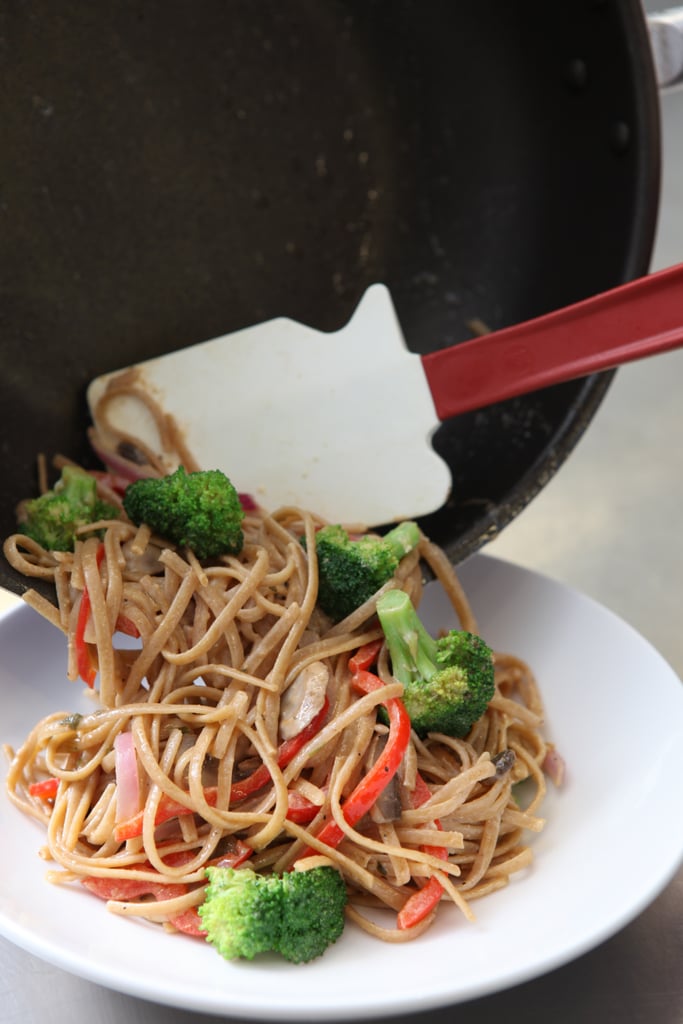 Offering a globally inspired menu with a focus on — you guessed it — noodles, all meals at Noodles & Company [6] are made to order, so you can customize what's included in your entrée (perfect for picky eaters). The menu offers a variety of options for fewer than 500 calories.
Where It's Located: All over the country.
What to Pick: A small serving of spaghetti is just the right size for a little belly! Pack on the protein with the addition of grilled chicken. Healthy, satisfying soup options like chicken noodle and tomato bisque are also kid-friendly.
What to Skip: Although they're designed to appeal to kids, buttered noodles are full of carbs and calories — and not much else.
Source: Noodles & Company [7]
Au Bon Pain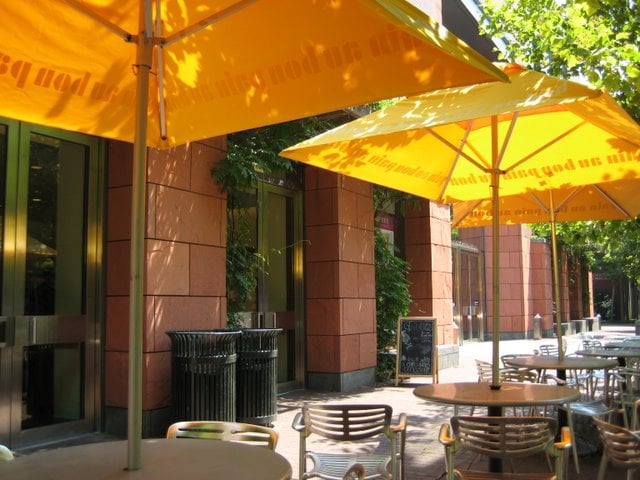 A French-inspired bistro with a focus on health and nutrition (Health magazine named it one of America's healthiest restaurants), Au Bon Pain [8] has something to suit just about every taste. Kid-specific options include a cheese or turkey sandwich on farmhouse rolls, a grilled chicken sandwich on multigrain, and macaroni and cheese.
Where It's Located: Alabama, Connecticut, Washington DC, Florida, Georgia, Illinois, Indiana, Maryland, Massachusetts, Michigan, Minnesota, Missouri, New Hampshire, New Jersey, New York, North Carolina, Ohio, Pennsylvania, Rhode Island, Tennessee, Texas, Virginia, Wisconsin.
What to Pick: The grilled chicken on multigrain bread is a protein-packed option that's sure to keep your little one satiated all afternoon. For a snack to go, check out ABP's "Portions" offerings, which include smaller servings of nutritious snacks like hummus and cucumbers; cheddar, fruit, and crackers; and apples, blue cheese, and cranberries.
What to Skip: At 560 calories and 35 grams of fat, avoid the macaroni and cheese. While its gooey goodness appeals to little ones and it does serve up a generous portion of calcium and carbs, there are a bevy of better-balanced options to choose from here.
Source: Flickr user musical photo man [9]
Pret a Manger
The ultimate grab-and-go, Pret a Manger's [10] food is made fresh throughout the day in the same location where it's served. While there isn't a separate kids' menu, basic sandwiches like classic cheddar and tomato, hummus and veggies, and chicken and bacon are likely to appeal to little taste buds.
Where It's Located: New York, Washington DC, Chicago.
What to Pick: Any of Pret's "Slim" sandwiches are the perfect size for kiddie appetites. They're also likely to find something that appeals to them on the soup menu, which includes a rotation of options like chicken noodle, broccoli cheddar, and turkey chili. The premise here is that little ones can select from the same menu as mom and dad, just in smaller portions.
What to Skip: It's more or less all healthy stuff, so give them some freedom in choosing what they like here. Since fresh fruit is always available as a side, steer little hands toward that instead of chips or popcorn.
Source: Flickr user jovike [11]
Cosi
A parent favorite for its signature flatbread and wide variety of sandwiches, soups, and salads, Cosi [12] also offers a special kids' menu. While it's fairly basic, appealing offerings include a gooey grilled ham and cheese, PB&J, and a turkey sandwich. There are also pizza and dessert options.
Where It's Located: California, Connecticut, Washington DC, Delaware, Illinois, Kentucky, Massachusetts, Maryland, Michigan, Minnesota, New Jersey, New York, Ohio, Oklahoma, Pennsylvania, Texas, Virginia, Wisconsin.
What to Pick: The low-cal turkey sandwich with a side of carrots is your best bet, but any of the sandwiches stay within a reasonably healthy and well-balanced nutritional range.
What to Skip: With a whopping 777 calories and 50 grams of fat, the Mississippi Mud Pie is an unnecessary indulgence for kids and parents alike. If they're craving something sweet, opt instead for a raisin oatmeal cookie — it's big enough to share.
Source: Cosi [13]