Healthy Frozen Meals
Packaged Dinners That You'll Feel Good Feeding Your Family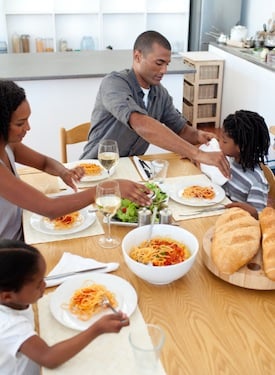 It happens to the best of us, those weeknights when everyone's running in different directions, and cooking dinner is simply not an option. While frozen and packaged foods may have a bad rap, our friends at Dinner: A Love Story are providing us with eight nutritious and totally tasty options for a quick and easy meal that the whole family can enjoy together.
PJ's Organic Chicken Burritos These burritos are a recent discovery. They're not cheap — I think each goes for about $7 — but you get what you pay for. Good quality ingredients, fresh flavor, and a variety to choose from. I find them at Whole Foods, but [their] website says you can find them in the freezer section at national supermarkets and natural food stores.
Black Bean Soup A quick heat on the stove top and a dollop of sour cream, and it barely feels like I'm doing anything extra. Try Latin Style from Trader Joe's, Whole Foods 365 Everyday Value brand, or Amy's Black Bean Vegetable.
Trader Joe's Thai Shrimp Gyoza Dumplings We steam these or sauté them in a little oil and serve with broccoli. I once made a recipe from the Cooking With Trader Joe's Cookbook, which called for tossing the dumplings into chicken broth with some frozen vegetables and a dash of soy sauce. It took about 10 minutes. I'm not sure why I haven't reprised that one.
365 Everyday Value Organic Vegetarian Chili Organic and affordable. I often open a can of this chili for lunch and top it with chopped avocado and a little sour cream.
Naked Nuggets These are the unbreaded (so gluten-free) real white meat chicken pieces from the guys behind Blue Ribbon Sushi in New York. I think the genius is that you heat them in a little olive oil on the stove top instead of in the oven. The only problem is that they can be a little hard to find — though their site lists availability at ShopRite and Food Lion, among others. My 8-year-old literally gasps when she spies them in the freezer section.
Hofmann's Hot Dogs OK, I've never actually tried these hot dogs from the family-owned Hofmann, but Yolanda's franks and beans dinner over on Momfilter sounds so good that I'm determined to remedy this culinary void immediately and stock up. (Slow-cooker owners are encouraged to follow the entire recipe.)
Amy's Spinach Pizza Snacks There was a stretch when these organic pizza snacks graced the table way more often than they probably should have. For reasons I can't remember, we called them "Fun Pies" and have had luck with other flavors, too — like Nacho and Cheese Pizza.
Saffron Road Chicken Tikka Masala There is a whole line of these Indian freezer dinners, and so far, I haven't tasted one I don't like. Most take about three minutes in the microwave and come with rice. Add some grape tomatoes or a handful of baby carrots and pat yourself on the back.