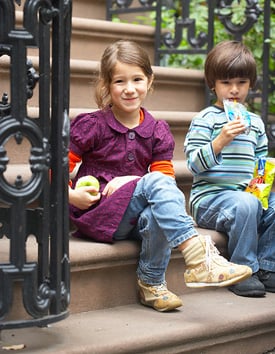 "Mommy, I'm hungry!" Even an hour after having breakfast or lunch, lil ones' stomachs seem to find a way to ask for more food. A handful of goldfish crackers here and pack of graham crackers there, snacking has become big business. In the food section of yesterday's New York Times, a reporter took a look at the endless snacking that goes on with her own children and their classmates. She found:
Between 1977 and 2002, the percent of the American population eating three or more snacks a day increased to 42 percent from 11 percent, according to a large study of American nutritional habits conducted by the Agriculture Department with the Department of Health and Human Services.
While we may work overtime to prepare healthy and nutritious meals, with only the freshest organic ingredients, when it comes to snack time, many mamas seem to grab whatever they can to appease their tots' hunger tantrums, even if it means cookies, cakes and candy-like treats.
What is especially baffling where I live, in Los Angeles, is how often the kind of parental paranoia that obsesses about school ratings, vaccines and myriad imagined plagues is matched by utter disregard for the nutritional downsides of mowing down Fruit by the Foot every afternoon at 4. Rarely do I see a parent show up on the soccer field with a homemade snack, or even a bag of carrots.
Are you as careful with the snacks you give your kids as you are with their meals?