Heirloom Rocking Horses
Simple or Swank: Heirloom Rocking Horse
Rock on, baby. Heirloom rocking horses are a classic toy for tots and a staple in a great number of family homes. Sturdy construction and care have allowed these rocking horses to be passed on from generation to generation — but there are a few new breeds on the rise. Check out these modern rocking horses that will surely become heirlooms for your kiddies to pass on to the next generation.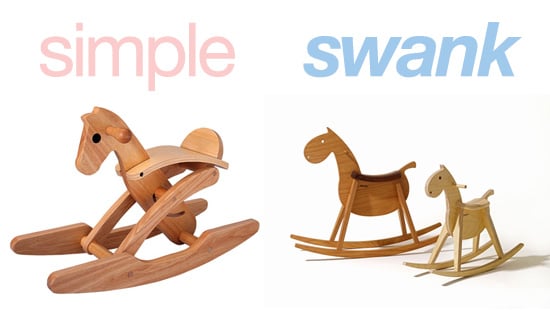 Simple: The Tori Rocking Horse ($100) has been a favorite of new mamas since it first hit the market. Heirloom quality and nontoxic and renewable material, paired with the functionality of modern design — it folds flat for easy storage! — makes this horsey the perfect gift for any toddler.
Swank: The newly unveiled sixkid Rocking Horse (starting at $500) is ergonomically shaped — for a safe ride — and breathtaking. It makes a stylish addition to the nursery, playroom or even living room!

Which do you prefer?