Heroes For My Son, Brad Meltzer Interview
Interview With Brad Meltzer Author of Heroes For My Son
Most parents make a baby book for their kid, but if you're author Brad Meltzer's son, yours is bound to be a bestseller. Well known for having all six of his fiction novels hit the New York Times best-selling list, Meltzer's latest tome, Heroes For My Son ($12) is both his entry into nonfiction and a gift to his firstborn. From concept to creation, the father (of now three children) was involved in nearly every step of the process from the look and layout of the pages to selecting photographs of the 52 heroes — from Dr. Seuss to Albert Einstein and Paul Newman to Pele — in the book. The dedication reads, "For Theo and Jonas, my sons, my heroes." And, that's the point of the book, that anybody can be a hero. It just takes an act of greatness. I recently had the chance to chat with Meltzer about his labor of love, here's what he had to say.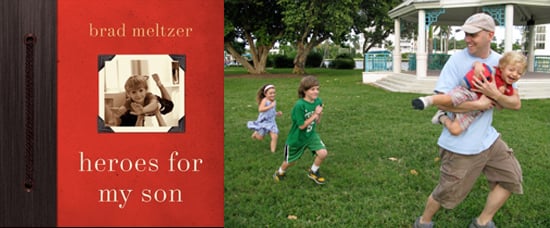 LilSugar: You write that you thought up the idea for the book while waiting at a stoplight on the day your son was born, where were you going?
Brad Meltzer: I was coming home from the hospital. It my first true moment alone as a father. And it was in that moment that I couldn't help but think, "What kind of man did I want my son to be?" That moment is a beautiful one because it's filled with so much hope and idealism and all the things we quickly forget about as life takes over. But it was in that moment that I said, I'm going to write a book that lasts my son's entire life. And in that moment, Heroes For My Son was born.
LS: If you realized that you "have little to say in the matter" when it comes to what type of people your children will become, then what purpose will this book serve?
BM: I think we have little say when it comes to telling our children what they'll be. But we have a great deal of say in showing them the potential that exists within them. And that's what I wanted to capture, by showing him the greatest single moments in the lives of Jim Henson, Rosa Parks, Mr. Rogers, Abraham Lincoln, and the Wright Brothers, who used to bring extra materials to every test flight, since they knew they'd fail. That preparation is exactly why they took off. This book isn't about fame or money or even success. It's about what we're all capable of on our very best days.
To see who Meltzer's personal hero is and how his son reacted when he was read the book,
.
LS: It's taken eight years to put this book together and I imagine your son has plenty of his own opinions by now. Did he influence you to include any heroes in the book — a favorite athlete, family member, or someone he learned about in school?
BM: My son loves sports, so I certainly included a few more athletes -- from Muhammad Ali to Lou Gehrig -- for that reason. But for me, my favorite hero in there is my Mom, who died from breast cancer two years ago. On the day my publisher was shutting down, and no one was there to take over my contract, I thought I was watching my career deteriorate. So I called my Mom and told her how scared I was. She told me, "I'd love you if you were a garbage man." It wasn't anything she practiced. Just her honest feelings in that moment. And to this day, every day I sit down to write, I say those words to myself, soaking in the purity of my Mom's love. That's my hero.
LS: You say that Mr. Rogers and Jim Henson are heroes that resonate with you, which heroes in the story resonate with your children?
BM: A few weeks back, I finally gave a copy of Heroes For My Son to my son. This was the moment I'd waited nearly a decade for. And of course, he didn't care about Rosa Parks or Eleanor Roosevelt. He went right for the athletes, flipping to the story of Roberto Clemente, the baseball player who went down in an airplane crash while trying to take food and medicine to earthquake victims in Nicaragua. And as we're reading it, I'm thinking, "Don't take your shoes off, son -- you're gonna be so inspired, we may go out and start changing the world tonight."
But as he read the story, he started shrinking in my arms. And he turned back at me and whispered, "Dad, this is sad." Right there, I realized I'd broken his heart for the first time. So the next night, I leave the book aside. And my son bounds into the rooms, grabs the book, hops up on the bed and says, "Who we reading tonight, Dad!?" He tells me he loved that story of Clemente -- and I ask him why, and he says, "Because he gave his life to save those people." And I knew right there, you can't teach about a hero unless you teach why you need that hero. You can't show them the high without showing them the low. And like my best moments as a dad, they're always the result of complete and perfect accident. I was so anxious to protect my son, but the strength was already inside him.
LS: You wrote that your daughter wants to know where her book is — will Heroes For My Daughter be an extension of this title or something completely different?
BM: Every single hero in Heroes For My Son is also a hero for my daughter. Every one. Rosa Parks, Amelia Earhart, Lucille Ball, Mother Teresa... Those are heroes for all of us.
LS: You are best known for writing fiction, did you find the process and end result of writing nonfiction more or less rewarding?
BM: In my thrillers, I can make up whatever I want. Here, these were the stories of Gandhi and Thomas Jefferson and the woman who actually found Anne Frank's diary. I need to get it right. I felt like the guy who carries the Olympic torch for one block. It's not mine. But for this one block, I'm the caretaker. That mattered to me. And it's why the emotional rewards from this book have been so overwhelming. My son actually cares about George Washington.
Photos courtesy of Cori Meltzer