High-Tech Baby Monitor
New Baby Monitor Keeps Pulse on Baby's Vitals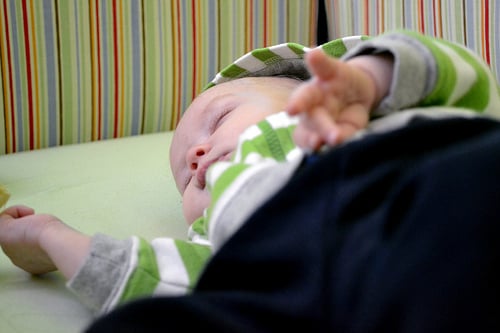 When your baby is sleeping in another room, SIDS (sudden infant death syndrome) is a valid concern. To ease parents' worries, a group of students from Winona State University have developed a high-tech baby monitor that can measure an infant's heartbeat, breathing, and movement, and even alert a doctor if something goes awry, reports Co.Exist.
The students, who call themselves the Miracle Workers, developed the blanket-looking device for Microsoft's annual student technology competition, Imagine Cup. A sensor-filled pad that is programmed with normal vital ranges according to different ages is placed on top of a baby's crib mattress. If the baby strays from the normal ranges while sleeping, then "the pad alerts the parents (and doctor if that option is selected) via a Windows Phone or tablet," according to the report.
The Miracle Workers say the device costs about $150 to manufacture, and they plan to sell it even if they don't win the Imagine Cup. Would you pay that for peace of mind?