Holiday Gifts for 6-Year-Old Children
The 12 Ages of Christmas: 6-Year-Olds
Instead of the 12 days of Christmas, we're celebrating the ages and the toys that go along with them. Keep an eye out for your age group as we tick along throughout the season!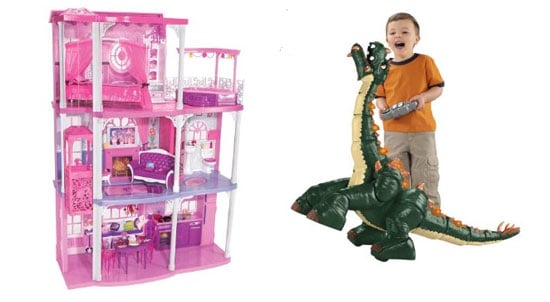 On the sixth day of Christmas, yours truly gave to thee... a Barbie Townhouse and a remote control dinosaur. I've tried not to be too gender specific thus far, but when tots turn six, their lust for pink and all things motor starts to make themselves known so we've picked out two toys that will suit a young girl's fancy and make a rough and tumble lad very happy. Barbie fans will rejoice when they see the 3-story townhome underneath the tree this year. A throwback to the original home of the '70s, the updated version still includes an elevator but has a flat screen TV and a whirlpool tub. The swanky spot also has operating lights and sounds so the dreamy lady will know when her gal pals or suitors arrive. For the lil man of the house, Imaginext Spike the Ultra Dinosaur ($130) will have youngsters doing cartwheels. The four-legged friend walks, eats, stretches, blinks, roars and snorts on command. He can also stand on his hind legs making him even taller than his 27" resting stature.
Check out what we suggest for the other ages of Christmas!