Holly Robinson Peete Talks About 21 Jump Street Movie Cameo
Holly Robinson Peete Discusses Her 21 Jump Street Cameo and One-Handed Diapering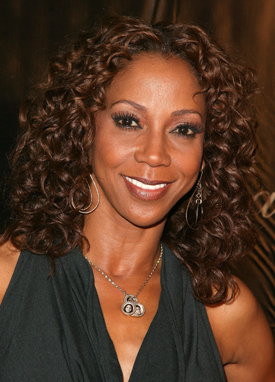 Going from teen star to celeb mom without a hint of controversy is no easy feat these days, but Holly Robinson Peete has paved the path for those willing to follow her footsteps. Currently co-host of The Talk on CBS and an outspoken advocate for autism awareness, the mama of four spoke with me about kids with food allergies, her upcoming movie cameo, and motherhood. See what the star had to say.
LilSugar: Many of today's moms have been fans of yours, since you appeared on 21 Jump Street. Now they're making it into a movie. Will you have a role in the new film?
Holly Robinson Peete: Yes, I did make an appearance on it. I worked one day. I don't have as big a part as Johnny, but I did make a cameo. The only thing I'm panicked about is that I had to say a curse word and my kids are going to go, "Oh my G-d!" But, I'm really excited to be in it.
LS: Are your kids fans of the show?
HRP: I can't get my kids to get into Jump Street yet, but they love Hangin' With Mr. Cooper. The only thing they care about is [who I worked with]. They can't believe I worked with Captain Jack Sparrow. That earned me some cool points!
LS: We like to ask all of the moms we interview our Four Lil Questions. First up: You know you're a mother when __________.
HRP: You know you're a mother when you lick your finger to wipe your kids' face, because you don't have a wipe and that's what your mom did and you swore you'd never do it.
Keep reading to see the best trick Holly's mom taught her and more!
LS: I wish someone had told me __________ about motherhood.
HRP: I wish someone had told me to sleep a lot before I became a mother.
LS: The best trick my mama taught me is _________.
HRP: She taught me how to change diapers one handed. So I could actually change two diapers at one time with one hand when I had my twins.
LS: Helicopter mom or free-range kids?
HRP: Depends on which day of the week. I'm probably more free range: free range with a little propeller on it!