Home Pregnancy Test App
A Home Pregnancy Test App: Ga Ga or Gag?
When I was trying to conceive my first child, I thought I saw two lines on every pregnancy test I took. The instructions said even a faint pink line meant you were pregnant, so I was falsely convinced I was seeing them. Maybe that's where the new Early HPT+ app ($2) could have helped. It seems many women aren't quite sure what they're seeing when they take a home pregnancy test (32 percent of you told us you peed on four or more tests before being sure you were pregnant), so Early HPT+ "tweaks" the test to make faint lines visible to the naked eye, allowing test takers to know their results earlier in their cycle.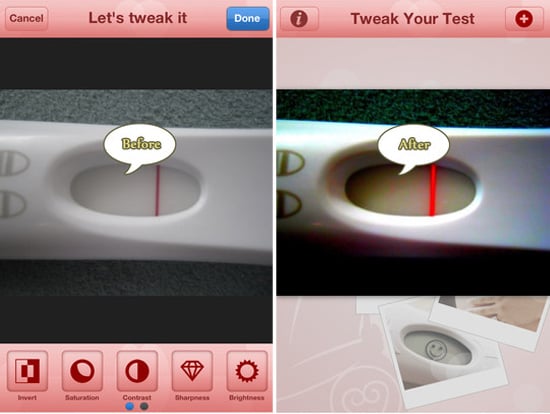 No, you're not going to pee on your actual phone; users upload an image of their pregnancy test to the app, crop it to fit on the screen, and then use the app's filters to better "read" the lines. The filters are designed to detect the dye that pregnancy hormones leave on the test. Once complete, the updated "tweaked" photo can be saved to your camera roll or emailed (or Tweeted) to family and friends.
It was only a few years ago that we relied on a website to help us read our pregnancy tests. Could Early HPT+ be the new way to do so?