Homemade Birthday Sign for Children
Kidoodle: Flag Your Love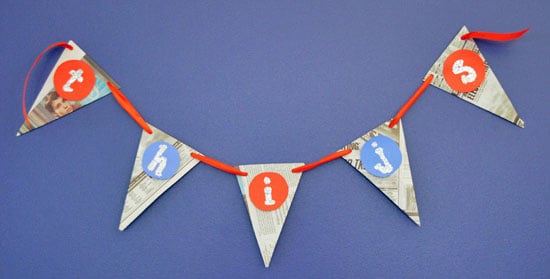 Buying a present for a one-year-old always seems a tad impersonal since the tot hardly acknowledges the gift. Give him something made with love that he can save throughout the years. It will keep mama from having to make a tough choice at the toy shop while keeping a few dollars in her pocket.
To see how to make this simple sign to hang in the nursery or play room,
.
Supplies for the project:
Old cereal boxes or manila folders
Glue
Ribbon
Hole puncher
Pencil or pen
Glitter
Ruler or straight edge
Newspaper
A traceable circular object like a can
Bright construction paper
Directions
Use a ruler to draw a few flags on the back of the cereal boxes.
Cut some newspaper in the same shape but about an inch bigger all the way around.
Glue the newspaper to one side of the flag. Fold the edges over and glue them to the back for the triangle.
Trace circles on the bright colored construction paper and cut them out.
Glue the circle onto the newspaper side of the flag.
Draw a letter on the circle and fill it with glue.
Sprinkle the glitter on the glue, shake it off and allow it to dry.
Once dry, punch two holes in the top of the flags.
Run the ribbon through the tops of the flags.
Put it in a cute package and give it to the birthday boy!