Homemade Bubble Recipe
Tiny Bubbles: Teach Your Kids How to Mix and Blow Bubbles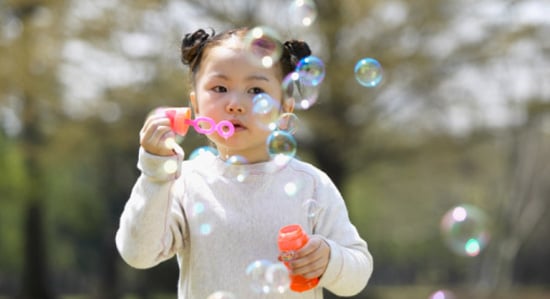 Spring has sprung and with that comes afternoons at the park, lines at the ice cream truck and a bottle of bubbles in every mama's diaper bag. For reasons that no one seems to be able to explain, lil ones gravitate to bubbles like a fashionista does to a sale sign. They are used to conclude gym and music classes and are a goody bag staple for tots of all ages.
To celebrate the transition to Spring, the nation's leading bubble makers have declared this National Bubble Week and are hosting events at children's museums throughout the week. While there are plenty of commercial bubble products on the market, making a homemade solution is quick, inexpensive and can be used to refill your wee one's favorite Dora container (especially after she accidentally knocks it over).
1 cup water
2 tablespoons light karo syrup
4 tablespoons dishwashing liquid (Joy is supposed to be the best)
For some fun bubble toys, check out our picks below.