We're just back from a somewhat exhausting, but superexciting whirlwind of a week at Toy Fair 2014, and after plowing through our notes, pictures, and iPhone libraries, we're ready to report our predictions of what's going to be at the top of your kids' 2014 wish lists. From building sets that encourage imagination to woodland creatures to bigger meaning better, these are our picks for the top 10 trends to watch for in the coming year.
Craft Kits Galore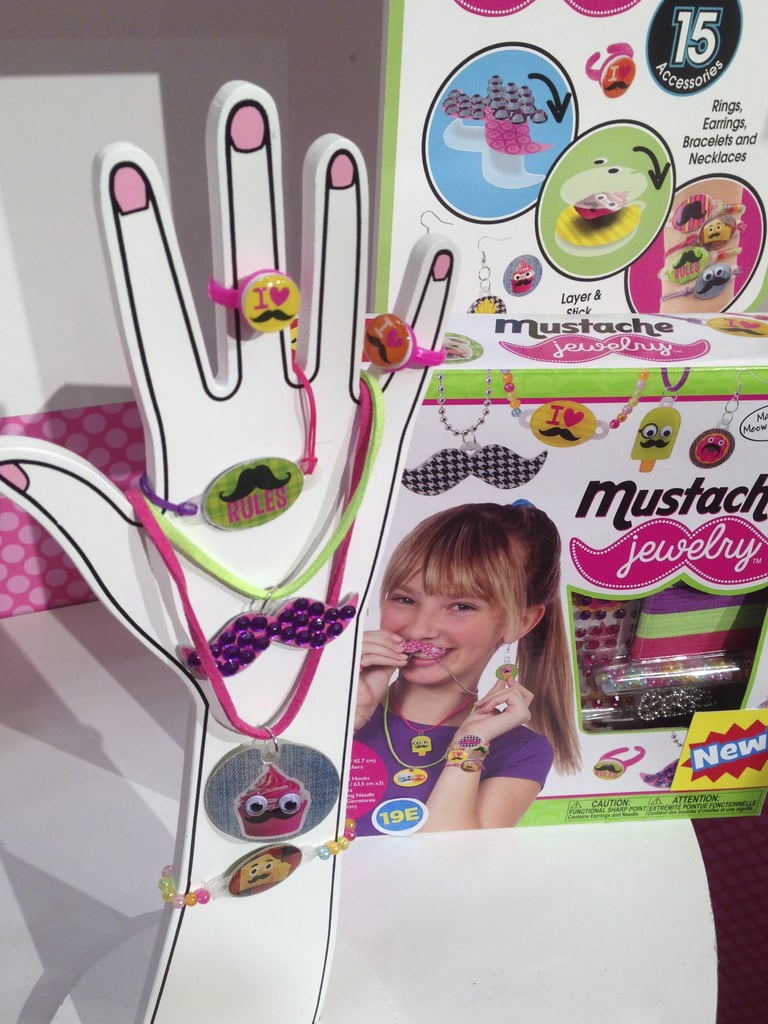 Call it the Martha Stewart [1] effect — kids today are craftier than ever, with their sights set on projects that aren't just fun, but also have impressive results. At ALEX Toys [2], we saw a slew of great kits for toddlers through big kids offering the necessary materials and instructions necessary to create everything from mustache jewelry (shown here) to nail art to duct tape iPad cases.
Over at New Zealand-based Seedling [3], packages offered the instructions for everything from a DIY [4] Party Piñata to hang gliders. We were especially enthused at the amount of small-scale craft kits on the market at great price points for 2014 — they'd make such thoughtful birthday party favors.
Classic play compound Play-Doh is growing up with Doh Vinci, a crafting compound that is applied to surfaces with a glue-gun-like tool and dries overnight. And Klutz, who has been making crafting kits for years, is expanding the line to include kits with washi tape, string art, and mini pom-pom pets.
Even Crayola is getting in on the trend. Inspired by those melting crayon pictures you've seen on Pinterest, it'll be selling a kit that creates similar images.
Poop-ed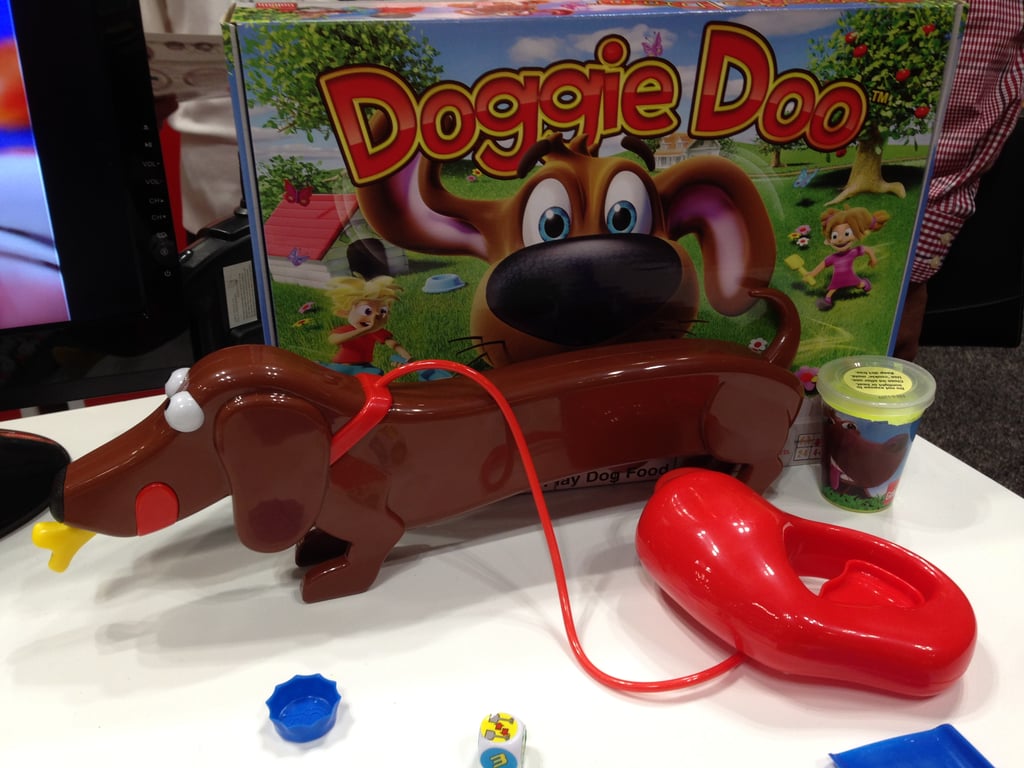 We know, we know — this is totally disgusting, but poop-themed toys were so prevalent at Toy Fair, they were simply impossible to ignore. We spotted the trend in the Doggie Doo game by Goliath shown here and Barbie's Potty Trainin' Taffy, Moxi Girlz's Poopsy Pets (which excrete rainbows and jewels), and Hasbro's FurReal Friends and Furby Boom lines, too.
Scan It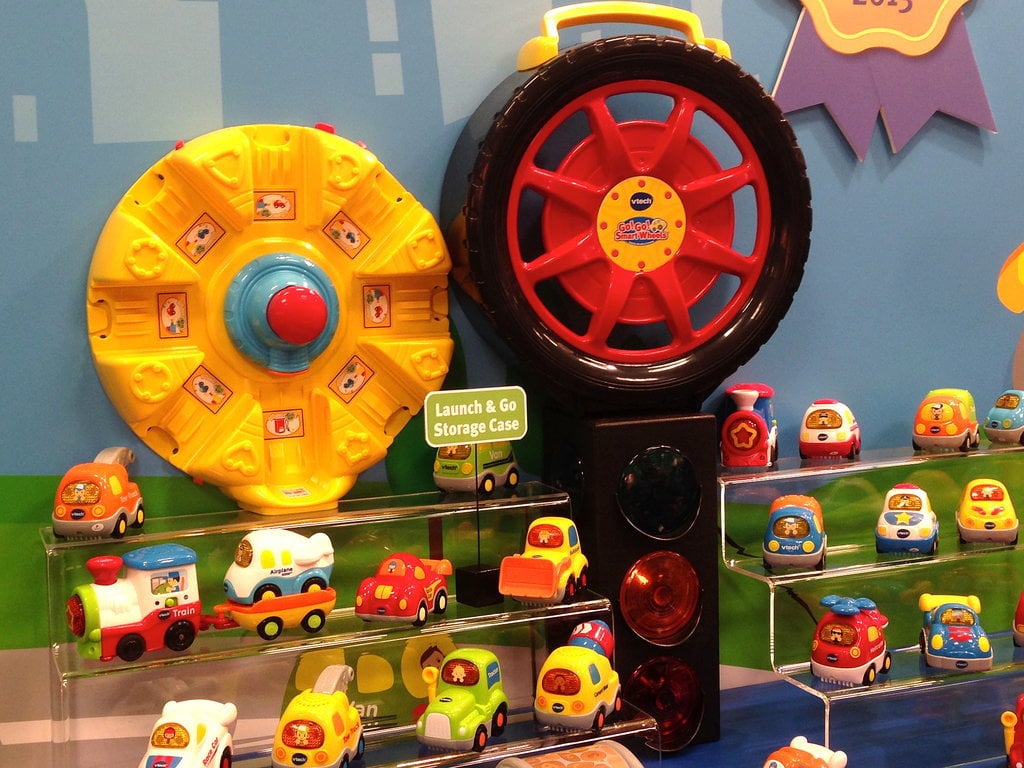 They go by a whole slew of names, and whether you call them smart points, scan points, or smart codes, these app enhancements made a serious mark in the toy industry this year. Wondering how they work? When a toy car (or train, hippo, snake, or anything else) with one of the stickers passes over a "smart" check-in point on a toy track, play is extended with additional sound effects or other fun enhancements. We spotted these at Hexbug, Mattel, Hasbro, and VTech, to name a few.
Out of the Woods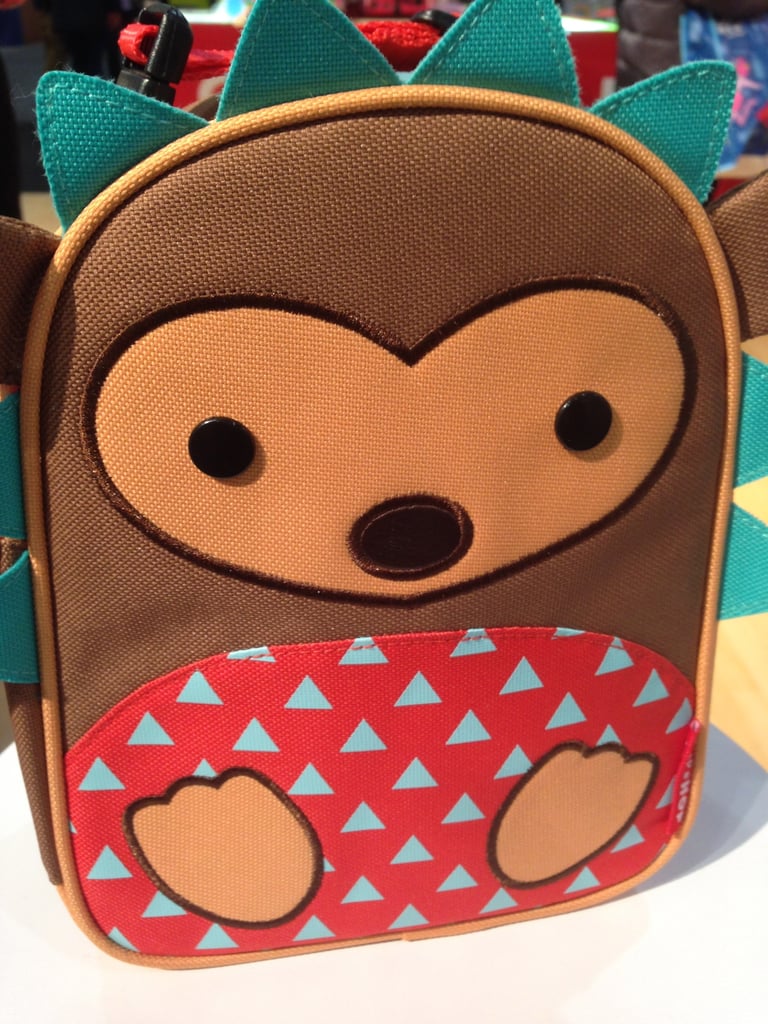 Fancy yourself a fan of the fox, raccoon, squirrel, deer, or hedgehog? Then 2014's toy offerings are likely to please! Woodland critters [5] were a hot motif last year, and from the looks of things, they're here to stay. If the animal du jour of 2013 was the fox, we're predicting 2014 is the year of the hedgehog. Skip Hop appears to be in agreement — just check out this sweet lunchbox.
Girl Power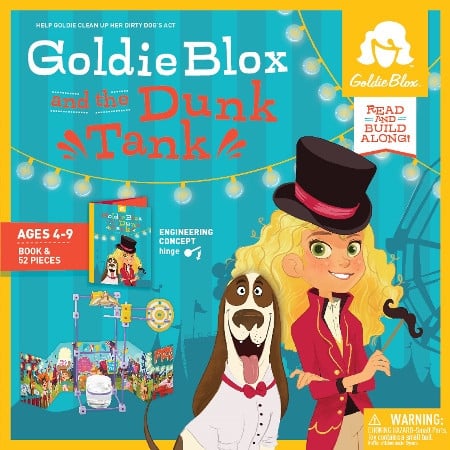 We love a great toy or game that reminds girls that even in a sea of pink and purple, they can do whatever they want with their lives. This year, GoldieBlox [6] turns out more great inspiration for little engineers with GoldieBlox and the Dunk Tank.
In her 55 years on the market, the iconic Barbie has held a whopping 150 careers. This year, as part of the brand's I Can Be line, the doll reinvents herself as an entrepreneur — complete with a smartphone, tablet, and briefcase.
And the Lottie Doll, sort of the antithesis of Barbie, allows little girls to build their own robots, something we haven't previously seen.
Source: GoldieBlox [7]
It's One of a Kind, and It's Mine!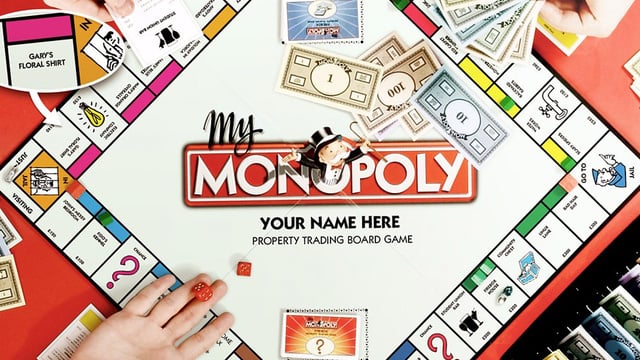 In 2014, kids (like their parents) are used to instant gratification and customization. Personalized playthings are on trend for all ages — from My Monopoly for bigger kids to German brand Hape's modern dollhouse that lets mom and dad decorate with framed miniature versions of family photos.
Source: Hasbro [8]
Bigger Is Better!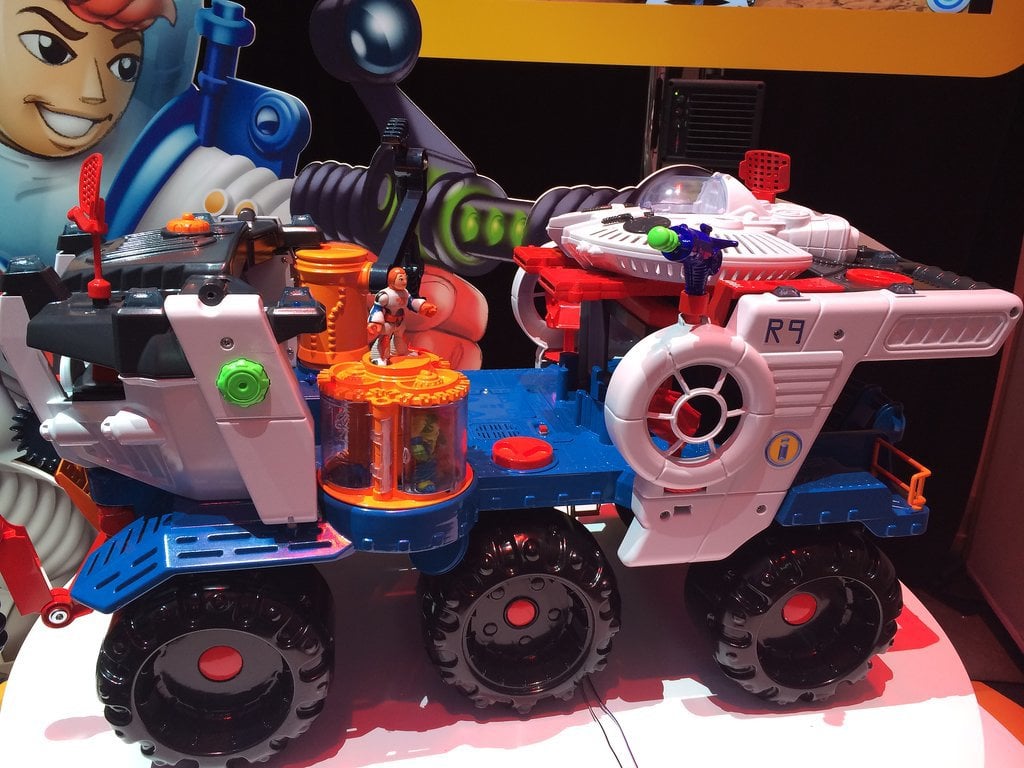 We saw a slew of megasize toys at Toy Fair, indicating that bigger will most definitely be better this year. The Imaginext Supernova Battle Rover (shown here) debuts in September with more than 15 lights and 200 unique sound effects and phrases. Hexbugs take on gargantuan new proportions, and at Melissa & Doug, an entire menagerie of life-size plush animals were on display.
Just Say Yes to STEM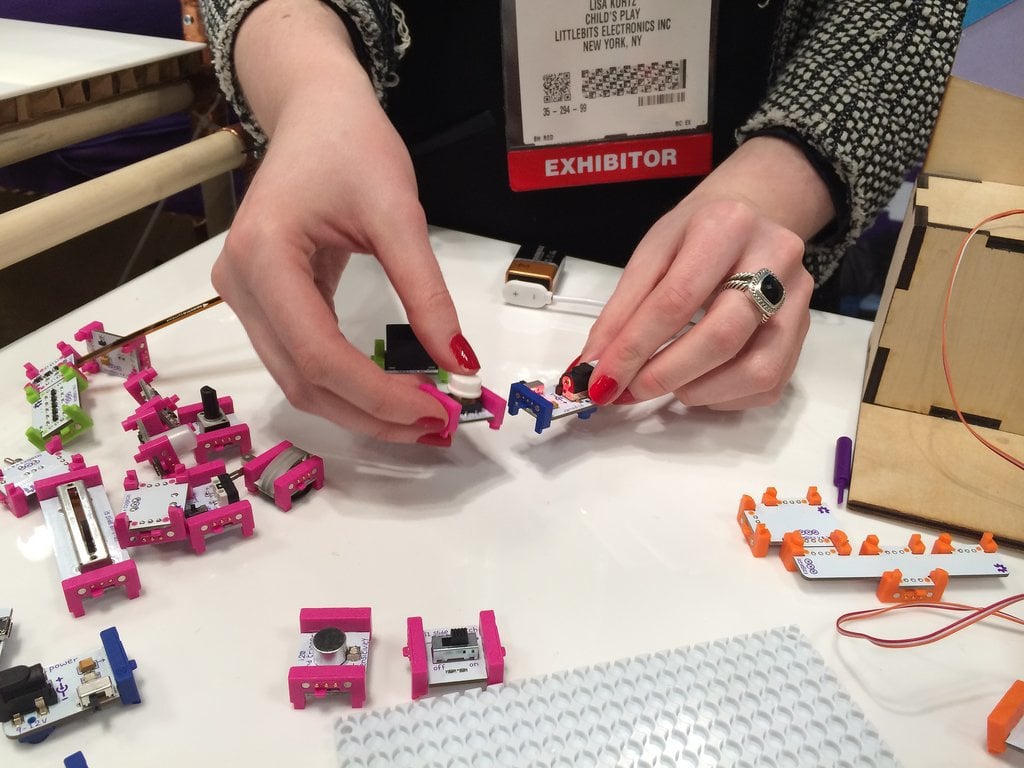 Tech toys are just one component of the STEM (Science, Technology, Engineering, and Math) trend that's taken the toy industry by storm. From circuit building to robotics, craft kits to board games, educational toys are no longer hidden on their own shelves. They're part of the mainstream.
Goldieblox is just one of the lines encouraging this, but they're joined by wire building line Roominate, circuit builders Little Bits (shown here), Thames and Kosmos's entire line of science experiments and robots, and Robot Turtle — a board game that teaches tots how to code.
Kids Take Control — Remote Control
Remote-control-operated cars, trucks, and even seafaring ships are sure to be a favorite among transportation-loving tots. There's an RC toy (or several) for every age, at every stage, from a toddler-friendly Thomas the Tank Engine to Playmobil's impressive pirate ship.
Source: Playmobil [9]
Ride-On Toys and Bikes For the Tiniest Tots
The Spherovelo — shown here — has already received numerous accolades for its sleek and bubbly design and is a fantastic way for babies in their first two years of life to develop gross motor skills. In addition, we spotted mini camper-themed ride-ons at Plan Toys, a jelly-bean-like scooter at Little Tikes, and the cutest little wooden balance bike at Janod.
Dinosaurs — Hear Them Roar!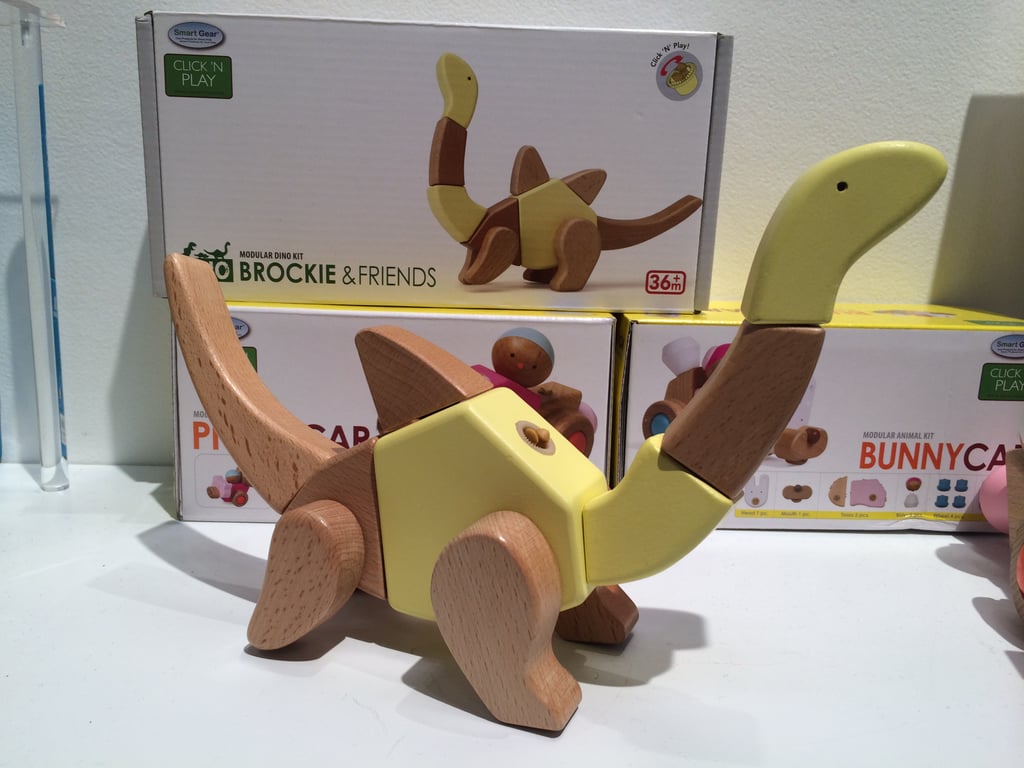 It's not like dinosaurs have ever really gone out of favor, but they just seemed more prevalent than ever this year. From sweet dinos like this Click 'N Play wooden version from WonderWorld to the new Dino XTeam line from Uncle Milton (including a dinosaur version of Operation, digging kits, and Dino Hunter goggles), we spied T. rexes everywhere.
The Orb Factory is introducing 3D versions of their mosaic craft kits with a dinosaur theme, Goliath Toys just introduced the Dino Meal game for preschoolers, and Kinetic Sand is introducing a line of reusable Dino Digs starting with the T. rex and stegosaurus this year.