Hot Wheels Wall Tracks Review
Hot Wheels Wall Tracks Takes Playtime to a Whole New Level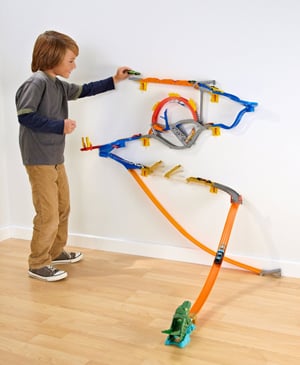 For 44 years, kids have been racing Hot Wheels cars around their homes, on the sidewalks in front of their houses, and, if they're my kids, down the slides on the playground. Playground play aside, most die-cast car play has been strictly horizontal since that time. Now Hot Wheels is shaking things up — really up! — and moving car play vertical! Hot Wheels Wall Tracks, the company's new line of wall-mounted race tracks, literally takes playtime off the floor and onto the walls. The company sent me the Hot Wheels Wall Tracks Starter Set ($32), one of four playsets in the collection, and I took it for a test run with my two car-obsessed kids. Here's what we thought!
Who is this product designed for? The manufacturer suggests that race tracks are for kids ages 4 to 8 years old, but my 2-year-old is having a very good time playing with it, too.
What sets it apart? For generations, car racing has been limited to floor play, where intricate tracks were laid on the ground to facilitate races, crashes, and general play. For the first time, that play moves up the wall, helping to clear the clutter of toys on the floor, but also creating a new play experience. Using 3M Command Strips (which are safe for painted and wallpapered walls — I tested it!), the track supports easily stick on the wall to create vertical, complex race tracks that eventually lead cars to the ground. The enclosed templates make setup a breeze — within 15 minutes of opening the box, we were ready to play!
What could be better? Unfortunately, the 3M Command Strips can lose their "stickiness" pretty easily, and if they do, the entire track falls down — quickly. This problem is easily remedied, though, by simply purchasing additional strips at an office supply store.
Keep reading to see how long the tracks entertain youngsters and for more views of the toy.
How long did it entertain my child? Endlessly! We have a large bucket filled with various brands of cars and my tots spent hours testing them all to see which could fly through the track the fastest. Once set up, the track has three different race patterns, so there are plenty of opportunities to switch things up. That said, I am afraid that the excitement over the vertical track will bore them at some point, so it would be nice if it could be combined with additional wall or floor tracks for extended play.
Would I buy it? Yes! The thrill of watching cars work their way down the wall is certainly fun for everyone. I plan to give this (and similar) sets as gifts to my sons' friends in the future!
Share your favorite products, toys, and trends with other parents! Start sharing your opinion on millions of must haves for your tots in our Product Reviews group!