How to Deal With Picky Eaters
A New Way to Deal With Your "Picky Eaters"
Picky, picky, picky! Any parent that's ever dealt with a picky eater knows how frustrating it can be. It's a constant battle to force the kids to finish the broccoli on the plate or even eat a few bites of the meal mama preciously prepared. Marta De Wulf, a nutritionist, mother, and cofounder of a nutrition iPad app for parents and kids called Smash Your Food ($3), offers up these tried-and-true tips to help parents learn more about their children's food preferences so the food wars can end once and for all.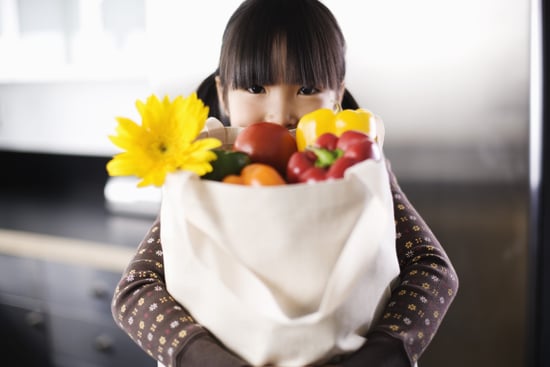 Stop the name-calling: Avoid labeling or calling your child as a "picky eater." It only gives your child permission to push food away. Instead teach them discernment or discuss why they choose a particular food over another, which is a healthy behavior.
Start a conversation: Children are very sensorial and they often judge what they see first. Introduce new foods (or foods your child has previously rejected) and have a conversation about it. Start by saying to your child, "I don't mind if you like this or not, what I want to know is what do you see? Describe it to me? Do you like or dislike the color? Smell? Texture?"
Keep reading to see more about Marta's tasting method.
Try the "Three Bite Rule": Remember to tell your child, "It's okay if you don't like it. I just want to know what you specifically like or don't like about it." The first bite is the "different bite." They've never tasted it before, and the flavor and texture is just different. The second bite is the "flavor bite." They've already been introduced to the differentness of it. Now they can taste it. Ask your child to describe the flavor. Is it sweet? Salty? Sour? Soft? Crunchy? The third bite is the "decide bite." After your child has had time to think about it and taste it, they can decide if they like the food or not.
Ask for critiques: If your child doesn't like the food, ask them what they would change about it. Or, if your child is too young to verbalize their preferences, take notes about the colors, textures, and flavors of foods they naturally gravitate toward. For example, perhaps they don't like steak but they like ground beef in a marinara sauce. By asking your children what they would change, not only do you gain knowledge about your child's food preferences, you also get them to eat three bites of something you wanted them to eat. Using this method will help you understand what foods, smells, textures, and flavors are appealing to your children.
Play nutritional games: To encourage your children to make more nutritious choices and eat healthier in general, Marta has developed the site Food N' Me, which has a series of interactive games, recipes, and quizzes for kids and parents to play and learn. One of the most successful games, which can be downloaded as an iPad app is Smash Your Food ($3). Using vivid graphics and interesting sounds, kids can literally watch their favorite foods become smashed and broken down into sugar cubes, spoonfuls of oil, and granules of salt. The oozing and squishing aspect of the app has a dramatic effect on children. It's interactive and helps them understand how much fat, sugar, and salt they are allotted per meal. Visually seeing nutritional facts enables children to understand which items are healthy or not and empowers them to make healthier choices on their own.