How to Get Kids to Play Outdoors
How to Get Kids to Play Outside More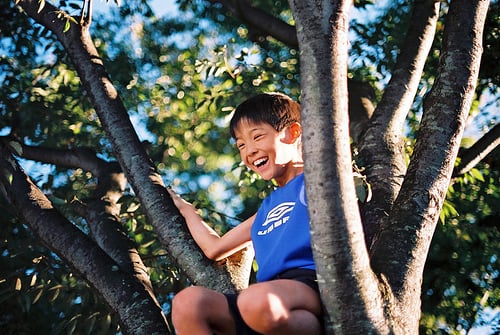 As someone who suffered from allergies and year-round hay fever as a child, I used to avoid the outdoors. But now as a parent, I know that sunshine, fresh air, and room to run around are important for growing boys and girls. Even though I'm now armed with Claritin, I'm still at a loss when it comes to thinking up fun outdoor activities to keep my kids entertained.
The Circle of Moms community proves I'm not alone. Jenna W. is seeking outdoor activity ideas for her 2-year-old. And Heather says she likes to get her daughter outside a lot but is looking for ideas on what to do because her daughter "gets bored" outdoors, especially when she doesn't have other kids to play with.  
If you, too, are struggling to keep your kids entertained outdoors, consider these four suggestions, provided by Circle of Moms members whose kids are content spending hours outside.
Keep reading.
1. Set an Example
If you expect your child to play outdoors, then it makes sense that as a first step you should be a good role model by spending time outside yourself. Mom Vanessa G. says her daughters will continue to play outside if she stays out with them, "even if I am not playing with them, just watering or weeding, etc."  
Mom Shannen agrees that encouragement to head — and stay — outdoors starts with parents. "At first you have to go out with them, and then they eventually just want to be out there," she says, noting that she even has trouble keeping her 2- and 4-year-old children indoors on rainy days, "as they love being outside so much."  
2. Create a Special Space
Children will feel more welcome outdoors if your yard has a space specifically for them. Parents could conjure up a kids-only tree house, for instance. As another example, Jacqui R. says her 2-year-old "absolutely adores being outside" in her own small garden area, where she has plastic trowels, watering cans, and gloves (all bought cheaply off eBay). She even has planted flowers in her own little space, Jacqui says, noting she "struggles to get her back in" because her daughter has so much fun in her garden. "You just need to find what stimulates their imaginations."
3. Supply Outdoors-Only Toys
Any child might find the outdoors boring if they have nothing to play with. To that end, Laura provides her kids with "plenty of outside toys" to play with, such as bowling, golf, Frisbee, soccer and other balls, bubbles, chalk, paddle sets, etc. She says her family also has a playground, sandbox, sprinkler, and trees for climbing.
Vanessa agrees that having "a ton" of toys specifically for the outdoors, plus larger equipment like a trampoline, swing set/climber/playhouse, and pool, allows her kids to enjoy their time there.  
Large equipment isn't essential, though. Kenna M. says that even at ages 3 and 1 and a half, her children "seem to have an endless amount of fun" with scooters, tricycles, bubbles, sidewalk chalk, and balls. Water and sand tables also are entertaining, she adds.  
For younger children especially, Sharon M. says something as simple as an armload of dolls that are assigned to the outdoors keeps her daughter and her cousin playing in the garden for hours.  
4. Provide an Incentive
Even if your children are not naturally inclined to spend time in nature, parents can make the outdoors more attractive by limiting the fun kids can have indoors, Circle of Moms members say. Moms Natasha R. and Alicia R. both say they limit their children's TV, computer, and video game time. Natasha's children only watch 30 to 60 minutes of TV per week.  
Alicia's children get 20 minutes per day on either the computer or their video games during the week and 40 minutes on the weekends. "I have six kids, the little ones, (ages 2, 5, and 9) LOVE going outside. They beg me to come outside with them, and when I do, it just adds to their pleasure," Alicia says. Her older children spend a lot of time outdoors in organized sports like soccer and track.  
Sometimes it may seem like "punishment" to send children outside when they don't want to, Alicia says, but "make it more like a game than a chore and see if it makes a difference." After all, Sharon M. adds: "Healthy fresh air, exercise and Vitamin D never did any kid any harm, only good."