How to Monitor Kids' Screen Time
How to Keep Your Kids' Screen Time Under Control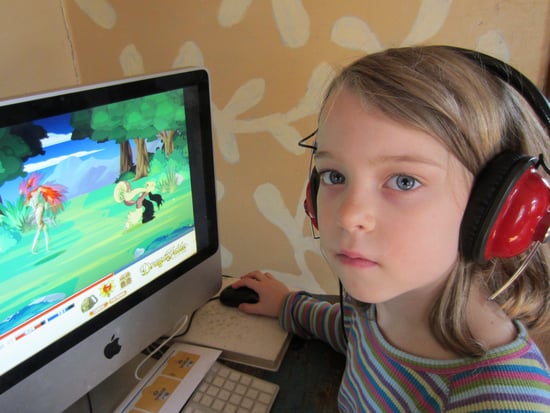 Try as you might, it's nearly impossible to keep kids away from screens these days. Between the TV, tablet, and phone, they're everywhere! But just how do you set guidelines — and enforce them — for kids' time in front of the screen?
"My 14-year-old son and sometimes my 11-year-old daughter are convinced that we are unreasonable when it comes to the amount of time we allow him to spend watching television, playing on the computer, or playing video games," says Shannon S. "I am trying to get [them] to see that we are normal as far as parents are concerned and that we are simply trying to protect [them] from [their] own destructive behavior. When he plays games too long, he gets moody, manic, irrational, and agitated."
Here, our community shares tips on setting ground rules when it comes to computers, smartphones, tablets, and other gadgets with screens.
1. Minor — Not Major — Distractions Are OK
Many parents believe letting your child watch television, or play on a learning pad, is perfectly OK if it's one of your child's many activities. After all, even adults watch a little TV to learn new information or for pure entertainment. Meagan S., for example, says it's OK for her child to play video games in moderation. "We live in a world with technology, so there is nothing wrong with teaching a child to use said technology at a young age," she says. "Limitations and moderation need to be set up, like not allowing them to zone in on it for hours and hours in a day, but otherwise, it's no big deal."
Pauline calls herself a high-tech career mommy and agrees with the notion that "anything, if used in moderation, is not harmful."  
2. Make It Educational
As long as a little screen time isn't taking away from your time with your child, it can be educational, so it shouldn't be banned entirely, some moms say. "If you are engaged with [your child] in this experience, and it isn't taking up most of the day, it is a good tool for learning," Jody notes.  
Sandy J. believes a little screen time "is fine if you're with [your child] watching what she does, and she isn't on it all day. In fact, spending time on the computer helped her daughter learn letters and numbers, when she was reluctant to sit still and learn the information any other way.  
Keep reading for two more ways to keep screen time under control.
3. Set Limits and a Cooldown Period
Of course, screen time should not take priority over schoolwork, physical activity, or family time. Some parents suggest setting curfews or certain times that screens must be shut off, especially as it approaches bedtime.
Jenn B. explains that she only permits her children to use the computer between 10 a.m. and 8 p.m. because she wants them to have time to settle down before they fall asleep. She also restricts game time to one hour, and limits TV to two to three shows per day. "To get those times, they need to do chores around the house. If they choose not to help, they get no time at all," she says. 
Louise G. is another mom who sets a curfew. While she didn't set time restrictions for screen time, she makes sure her kids first do their homework "to a good standard and not rushed," then they are free to play on whatever they like until dinnertime. After dinner, her kids can play for one hour so they can wind down for bed.  
4. Abide by Your Restrictions
Of course, parents should be aware of what their children are doing on their gadgets, making sure it's age and maturity appropriate. For instance, Liz H. says she doesn't allow her children under 5 years old to use the computer, but she will let them use their play laptops. "Mainly, I don't want them getting attached to the computer . . . Also, I don't want them getting into things on the Internet that they don't need to get involved with," she explains.  
Monitoring is important, Jane S. says, lamenting the fact that she didn't monitor her 10-year-old daughter more closely because she discovered her online on sites that weren't age appropriate. Even YouTube has a recommended minimum age of 13, she says. So she is restricting her daughter from getting online until she can figure out a way to better control the sites her daughter frequents.  
Whatever restrictions you impose, it's important to enforce and be consistent with your rules, Ramona C. says.  
For younger children, Evelyn W. suggests keeping kids busy with things like books, blocks, toy cars, puzzles, coloring, Play-Doh, dolls, kitchen centers, arts and crafts, and "other things that they can manipulate and control on their own." Older kids could get involved in sports or other after-school and weekend activities. Because kids "learn so much more with this stuff than from a screen," she concludes.