How Much Green Would You Spend to Be Eco-Friendly?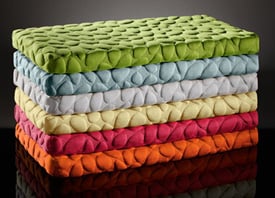 Sleep is for the green. People want to be eco-friendly, but at what price? The Nook Pebble Mattress ($610) is ergonomically-designed to provide a comfortable, non-toxic sleep environment for baby's first few years. The 100 percent natural latex core eliminates the need for the usual metal springs and plastics, and a wool fabric weave is said to help facilitate the flow of oxygen in and around a sleeping tot – helping them sleep longer and deeper.
The sleep system's unique, washable Pebble Wrap serves as both a mattress pad and crib sheet with a eucalyptus-infused cotton that eliminates odors and repels fluids, dust mites, and other nursery pathogens. Modern nursery items like these are incredible and on lots of mama's wish lists, but how many parents can actually afford them?