How to Pack For the Beach With a Toddler
10 Beach Bag Essentials For Baby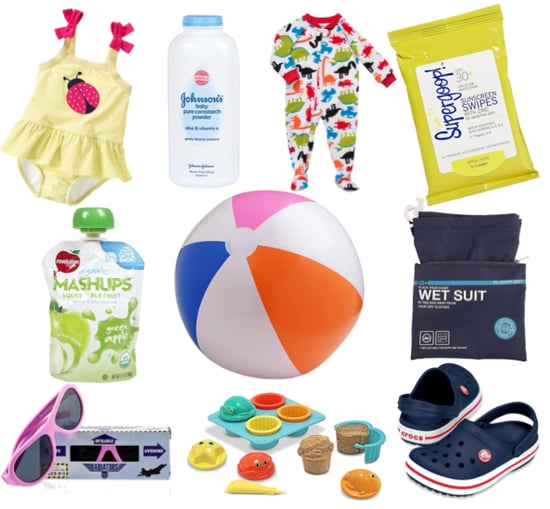 A day at the beach sounds like the perfect way to spend a Summer day – that is until mama thinks about everything her lil one needs to make it through the day. Just the thought of pulling it all together is enough to make some moms abandon the sun and surf until their tots become teens. Before jumping ship, take respite in knowing that we've thought it through for you. You remember the umbrella and towels, and we've put the rest of your list together!
Sunscreen
This year's list of the safest sunscreens is packed with brands that can be purchased at your local drugstore. Given the FDA's new regulations of sunscreens that go into effect next year, beware of lotions containing the word "waterproof" and don't be swayed into buying a tube that boasts an SPF over 50. According to the FDA, neither is actually true. Most importantly apply the sunscreen to your tot before you leave the house, and reapply often throughout the day.
Shoes
Sand gets hot after baking in the sun all day. Protect lil toes from scorching sand with a pair of waterproof beach or sand shoes that keep feet safe and covered throughout the day.
Toys
A bucket and shovels are a great start to a day at the beach, but there's so much more that can be played with in the sand. From plastic cars and trucks to make-believe cupcake kits, sand toys have come a long way. While you're at it, don't forget to add a beach ball to your bag – they collapse easily and can provide hours of fun while playing in the sun.
Keep reading to see the rest of your beach bag essentials.
Powder
One of the best tricks another mama taught me! Throw a minicontainer of baby powder into your bag and whip it out when it's time for a diaper change or when the family's cleaning up for the day. A quick sprinkle of the powder magically releases sand from the skin, keeping it on the beach rather than in your car.
Wet Bag
Keep dry clothes dry with a separate bag for wet clothes. Whether you care to invest in a dedicated wet bag, or just recycle an old grocery bag, maintaining a separation of the two will keep everyone happy at the end of the day!
Multiple Clothing Changes
Nobody likes sitting around in a wet bathing suit, least of all kids, who can get rashes from the rubbing. Pack a few extra bathing suits, as well as some dry clothes, that the lil ones can change into when they come out of the water for a stretch of time.
UPF Clothes
There's no better way to protect tots from the sun's ultraviolet rays than to create a barrier on their skin. Sunscreen helps, but clothing containing UPF stops the rays in their tracks. From rash guards and hats to shirts and pants, a few key pieces will keep their skin safe throughout the day.
Pajamas
A day of sun, surf, and sand can wear a mama and her tots out at the end of the day. Putting the lil ones in their pajamas for the ride home makes bedtime a breeze, should they fall asleep along the way.
Sunglasses
The sun's rays not only affect our skin, but also our eyes. Packing a pair of tot-sized sunglasses with UVA and UVB protection keeps lil peepers safe as they take in the beauty of the shore.
Snacks
Few moms leave home without an arsenal of snacks, and even if the beach has a fully stocked snack bar, mama needs to pack a few things. Fruit and veggie pouches, fresh cut fruit, and canisters of puffs help keep hunger at bay until everyone's ready to take a break from the sun.