How to Reduce Spitting Up: 6 Spit-up Solutions for New Babies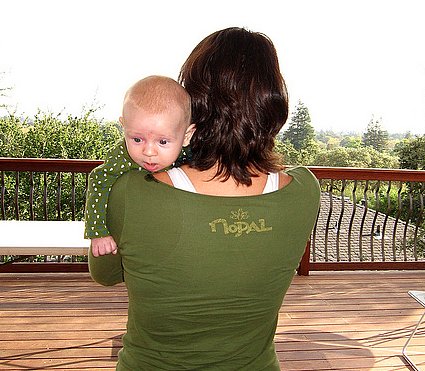 Whoa, bring on the bibs and burp cloths! Many new babies are little spit-up machines during the first year. While most baby spit-up is normal (and typically caused by air bubbles, the still-developing digestive system of a new baby, or acid reflux), it's also undeniably inconvenient. Here are six tactics recommended by Circle of Moms members for reducing the amount and frequency of new baby spit up.
(Please note: If you are concerned about your child's spitting-up behavior—or if your child is projectile vomiting, vomiting with blood or green bile, not gaining weight, or has respiratory problems—be sure to contact your pediatrician.)
1. Keep Feedings Calm
New babies often spit up when they are over-stimulated, so many moms recommend keeping feedings as calm as possible. Portland mom Marabeth O. shares: "My four-month-old spits up if she's excited, but not if she's calm." If your baby is spitting up after (not during) feedings, try to avoid stimulating your baby directly after the feeding.
2. Burp Often
"Make sure she is burping regularly during feedings," advised Rachael B., a mother of one. "Sometimes babies spit up just because they have a bad air bubble stuck in the tummy." How often should you burp? Arkansas mom Crystal S. suggests burping brand new babies "every ounce or even every half-ounce."
3. Avoid Overfeeding
"It could just be too much milk," advised Kelly S., a mother to two girls. Giving new babies smaller, more frequent feedings can help them digest meals better.
4. Upright Positioning After Feeding
Houston mom Miranda S. was one of many who suggested positioning a child upright after feedings to reduce spitting up. "After feeding and burping your baby, it helps to have them up (on your shoulder, not in any lying position) for 15–20 minutes."
5. Avoid Tummy Pressure
In addition to keeping a child upright, moms recommend avoiding putting pressure on a baby's tummy during and after feedings. "I try to not hold her around her tummy after she eats," shared Lori O., a mother of eight children. Others recommended avoiding tight diapers and clothing for the same reason.
6. Switch Formulas
Many Circle of Moms members found that switching baby formulas helped reduce spitting up. As Summer L. rejoiced: "I switched formula and she stopped spitting up!" But Kerin L. warns, do be prepared to spend some time finding the right formula for your baby: "I had to switch formula four times with my first before I found one that worked." Your pediatrician can help diagnose whether your baby is allergic to her formula, and recommend alternatives.
Looking for more advice on feeding an infant? Got a great spit-up strategy we missed?
Whether you're looking for information on pumping, bottles, or introducing cow's milk, Circle of Moms is a great resource. You can ask for advice in communities focused on breastfeeding or formula, or respectfully debate parenting topics with other moms in communities like Debating Mums and Parenting Debates & Hot Topics.