How to Work Out With Kids
Working Your Kids Into Your Exercise Routine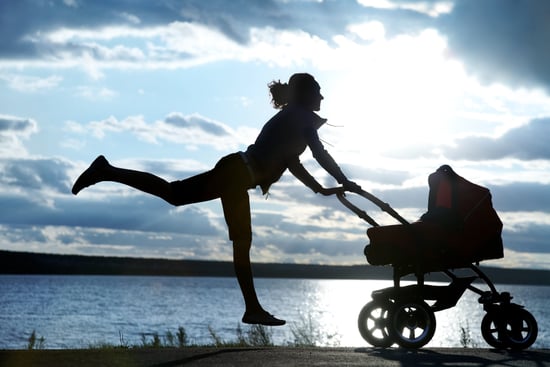 Making exercise a priority is a challenge for many moms, especially when "me time" is at a premium. Circle of Moms member Sarah R. says she's tried squeezing in exercise at the local gym while her kids are in day care there, but inevitably something always happens to interrupt or shorten her workout.
Thankfully, other moms suggest an alternative to exercising when kids are napping, at day care, or in school: actually incorporating your kids into the workout. As Circle of Moms member Lynn N. shares: "It keeps me sane and in shape and teaches my kids that exercise can be an enjoyable, part-of-every-day thing."
So if you, too, are struggling to squeeze in enough daily exercise, consider these clever and fun ways to burn calories with your kids in tow.
Keep reading.
Try Unstructured Play
You don't have to try out for your son or daughter's travel soccer team to sweat it up with your children. Instead, consider playing kickball or throwing a softball in the backyard or park, recommend some Circle of Moms members. Lynn takes her four children — ages 4 to 11 — to local parks for regular family hikes, with her youngest in a stroller. 
Iris D. similarly suggests moms hop out of their soccer chairs and move off the sidelines. "Forget watching your kids from the sidelines and play with them on the playground or spend time with them participating in unstructured sports," she says. "This can make exercising fun, for them and for you."
Circle of Moms member Holly C. turned her children's swim lessons and love for swimming into a strenuous aquatic workout for herself. "Going swimming together yesterday I treaded water for an hour while the kids swam around me and played," she says. "I'm very sore today."
Dance Together
Maya M. dances with her toddler as part of her daily exercise routine. "I try to dance with my toddler every day," she says. "She is so used to dancing with me that she demands it now. I get worn out way before she does."
Jenny K. has turned to Angelina Ballerina episodes and hip-hop dance workouts, which she does with her kids. "She can be a terrific cheerleader and sometimes even a coach to get moving quicker! Lots of time, she joins in!"
Grab the Stroller
Let your stroller do the walking (or running) is the advice of moms like Tania E., who has made stroller exercise with her kids an essential part of her daily routine. "When my son was a baby, I was out walking with the stroller every day," she says. Now that he is older, she pushes her son's stroller two miles up a steep hill to and from his day care.
Meme R. swears by half-hour daily walks with her kids in the stroller. "I simply walk every day I can," she says. "I fast-walk with my son in his stroller and my dog on the side." She reserves early evening for this exercise time. For Rochelle H., having four kids in the last 10 years — and trying to stay fit — has been a challenge; she is the first to admit it. But she too has turned to the stroller as her exercise buddy. "Change your route if you get bored and engage your belly muscles when you're pushing the stroller uphill."
Sarah R. even turns errands into exercise, saying that the key to her success is a stroller that fits her three toddlers. Runs to the grocery store, bank, and post office sometimes have her walking for several hours. "Pushing the heavy stroller full of children up hills and around town gives me a great workout." 
Bust a DVD Move
Stranded in the house with kids who are yearning to hold a remote control? Moms like Laura S. suggest an "if you can't fight them, join them" approach to combining the omnipresent reality of parenting with your exercise routine. She inserts her Beachbody and Brazil Butt DVD workouts into her TV and encourages her 5-year-old to join in the fun. "We both get in the floor to do sit-ups and pushups (it's pretty funny)," she says. "But it keeps him busy while Mommy does her 'homework'/ workout."
Working out via DVD in the living room is something Lorilynne L. now has come to look forward to. She surfs the exercise channels on cable to switch it up and ease the boredom for her kids. "I just work out in front of my kids," she says. "They love to see me bouncing around and acting silly and my 20-month-old daughter likes to do them too. It's so cute to see her doing lunges and stretching." She adds: "It makes my workout actually fun when I'm laughing with her."
In the end, there are many Circle of Moms members like Sarah B. who say the mere fact of being a mom and keeping up with busy youngsters is exercise in itself. She says she doesn't have an official exercise routine, but says: "Does chasing a toddler count?"
How do you exercise with your kids?